Huntington Students Put Their Pride on Display
Huntington UFSD is one of the oldest districts in the state. Since its founding, students have always taken pride in their work; in their schools; in their classes and classmates and in every aspect of their education from academics to clubs and sports and even in their relationships with the professionals who work with them daily. They are all proud of who they are.
Huntington pride is real. Along with pride comes gratitude. Students are grateful for all the opportunities they have been given; grateful for the kindnesses and courtesies that have been extended to them and thankful they have been able to learn and grow here.
Huntington UFSD elementary grade level students recently took an opportunity to share the pride they have in their individual gifts and talents and in who they are as young people.
Students across the district expressed their pride in many different ways, most of which could bring a tear to the eye of anyone of any age.
Washington School
Washington Primary School students shared, discussed and celebrated their unique gifts through a read aloud of 'Firenze's Light' by Jessica Collaco. A little firefly named Firenze has a bright light that makes her unique from her insect pals. However, sometimes her light is so bright it makes Firenze feel embarrassed. She hides her light and even pretends she doesn't have one even though her mother and friends say nice things about her light. It isn't until she meets a beetle with pincers named Kirie that she learns to love and appreciate her gift of shining bright with her unique light.
"Through this activity, students discussed with their peers what they love about themselves and how they are unique," Principal Michelle Richards said. "They discussed that uniqueness can be anything from the talents we have and our interests to our beautiful differences. Students practiced positive affirmations such as 'I am wonderful! I am talented! I am unique!' Then, students decorated their own fireflies sharing something they love; something they can do and something they love about themselves. This activity is a celebration of our individual, unique gifts and how to love ourselves for what makes us unique."
Flower Hill School
At Flower Hill Primary School the topic for discussion was "Proud to Be Me."  Students listened to the story, "I'm Proud of Myself" by Laurie Wright. After the reading, students shared their own proud moments. The students' written statements were touching.
"I'm proud to be me because I am small," one student wrote. "I'm proud of this because everyone teases for being small, but I know I'm just as good as them."
"I am proud to be me because I got better at reading," another student wrote. "I got better at reading by practicing reading every day."
Statements were affixed to a hallway bulletin board for students, teachers and visitors to the building to read.
"I am proud to be me because I always help people and if you help people they will help you," still another Flower Hill student wrote. "I am proud of myself because I always keep trying."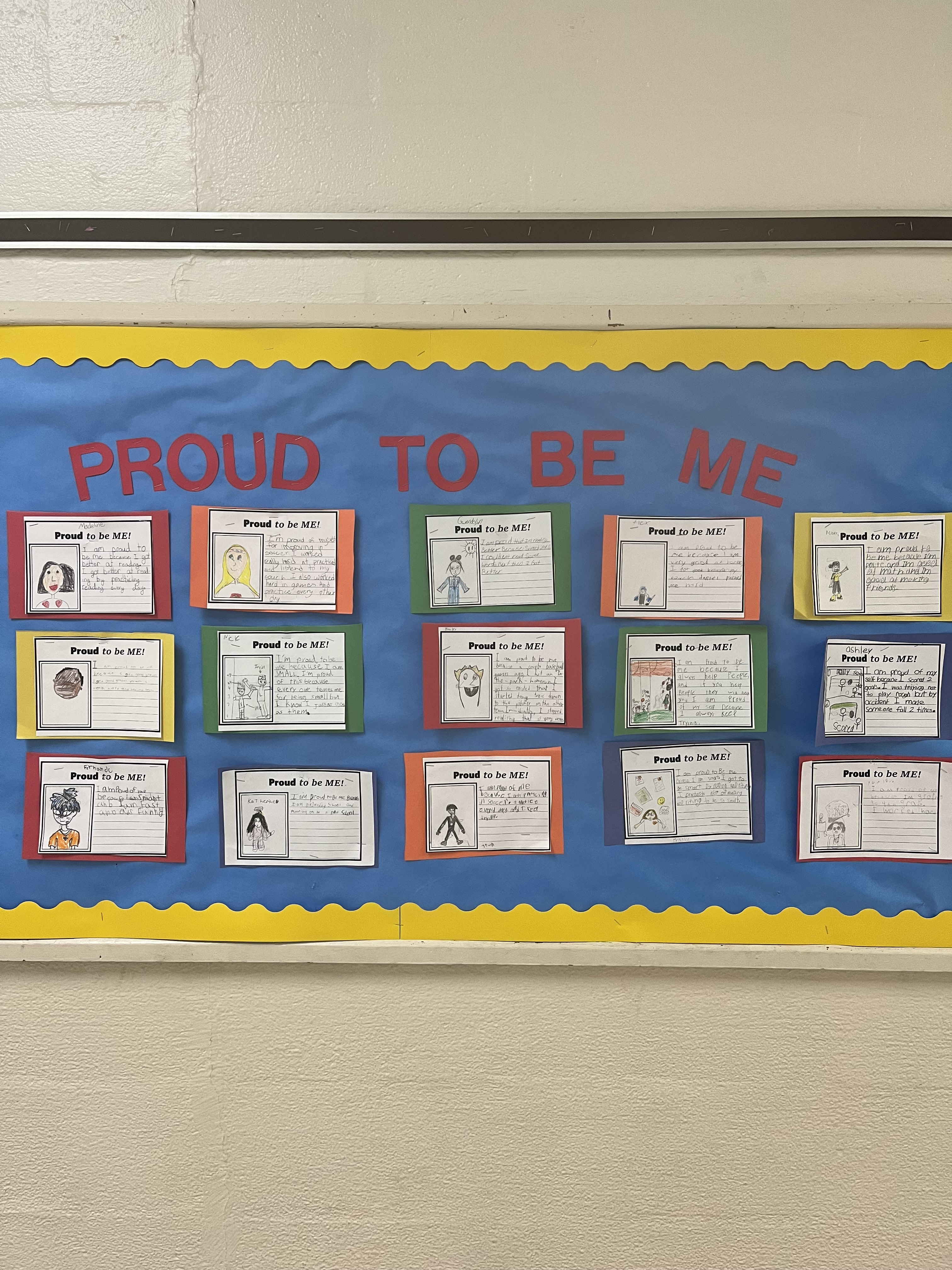 Jefferson School
Students from pre-kindergarten through third grade as well as faculty and staff members all shared something they were proud of from the current school year. The different groups used different distinguishing color paper. Responses were prominently displayed.
"I am proud to be me because I am brave," one student wrote. "I am proud of myself because I can speak two languages," another youngster wrote. "I am proud because I am really funny and pretty and smart" wrote another Jefferson student.
Woodhull School
Woodhull students shared what they are grateful for and what makes them proud on their Gratitude Wall. Students used colored Post-it notes to write messages that were hung on a large main lobby bulletin board.
Students stopped by the display to read over what classmates affixed and to pen their own messages. The Post-it notes were left on a desk with various writing utensils.
The youngsters took delight in expressing themselves and they gave their personal messages some degree of thought before putting pen to paper.
Southdown School
Southdown students were able to collaborate and write about how proud they are to have persevered throughout their third grade challenges. The youngsters shared their stories and compared their perseverance to that of Humpty Dumpty.
"Some students shared that in the beginning of the year they were very nervous to be third graders, especially with the state test," Principal Jill Amott-Erwig said. "While they were sharing, they talked about how proud they are of each other and the hard work they put in each day here at Southdown."
Jack Abrams STEM Magnet School
Jack Abrams STEM Magnet School students' pride is on display daily. "In honor of Pride Month, each Jack Abrams STEM student reflected on their year and shared what makes them unique and proud," Principal Donna Moro said.
Students filled out and colorfully decorated a flower petal and the school's student council brought all the petals together to make a garden of flowers that is now on display in the building's hallways.