Talented Casts Set for Annie Jr. on Friday, Saturday & Sunday
Weeks of rehearsals are nearing an end as the combined Woodhull Intermediate School and Jack Abrams STEM Magnet School drama club is set to stage a production of "Annie Jr." on Friday, Saturday and Sunday at the Huntington High School auditorium.
Jack Abrams School actors will stage shows on Friday at 7 p.m. and again on Saturday at 2 p.m. Woodhull School actors will take the stage for shows on Saturday at 7 p.m. and on Sunday at 2 p.m. Tickets will go on sale in the auditorium lobby 30 minutes prior to each of the shows.
The show is directed by drama club advisors and Huntington High School alums Stephanie Shea and Jennifer Szilagy Cove.
Current Huntington High School students Maggie O'Toole, Sofia Rodriguez and Emily Kustera are assisting the directors and actors. Glenn DeVeau and Chris DeVeau are the stage crew managers responsible for set construction, sound and lighting. Deborah Caravetto is the production assistant.
STEM cast and stage crew ready
The STEM school cast includes Annabelle Donovan, Juliette Creegan, Ella Triolo, Ava Tortora, Sarina Kapoor, Rose Poli, Olivia Corcoran, Emma Martin, Jonathan Naborre, Riley Lewis, Gregory Brandine, Ashley Castillo Guevara, Tyler McDiarmid, Mia Hodgkinson, Brady Duke, Paige Falk, Cianna Skrobela, Katharine Lyons, Maya Schneider, Billy Oliva, Ruby Richter, Jonathan Soviero, Victoria Creegan, Jack McLaughlin, Norah Golden, Jack Oswald, Angelica Cunningham, Annabel Stein, Harper Cohn, Abigail Byers, Arielle Melendez, Celia LoPorto, Savannah Grigg, Isabella Correa, Isla Campbell, Julia Lanzilotta, Pfeiffer Laycock, Abigail Uvena, Ella Schaefer, Katelyn Brite, Vader Renkewitz, Darphyna Augustin, Genesis Rivera and Anna Matarese.
The STEM stage crew features Ava Bond, Behan England, Cameron Northrop, Cecilia O'Toole, Emma Leiter, Ethan Martin, Jacob Ryder, Jaden Scott, John Pinto, Lauren Lewis, Mason Dasaro, Matteo Dasaro, Molly Barba, Nathan Falk, Rafaella Moss, Shelby Meystrick, Shelby Patti, Ruben James, Yahel Barak Elitsur, Randy Diaz Moreno and Dorothy Moise.
Woodhull cast and stage crew excited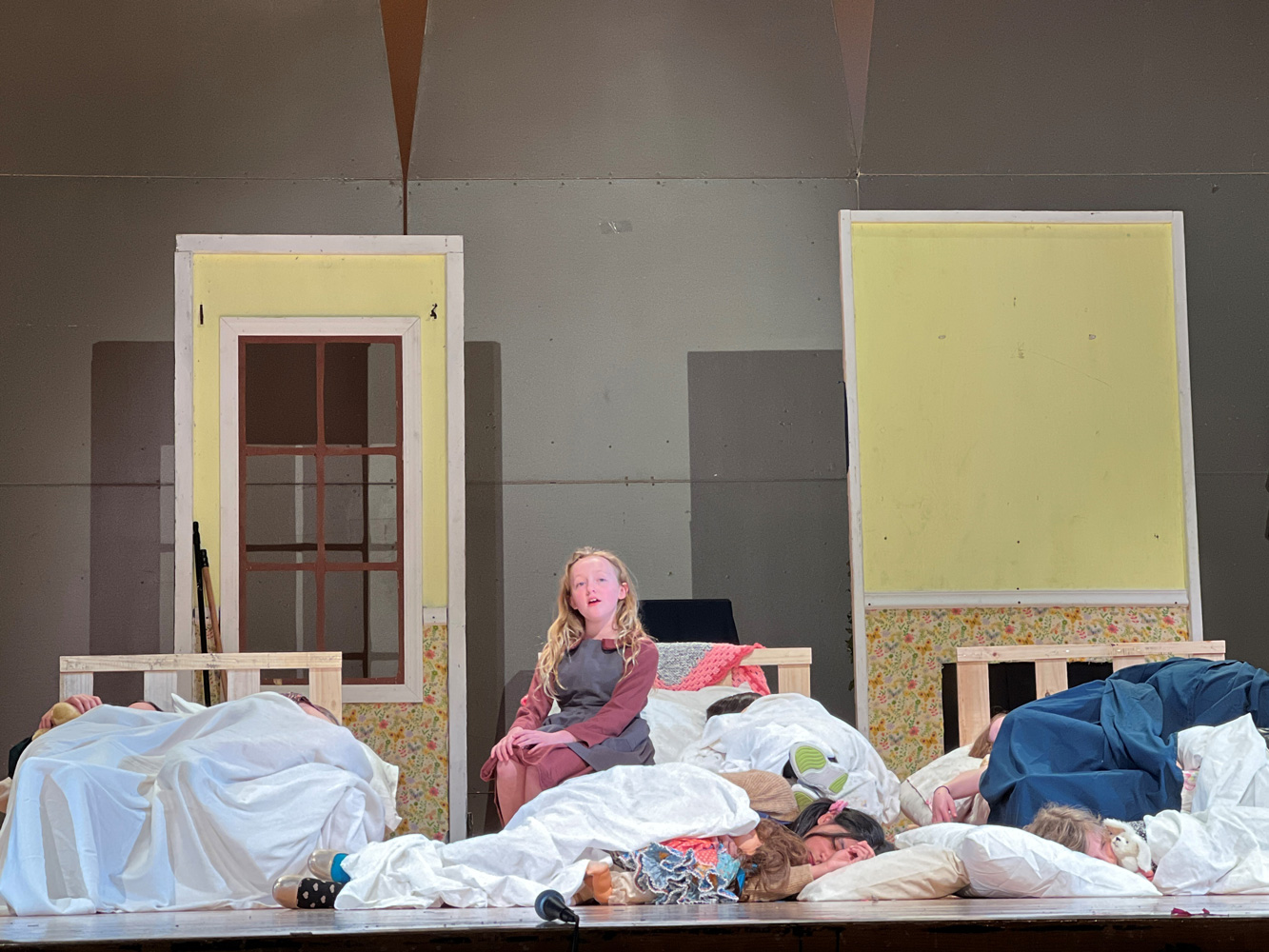 The Woodhull cast includes Cecilia Lee, Elena Prior, Grace Gonzalez, Kellen Anderson, Nina Altarac, Amelia Brown, Sutter Flynn, Elisabetta Arra, Allison Aguilar, Anne-Myriam Excellent-Mesidor, Quinn Robertson, Caitlin Wegielnik, Sofia Felice, Helena Sullivan, Adriana Hill, Tallulah Koepele, Luna Ramirez, Abigail Van Horn, Franklin Mulvaney, Emily McCarthy, Zoe Chiclacos, Allison Marroquin and Alyssa Peck.
The Woodhull stage crew features Patricia Abruzzo, Francesca D'Eloia, Jefferson Interiano, Yostin Vehegas, Amber Murtaza, Thania Guardado, Alexis Hanlon, Olivia Guerrero, Isabella Ulloa, Eunice Nunez-Gomez, Gretchen Schmid, Kimberly Cruz, Maylin Alfaro and Arlene Maldonado.
"It has been incredibly rewarding"
"It has been incredibly rewarding working with both schools this year," Ms. Shea said. "We are so proud of our students and so proud to have made small improvements to the drama club at the intermediate level over the past few years. Last year was the first time in Huntington history that the two intermediate drama clubs got to perform on the Huntington High School stage. This year, we are continuing that tradition. We have put no restrictions on ticket sales for the first time ever and are expecting a large turnout. The students deserve this opportunity!"
General admission tickets are priced at $10 with students and senior citizens with ID cards being admitted for $8.
"It is extremely wonderful to be back at my alma mater doing what I love with people I love to work with," Ms. Shea said. "'Annie Jr.' was also my first show in the district so this production has been especially nostalgic. I hope we can continue to grow our drama club, continue to attract students to the arts, and continue to make improvements over the years to come to make our productions bigger and better for these very deserving students."
"Based on the popular comic strip, 'Annie Junior' tells of a spunky Depression-era orphan determined to find her parents who abandoned her on the doorstep of a New York City orphanage run by the cruel Miss Hannigan," according to an online summary. "In adventure after adventure, Annie foils Miss Hannigan's evil ways, befriends President Franklin Roosevelt, and finds a new family in billionaire Oliver Warbucks, his personal secretary Grace Farrell, and a lovable mutt named Sandy."
The two directors has devoted many long hours to the show and rehearsals. Large crowds are expected to attend the four performances on Friday and Saturday.
"An incredible feeling to work at my alma mater"
"Working with the students this year has been extremely rewarding and special for numerous reasons," Ms. Cove said. "Most importantly, the very first production I ever performed in was in fourth grade at Jack Abrams School. So it's always an incredible feeling to work at my alma mater doing what I love. Secondly, this year has been particularly meaningful because my first show was 'Annie Jr.' It has been extraordinary to share my love for this show and my passion for the theater in general with this group of students because of that. I started my entire professional career in casting and entertainment solely because of my time on the Huntington stage beginning back with 'Annie Jr.'"
The show is the product of many hands. "The team we've assembled over the last few years is absolutely amazing," Ms. Cove said. "We are not only co-workers who care for each other, but we also have become friends. It's an honor to spend my afternoons and evenings with them in order to continue to bring the theater arts to Huntington. The students at both schools have been nothing short of wonderful and my hope is that I've brought them the same kind of joy I received when working on this show 20 years ago."
District and school officials are expected to be in the audience during all four performances along with parents, family members and students from both schools.
"A huge thank you to Stephanie Shea and Jennifer Cove for going completely above and beyond for our Woodhull and Jack Abrams School students," said Brian Stellato, district director of fine and performing arts. "We are so lucky to have them working with our Huntington students."