Casiano, Zboray & Algieri Capture League Mat Titles
The Huntington wrestling team sent five wrestlers to the finals at Saturday's Section XI League III championships at Smithtown East with Max Casiano, Zachary Zboray and Joe Algieri winning titles. The Blue Devils have qualified eight matmen in all for the Suffolk tournament next week at Stony Brook.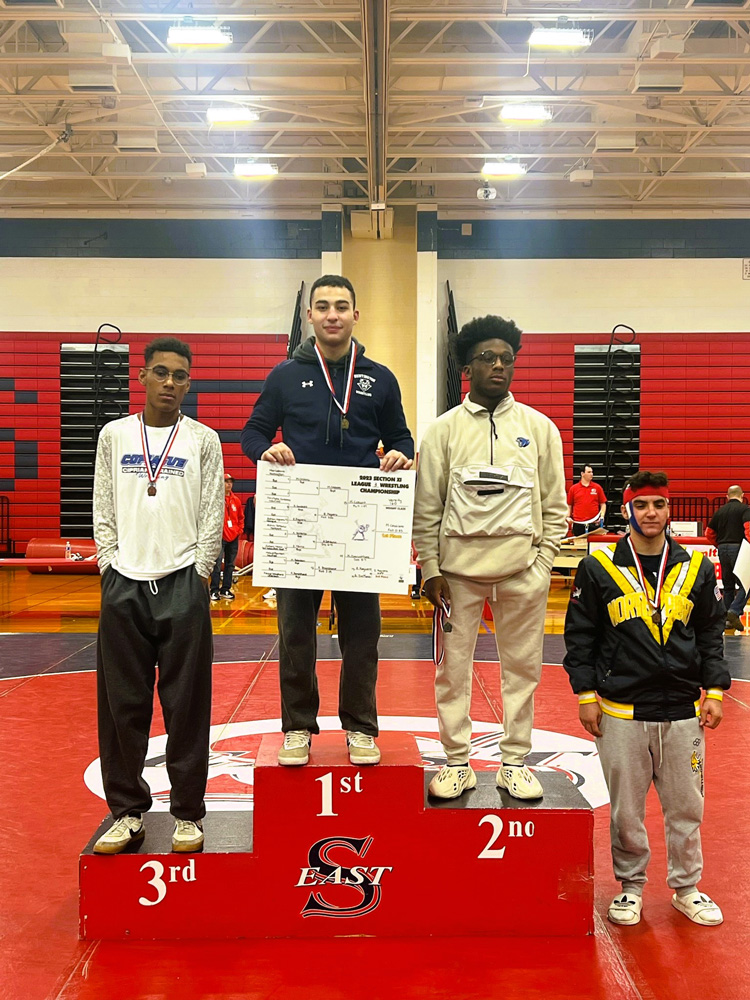 Walter Kusterbeck and Christian St. John both finished second in their respective weight class. Dante Salgado and Silvio Torres were both third and Enzo Pupillo placed fourth after injuring his hand in a 5-3 semifinal loss and being unable to take the mat for the consolation round bout.
Casiano was unbeatable at 160 lbs. with a pair of first period pins, including one in the finals in just 35 seconds. The junior quickly took down second seeded Kenaje Demosthene of Centereach and then locked him in a tight cradle to end it.
Zboray was in command throughout three wins at 172 lbs., picking up a 28 second pin the quarterfinals and a 15-4 major decision in the semifinal round. The senior battled St. John in the finals, besting his teammate, 7-1. St. John had reached the championship bout with pins in nine seconds and 1:45.
Algieri topped No. 1 seed Riccardo Jean Baptiste of Centereach at 215 lbs. with a wild 9-7 decision in the finals. Rather than taking the usual six minutes, constant stoppages due to bleeding caused the match to run beyond 10 minutes before it was finally decided. The momentum swung back and forth several times before Algieri emerged with the win.
Kusterbeck pinned Centereach's Aiden Lazo in the quarterfinals in 28 seconds at 102 lbs. and then edged Northport's Dylan Tuthill in the semifinals, 5-3. The freshman was pinned in the finals to finish second.
Salgado had a pair of pins in the tournament at 138 lbs., including one in 2:17 in the consolation bout for third place. The junior's lone loss came at the hands of third seeded Jeff Bartholomew of Northport in the semifinals, 7-3.
Torres topped Centereach's James Vaughan for third place, 5-2. The match went into overtime after neither wrestler could gain the advantage during regulation.
Seeded second at 132 lbs., Pupillo pinned Smithtown East's Noah Spalma in the quarterfinals in 1:01 before falling to third seeded Tim McLam of Northport, 5-3. The Huntington senior injured his hand in the loss and was unable to continue in the tournament, instead settling for fourth place.
Huntington finished third in the team standings with 161 points, trailing first place Northport (248) and runner-up Smithtown East (169.5) but ahead of Half Hollow Hills East (153), Newfield (99), Centereach (82) and Copiague (79).