March 21, 2022
Huntington High School junior Aria Hannah is among an exceptional group of young artists and designers to have their work chosen for exhibit at the Huntington Arts Council's High Arts Showcase XVIII at the Main Street gallery in the village.
Ms. Hannah is one of the stars of the high school's fashion design & illustration program, She is studying with veteran teacher Kim Valerio.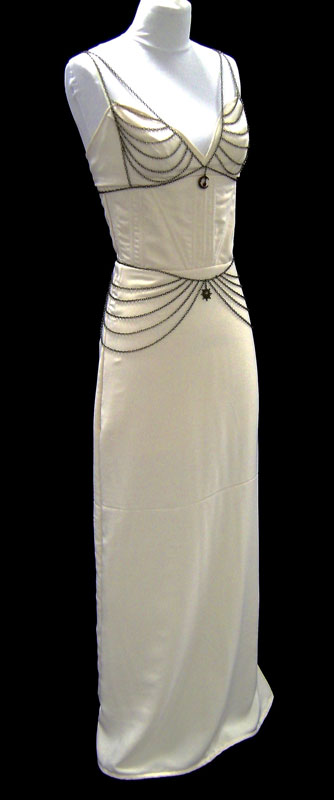 Aria Hannah's beautiful sewn garment is on display at High Arts Showcase XVIII.
The teenager's sewn garment on exhibit is named "Chained Up." Its framed size measures 60 inches in height by 16 inches wide and 14 inches deep. Unlike most of the works on display, it is not for sale at the show.
"As an artist, I am very inspired by history and how historical pieces are constructed," Ms. Hannah said. "I like to use elements of historical fashion in my everyday life and in my sewing projects. I am very inspired by different time periods and how fashion changed over time."
The junior is interested in attending art school following graduation. "Specifically, Pratt and Central Saint Martins," Ms. Hannah said. "I want to study fashion and/or costume design. My goal is to become a costume designer for movies and television."
Ms. Hannah said she "loves" the fashion and photography classes that she is currently taking. "I'm in my third year of fashion with Ms. Valerio and it has been a great experience," the teenager said. "This is my first year taking photography with Mrs. [Pamela] Piffard, but I am really enjoying it so far."
The young designer has developed a close relationship with Ms. Valerio in the fashion and illustration design classroom on the high school's lower level.
"Ms. Valerio has been a great teacher over the years," Ms. Hannah said. "She helps me with projects, always gives the best advice and lets me completely express myself creatively."
A member of the Art Honor Society, Ms. Hannah has been assisting with the drama club's costumes for the high school's spring musical production.
This year's High Arts Showcase XVIII will run from March 18 through April 9. "The High Arts Showcase exhibition is an opportunity for young artists in Journey program partner schools to present their artwork in a gallery setting," according to the Huntington Arts Council. "These students learn firsthand what is involved throughout a gallery exhibition; from submitting entries and writing an artist statement to titling, framing and pricing their artwork."
"I was very inspired by my love for historical fashion and corsetry while designing this dress," Ms. Hannah said. "I love drafting my own patterns, so I decided to draft this dress pattern on a dress form. I decided to use chains in my project because I love to make jewelry and I wanted to incorporate that into my dress. I find that when I design clothes I try to construct pieces that would make someone feel confident in themselves, and I feel that this dress conveys that."
The Main Street Gallery is open Tuesday through Friday from 11 a.m. to 4 p.m. and by appointment at other times. Call in advance for visitation on Saturday and Sunday.
"As I was draping the chains on my dress, I found that the dress was starting to look like a Greek goddess, so I decided to go with that and use a few charms to add to the image of a goddess," Ms. Hannah said.
The teenager is an excellent all-around student. Ms. Hannah has earned the distinction of earning a spot on the high school's high honor roll.
"My experience has been great," Ms. Hannah said. "I have met so many amazing people, had great teachers and learned many useful things."