January 18, 2022
The Huntington High School wrestling team is heading into the home stretch of its season. The Blue Devils have compiled a 13-4 record and all 13 starters have winning records.
Huntington has one non-league meet remaining at Harborfields. The Blue Devils will compete in the Suffolk League III Championships at Half Hollow Hills East on Saturday, February 5 beginning at 9 a.m. The Section XI tournament is set for Saturday and Sunday, February 12-13 at Walt Whitman. The state championships will be held in Albany on February 25-26.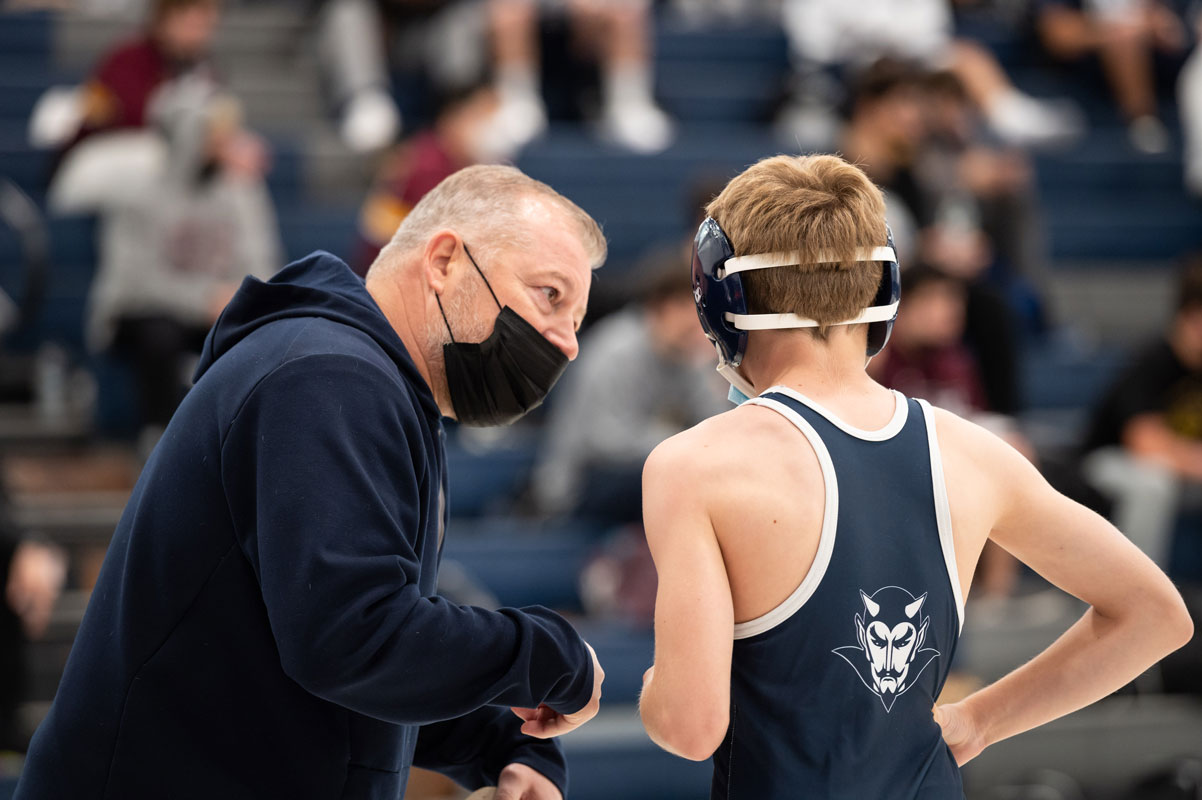 Coach Jamie St. John offers Walter Kusterbeck some advice. (Darin Reed photo.)
Huntington is led by senior Robbie Smith (33-1 with 27 pins) who is ranked No. 1 in Suffolk at 215 lbs. Senior Kaleef Riley (28-3 with 17 pins) is ranked No. 6 in the county at 285 lbs.
Zachary Zboray is 27-4 and Lucas Petrizzi is 24-9. Lucas Cirlincione and Sam Nicotra are both 20-3 this winter. Max Casiano is 20-4.
Enzo Pupillo has a record of 18-5. Jonathan Granito is 17-7 and Christian St. John is 17-8. Eighth grader Walter Kusterbeck has a mark of 14-10 and Dante Salgado is 13-10. John Acompora-Miller is 7-6.
At last weekend's Kohl Tournament at Suffern High School in Rockland County, Cirlincione, Smith and Riley all captured first place in their respective weight class. Zboray and Petrizzi both finished third. Granito was fifth and Casiano placed sixth.
Huntington is coached by Travis Smith, Michael Marinello and Jamie St. John.