September 29, 2021
Freshman Timmy McDonald put on an awesome display, rushing for 83 yards and two touchdowns, catching a 28 yard touchdown pass, completing a 45 yard pass and recording eight tackles, including four for a loss and a quarterback sack to lead the Huntington JV football team over Northport, 28-0.
It was the Timmy McDonald Show as the teenager and his teammates improved to 2-1. The Blue Devils scored a touchdown in each of the four quarters and led at halftime, 14-0.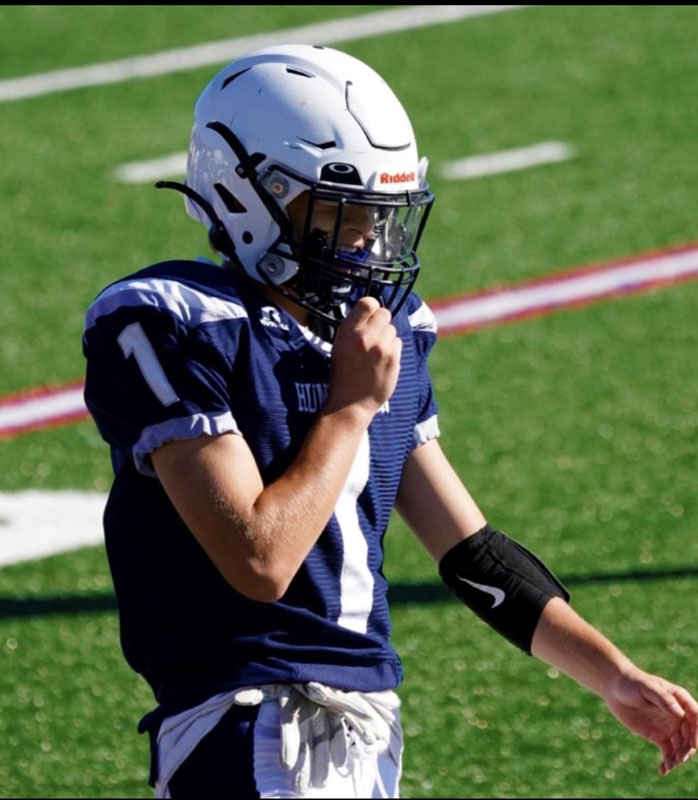 Joey Zink tossed a 28 yard touchdown pass in the victory over Northport.
There were many stars for Huntington, including Joey Zink, who completed a pass for 28 yards and a touchdown and had a tackle and pass deflection. Jahmar Francis rushed eight times for 60 yards and had one reception for a 45 yard gain. Francis also made five tackles, including one for a loss.
Kevin London turned in a great effort with eight tackles, including two for a loss and a quarterback sack. He also rushed for 84 yards and a touchdown.
David Dje Bi had nine carries for 52 yards and made three tackles. Navado Petro contributed a pair of tackles and a 10 yard reception. Tommy Kline completed a pass for 10 yards. Jon Granito recovered a fumble. Tom Smith rushed once for two yards.
Huntington compiled 366 yards of total offense, including 283 on 34 rushes. The Blue Devil defense made 38 solo tackles, including seven for a loss, two quarterback sacks and a pass deflection.
Joe Boeckman starred on special teams with a pair of tackles on kickoffs. John Genova made three tackles and Carmine Carusone and Dawin Preval had two tackles each. Cristian Alfaro and Geoffrey Hoffman also added tackles in the game.
Captained by Zink, Genova, McDonald and Dje Bi, the Blue Devils are coached by Ron Wilson and Andrew White and volunteers Dareus Smith and Antoine Swain.
Wilson announced several game awards. The overall game MVP went to McDonald with Defensive MVP honors going to London and Offensive MVP recognition to Preval. The Special Teams MVP was Boeckman.
Huntington (2-1) hosts Smithtown West (2-1) at Blue Devil Stadium on Saturday at 9 a.m.