October 26 , 2021
Never one to be left behind, Huntington High School freshman Sebastien Simon loves to draw. He's so good at it that his pen and ink sketch has been chosen for display at the Huntington Art Council's Nightmare on Main Street exhibit that runs through November 3.
Nightmare on Main is a themed show. Long Island students in grades 6-12 were asked to submit original artwork reflecting their interpretation of Halloween.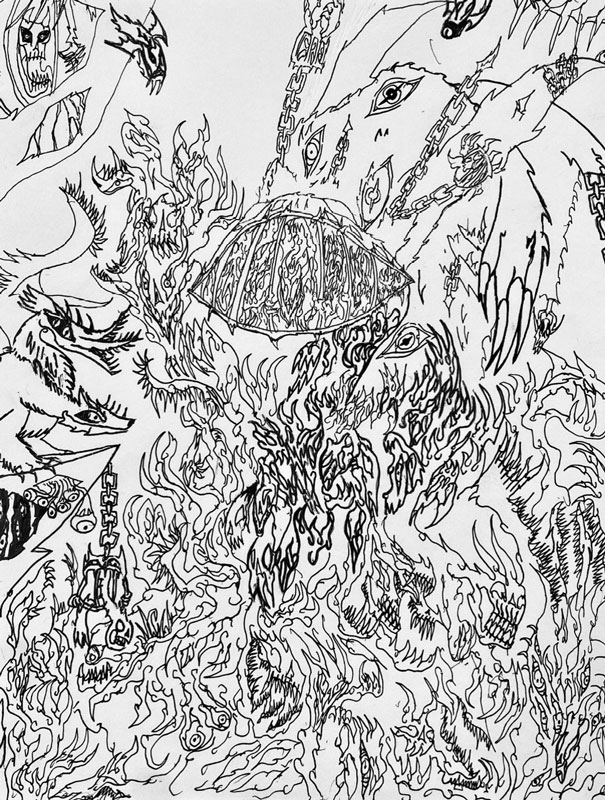 Sebastien Simon's pen and ink sketch titled Sea Of Demons.
Born in Queens and raised in Huntington, Mr. Simon joins fellow Huntington High School artists Emma Waters and Abigail Simon (no relation) in displaying work at the exhibit. The pieces on display were picked by Huntington Arts Council officials.
"When I was in third grade, I knew I loved art," Mr. Simon said. "I would always draw my favorite characters and felt connected to illustrating them. Art has taught me that you can create whatever you want and make it your own."
The exhibit is housed at the Huntington Art Council's Main Street Gallery located at 213 Main Street in Huntington village. A reception is scheduled for October 29 from 4-7 p.m.
"The title of my artwork is 'Sea of Demons,'" wrote Mr. Simon in an artist's statement which accompanies his piece on display. "My artwork, which was created in pen and ink, is based on one of the layers in the nine circles of the netherworld. The creatures that are represented in the work are sea creatures and demon-like beasts. I mainly focus on lines that create a fiery form and textures of the underworld flames. This is the Ring of Envy where those who do acts of hatred go. I am proud of myself for how hard I worked to make this piece. Drawing is something that calms me and I can put my ideas on paper. That is why I love art."
Mr. Simon is studying with Huntington High School art teacher Jenna Rinaldi.
The Main Street Gallery is open on Tuesday through Friday from 11 a.m. to 4 p.m. and by appointment at other times. Call in advance for visitation on Saturday and Sunday.