October 25 , 2021
Sam Cirlincione walks around Huntington High School with a determined look on his face. He's always focused. Sometimes you think he isn't paying attention, but nothing slips by him. Especially not a good joke. His smile and laugh can be disarming.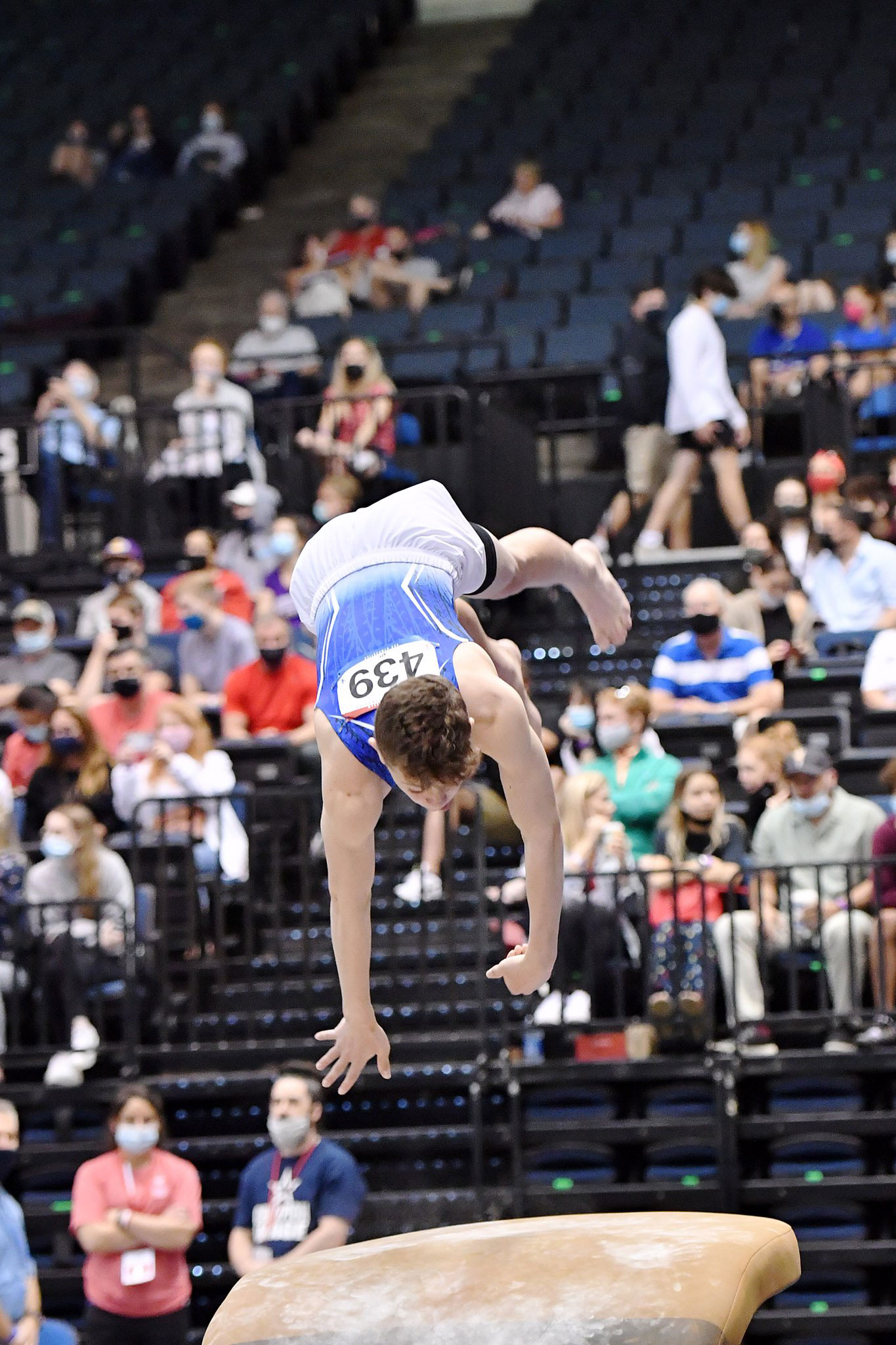 Sam Cirlincione flies through the air at a gymnastics invitational.
Huntington has never sponsored an interscholastic gymnastics team so Cirlincione's incredible talents have never been put on display for his classmates or teachers. He's content with that, although he wishes he could wear a Blue Devil uniform and win a state championship for his high school.
Cirlincione is a great student. He studies and takes pride in his work. But it's the three hour daily workouts on floor exercise, high bar, rings, pommel horse, vault and parallel bars that he really enjoys.
There aren't many people who know of Cirlincione's gymnastics talents or that he has increasingly made a name for himself on state, regional and national levels.
The teenager has won a pile of medals and enough trophies to fill a small room. But they're not enough. Cirlincione is chasing what every young gymnast wants; an Olympic medal. He plans to pursue the sport at one of the dwindling number of NCAA Division I programs and take his talent as far as it leads him.
He's gone to camps and clinics from coast to coast, including one for high end young gymnasts in Pennsylvania last summer. He went alone not knowing a single soul, but quickly stood out among the elite staff.
Cirlincione has been standing out since he stepped foot inside Washington Primary School as a kindergartener. He was known there for his happy-go-lucky personality. He would come into the gym as a five year old and rattle off 20 perfect pushups. A teacher once asked him if he could run through a brick wall and the youngster said he didn't know, but he would try.
The sophomore's athleticism speaks for itself. He's wrestled and played lacrosse for Huntington, but coaches think he could play any sport and play it well. He is strong and fast and has the balance and coordination of, well, a gymnast. As a young soccer player he showed enormous potential, but the lure of the gym and gymnastics equipment proved to be too tempting.
Cirlincione can often be seen walking home after school, passing by the tennis courts and Big H Shopping Center on the 1.8 mile trek. He's alone with his thoughts, which assuredly include executing the perfect routine on one or more of his six gymnastics events.
What is it about gymnastics that attracts Cirlincione? Is it the challenge of mastering intricate routines? The solitary nature of competition? The spotlight when it's his turn to perform? The pressure he feels from the other top gymnasts, all vying for gold, silver and bronze medals? The hours upon hours of training, after school, at night and on weekends?
It's all those things. It's the quest to be the best. To train the mind and body to perform on command; to cast aside the pressure to execute. It's the day in and day out effort to climb to the top of the victory platform. Not to win for the sake of winning, but to see just how good he can be. To test himself and his abilities. To grow in his mental toughness.
Huntington's track coaches think Cirlincione could be a top pole vaulter. He has grown accustomed to hurling himself through the air. Flying upside down doesn't scare him. But every minute spent pole vaulting would be less time he can devote to being the best gymnast possible.
So while Cirlincione enjoys playing lacrosse for the Blue Devils and intends to continue to put on a Blue Devil uniform, his interest in other interscholastic sports has increasingly taken a backseat to his main priority.
Cirlincione and his two brothers, Lucas and Charlie and his parents, Adam and Rachel have taken the time to travel extensively. The sophomore has been all over the country and even across the globe.
Cirlincione has traveled to Nicaragua, Israel, Spain, France, Italy, Croatia and even Cuba. He's been to countless cities and experienced a variety of cultures, foods, music and customs.
But while the teenager has seen remarkable sights his happiest days are spent in the gym, training and competing in the sport he loves.