October 12 , 2021
Huntington High School's annual Homecoming Day festivities returned last Saturday after a one year hiatus brought about by the COVID-19 pandemic. Blue Devil Nation responded with hundreds marching in a late morning parade down Main Street and a near capacity crowd at an afternoon varsity football game that pitted the Blue Devils against Long Beach for the first time ever.
The festivities continued a tradition that stretches back to the Great Depression. Special event spirit days were held throughout the week. On Thursday night, a magnificent bonfire that reached high into the sky attracted about 1,000 students, parents and teachers to the high school. There was music, food, dancing, games and camaraderie that everyone was craving after 18 months of dealing with the COVID-19 crisis.
Friday afternoon's pep rally at Blue Devil Stadium was a high octane affair as varsity teams were introduced to the student body and faculty to hearty applause. Athletes performed short skits and the Blue Devil marching band and color guard put on an awesome display. There were also performances by the Highsteppers and Ready Step dance teams and the chamber choir along with United Amigos club members. Drama club advisor Michael Schwendemann served as master of ceremonies and kept things lively.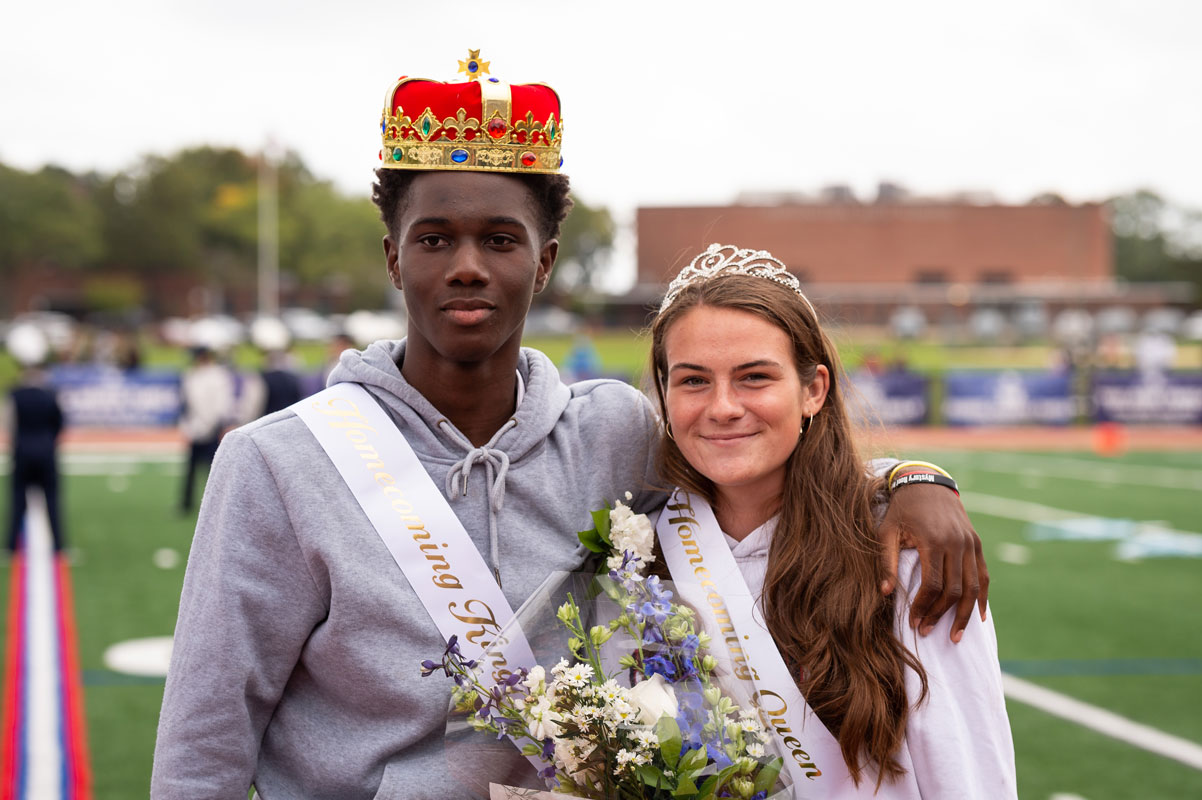 Seniors Quincy Chery and Emily Plachta were crowned Homecoming Day king and queen. (Darin Reed photo.)
Saturday's late morning parade included students and parents from all eight Huntington UFSD schools marching behind banners. The Blue Devil marching band performed along the parade route, drawing merchants and customers out of stores and onto sidewalks.
The Booster Club manned the Blue Devil Stadium field house and an adjacent trailer filled with Huntington apparel during the afternoon football game. Club members offered an assortment of food and beverage choices, including grilled sports fare, which completely sold out. The Band Parents Association was also on the scene selling its own apparel and there was plenty of interest there, too.
Nominees for the Homecoming Day queen included Emily Plachta, Katie Browne and Ashley Genao. Homecoming king nominees featured Quincy Chery, John Marziliano, Luke Rinaldi and Andrew Schirripa.
Ms. Plachta was crowned the 2021 Homecoming Day queen by Superintendent Jim Polansky while Mr. Chery garnered the king honors, being crowned by Principal Brenden Cusack.
Students took delight in the week's events, especially Class of 2022 members. "I think it was a lot of fun," Ms. Plachta said. "Everyone was super excited to be back this year."
The huge turnout included many members of the district's administrative and teaching corps along with Huntington School Board trustees. Many marched in the parade while others attended the afternoon football game.
Last minute scheduling brought the Blue Devil and Long Beach football teams together for the first time ever after each school saw their previously scheduled opponent bow out due to COVID-19 quarantines. The matchup proved to be a splendid centerpiece for Homecoming Weekend.
"With all that we have endured during the past 20 months and even the past week, it was such a delight to take part in an incredible celebration," Mr. Polansky said. "From spirit days across the district, to an outstanding evening for the bonfire, to the tremendous work each high school class put into building its float, and finally to a great Homecoming Day featuring and an inclusive district parade and a football game against such a gracious Long Beach team, we could not have written a better script. The smiles and sheer joy – this is what the Huntington family is all about."
Everyone seems to agree that it was a great week and weekend and one that won't be forgotten anytime soon.
"This year's homecoming was without question the best in recent memory" Mr. Cusack said. "The events of this past week helped to bring us back to the traditions we have been missing for quite a long time. It was truly wonderful to see our community come together to enjoy a very special Homecoming Weekend.  I am so thankful for the support of the Huntington Manor Fire Department, the Suffolk County Police Department's Second Precinct, the Long Beach football team and all of our clubs and student government for their participation and support throughout the weekend. Huntington pride was on full display throughout all of our events and I am so happy to see that everyone enjoyed themselves." 
The high school pep band played throughout the football game and kept fans pumped up. Among the faces in the crowd was Infinite Tucker, one of the Blue Devils' all-time greats.
"I think homecoming went fantastic," said Ms. Genao, who is the Class of 2021's vice president. "It was a great opportunity to get some normalcy back because of COVID-19, which prevented us from being able to do homecoming last year. I especially know I was extremely happy to see everyone smiling and having a great time."
All of the events were well attended and indeed, all of the faces filled with smiles told the tale. "It went really well," Ms. Browne said. "The whole event was so much fun and the students loved it!"
Class officers and faculty advisors worked extra hard to make Homecoming 2021 a success. Many clubs were represented at the Thursday night bonfire and festival and even the Booster Club was on hand grilling food and offering other tasty delights and satisfying beverages.
"It was such an awesome homecoming week," said Teddi Carnesi, president of Huntington's Class of 2022 "I had such a great time with my classmates and made so many fun memories. The Class of 2022 worked super hard on our float and events for the week. We couldn't have been happier."
The Class of 2023 won the float competition, outdistancing by a narrow margin the other three classes in the building.
"Homecoming was so much fun," said Ella Kamenstein, president of the Class of 2023. "From the bonfire to the pep rally to float night, I had a great time. It was amazing to see my class come together and help with all aspects of homecoming. They contributed so much time and effort and were able to make the float come together. I was so happy we could do all the exciting events in person since last year with COVID-19 it wasn't possible. I cannot wait to see what next year has in store. It was definitely the best homecoming yet."