November 30, 2021
Hope Bilkey is chasing down her dreams at Huntington High School. One of the top runners in the state, the junior is coming off a splendid soccer season and was recently inducted into the National Honor Society. She's determined to participate in college athletics and study to become a teacher.
A strong willed young woman, Ms. Bilkey is a remarkably well rounded teenager. She dons a Blue Devil uniform in all three sport seasons. She helped lead the Huntington varsity girls' soccer team into the playoffs and has won a state championship with the track program.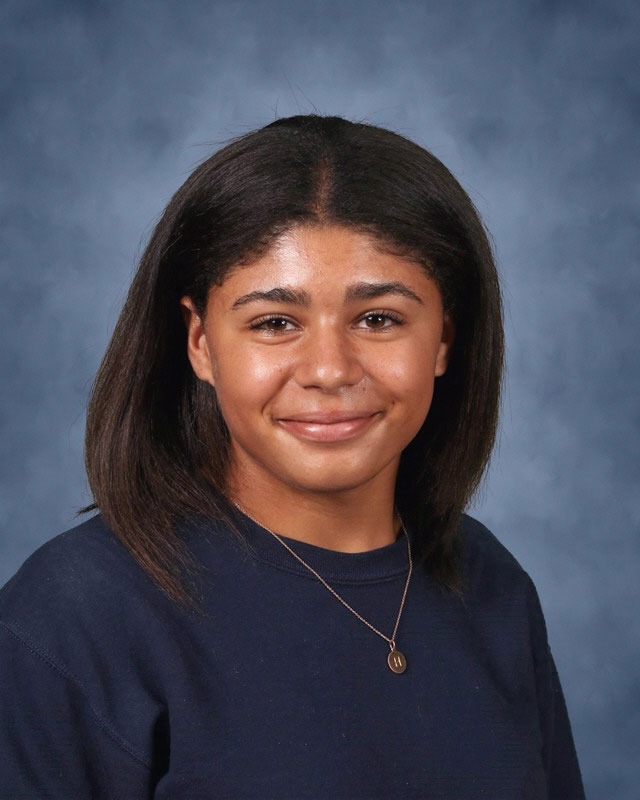 Huntington High School junior Hope Bilkey
"Out of all the years of my sports career, this has been my favorite one so far," Ms. Bilkey said. "In Huntington, everyone feels that your sports team becomes your family."
The junior also believes in the value of volunteering in the community "to make it a better place and I plan to continue doing it," Ms. Bilkey said.
The teenager has been researching colleges that have both an elementary education teacher preparation program along with a high quality soccer team.
"My dream job has always been to be a teacher," Ms. Bilkey said. "I've fallen in love with helping others and teaching them to be a better person. This dream was inspired by my dad. He's always taken me under his wing and led me to be the person I am today. Also, my dad has helped me achieve my goal of being selected for National Honor Society which is something we are both very proud of." 
Ms. Bilkey is doing very well in her classes. She is enrolled in Advanced Placement English Language and Composition, US History, Geometry, Physics, Spanish IV and Ceramics & Sculpture.
"This year. I decided to enroll in Women's Studies," said Ms. Bilkey, who aced the course in the first marking period. "This class has given me an opportunity to learn about empowering women in our history. It gives you the opportunity to learn more than the average history class."
Blue Devil coaches expect Ms. Bilkey to be among the best runners in the metropolitan area during the indoor winter and outdoor spring seasons.
"Huntington High School is a place where you can come to be yourself," Ms. Bilkey said. "While attending this school, I've had tremendous support, regardless of the situation. Since freshman year, I've grown as a person, I've become more open. Starting off freshman, I was always shy to put myself out there, but since then I've adapted to the ways of high school and have become the best version of myself. This all comes from my friends and family at Huntington High School."