November 19, 2021
The Nathan Hale chapter of the National Honor Society at Huntington High School embraced 61 new members during the organization's 68th annual induction ceremony, which was held in person in the auditorium for the first time in two years.
The teenagers have compiled magnificent academic records and garnered the respect and admiration of the faculty.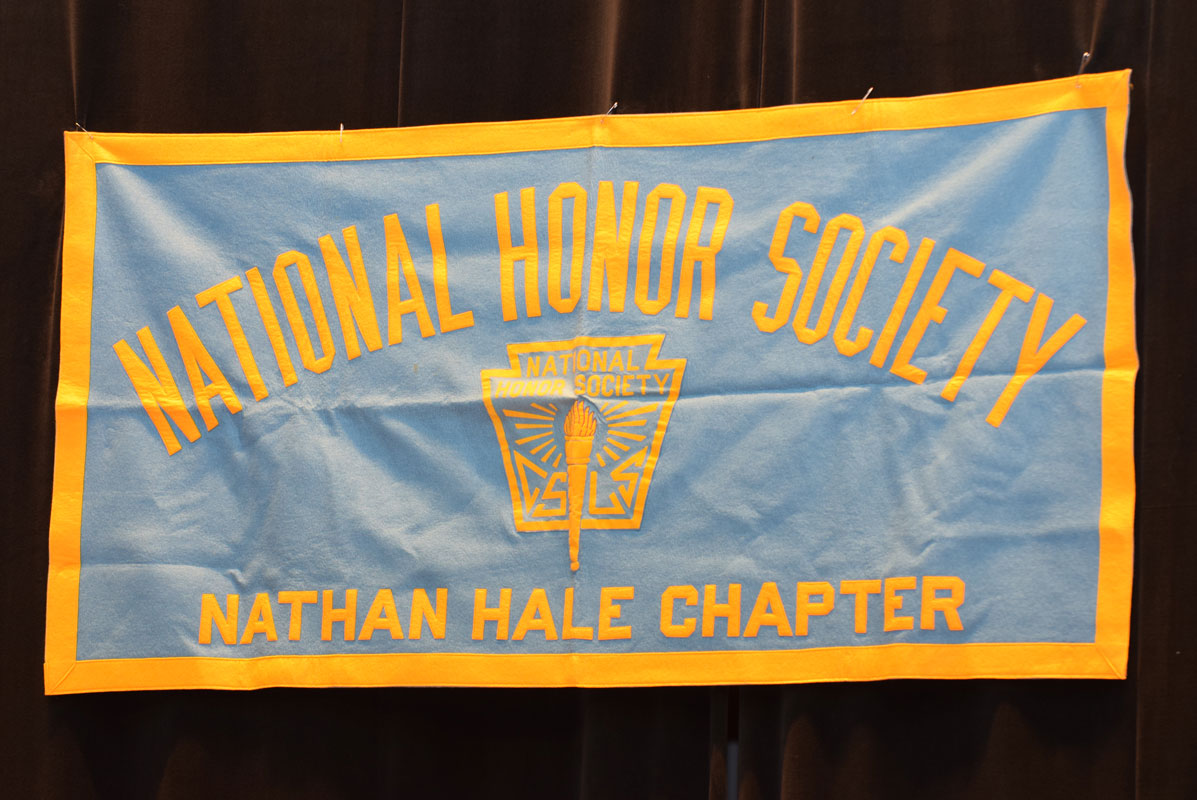 Huntington's National Honor Society chapter was formed in the mid-1950s.
"While members of this outstanding group of inductees have been honored for their scholarship, service, leadership and character, their perseverance and resilience during a challenging time have also served as a model for all to emulate," Huntington Superintendent James W. Polansky said. "We are incredibly proud of the young adults they have become and are equally as excited about the tremendously bright future ahead for each of them. We extend our sincerest congratulations to them and their families!"
Speakers during the event included Nathan Hale chapter President Emily Geller, who gave a well-spoken address about the ideals of the organization. Executive officers Ainsley Proctor (vice president), Naysa Escobar-Rizo (secretary), Ryan Porzio (treasurer) and Morgan Colleluori (administrative assistant) took turns speaking about the group's membership pillars of character, scholarship, leadership and service. (Caelan Clayton serves as the group's tutoring coordinator.)
Principal Brenden Cusack also addressed the new and continuing members during the induction ceremony as did teachers Patricia Avelli and Tara Rossy, who serve as the organization's faculty advisors.
The new members include Riley Ackerman, Talia Addeo, Anthony Annunziata, Jaden Argaman, Victoria Befumo, Hope Bilkey, Laurel Bonn, Sophie Bradford, Peter Breingan, Emma Brendel, Sofia Breskin, McKenna Buffa, Hannah Byers, Gemma Cartwright, Emely Cruz, Ryan Curran, Katerina Damiano, Megan Donaghy, Kevin Drake, Gianna Forte, Peter Gaal, Vincent Grassi, Dylan Hanna, Emma Hannigan, Sean Hassett, Molly Heffernan, Tyler Johnson, Ella Kamenstein, Noa Kimmelman, Paul Knieriem, Sarah Krisch, Timothy Kusterbeck, Cecilia Kye, Keyla Maldonado, Allison Malone, Markella Markotsis, Grace McCallion, Seamus McDevitt, Renee McKean, Kathryn Meagher, Danielle Mendikyan, Gabriella Miller, Kathryn Montefusco, Jillian Panos, Carl Pulizzotto, Enzo Pupillo, Neha Rathore, Ian Rotunno, Erin Scanlon, Nikolai Seferian, Sophia Segal, Leah Sheran, Haileigh Smith, Evan Spagnoletti, Liam Tucker, Nina Varvatsas, Eliza Walther, Stephanie Wickey, Anna Bell Young, Nicholast Zahn and Zachary Zboray.
A reception followed the induction in the main lobby outside the auditorium. Parents took countless photos and students showed off their membership certificates.
The National Honor Society's motto is "Noblesse Oblige," a French term that translates in English to "nobility obligates." The new members are expected to assist all students on the path toward academic excellence through a variety of tutoring and community service activities.