November 12, 2021
While the Huntington High School boys' varsity cross country team is in the midst of a building program, junior Matteo Armstrong enjoyed a breakout season that saw the teenager capture first team All-League honors along with All-Division and second team All-County recognition.
Coached by high school physical education teacher Onix Salva, the team was captained by Armstrong and sophomore Ethan Goleski. Huntington finished fourth in the league and conference standings with a 3-3 mark.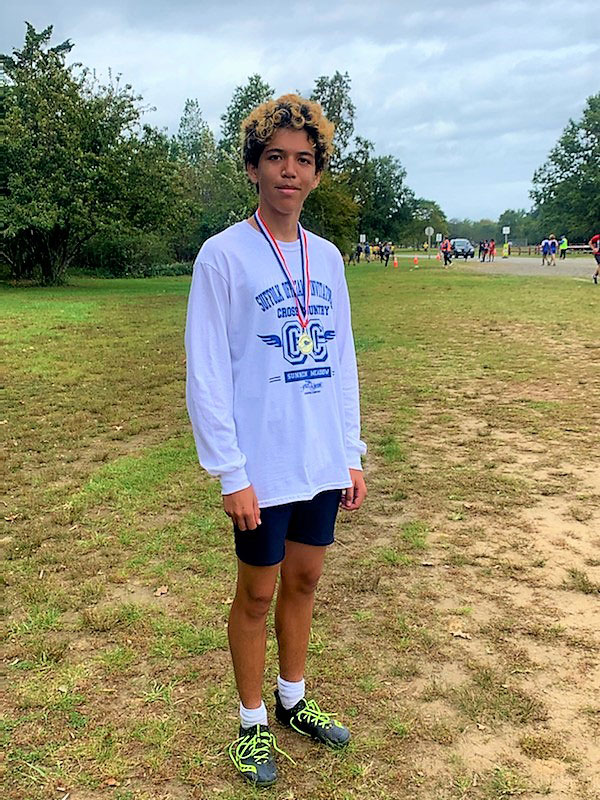 Blue Devil cross country star Matteo Armstrong
The Blue Devils were led by Armstrong, who covered the 5K course at Sunken Meadow State Park in a personal best time of 17:44. Junior Ian Rotunno notched his best time of 19:55.60 at Bethpage State Park.
Rounding out the top five best times for the Blue Devils were senior Erik Flores Reyes (20:26.10 at Sunken Meadow), Goleski (20:29.98 at Sunken Meadow) and senior Quincy Chery (20:34.80 at Sunken Meadow).
"Matteo's hard work and determination made him one of the best cross country runners in the county," Salva said. "He was also an amazing leader for our team."
The roster numbered 11 runners in all. "Ian Rotunno, Erik Flores and Ethan Goleski pushed each other every day at practice and it showed throughout the season as their times kept getting faster each time they ran," Salva said.
Chery also contributed. Suffolk's outdoor hurdles champion, "he wanted to prepare for the indoor track and field season and decided to run cross country," Salva said. "Quincy worked extremely hard every day and because of his decision and love for his teammates, he helped us be very competitive in our league meets."
The season started out slowly for Huntington. "We had low numbers to begin due to the first cross country meet being held before the school year started," Salva said. "Once classes began, our team recruited and we started to win league meets and finished .500 for the season. We just missed competing as a team in the county championships even with a slow start to the season."
Salva is looking to build the roster and get more runners involved. "Next year we will be a very competitive team as we have a lot of athletes returning," he said. "We will also have a healthy Nicholas Seitz, which will add to our team. "We are returning Matteo, Ian, Ethan, Aidan Geller, John Joyce and Michael Mendikyan. We will have a chance to win the league title and compete as a team at the Suffolk championships."
Salva said the program is striving to have one of its runners compete in the state championships next fall.