November 9, 2021
This year's Section XI girls' swimming and diving championships produced a thrilling set of performances by Huntington High School swimmers and their counterparts from Walt Whitman. The combined team placed ninth in a field of 25 at Stony Brook University.
The Huntington-Walt Whitman team tallied 100 points. Head coach Chris Helmke said he was "very happy" with the results.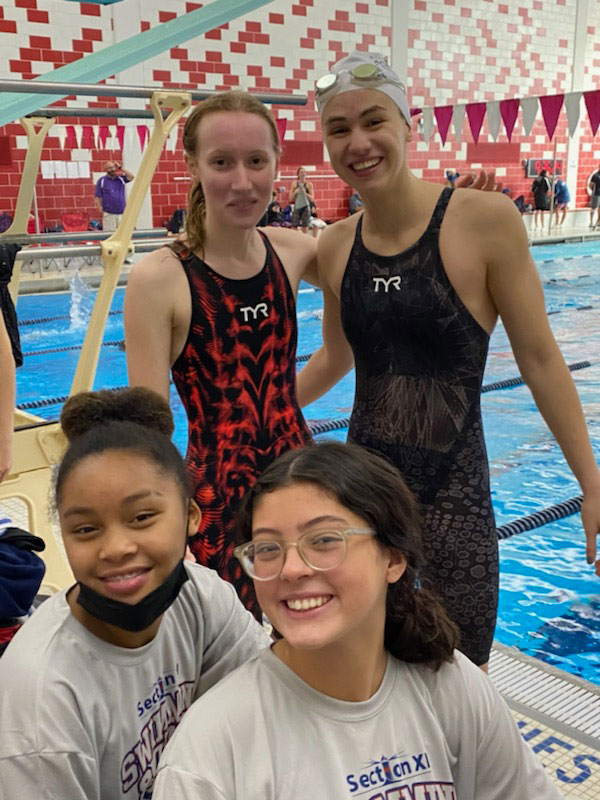 The Huntington-Walt Whitman team is thrilled with the results of the county meet.
Huntington junior Kathryn Montefusco had several strong performances, earning All-County honors in multiple events. "Kathryn broke her previous times in each event to improve her seed times for the state championships," Helmke said.
Senior Caelan Clayton, a Blue Devil co-captain who has also qualified for the state meet, was a standout in her events at the county championships, too, scoring points in bunches for the Huntington-Walt Whitman team.
Helmke said several other Blue Devil swimmers had "excellent performances" at the counties, including:

• Co-captain and senior Ainsley Proctor, a sprint specialist, helped score points in the 200 freestyle relay during both the regular season and the post-season.
• Freshman Josie Sullivan, who bested her previous 50 freestyle time in the 200 freestyle relay at the county championships.
• Senior Abby Lewis, whose specialties include the 200 IM and breaststroke helped the team score points and add to its success this fall.
Whitman swimmers Bianca Santaromana, Maria Petkovits and Isabella Alvear all turned in great times at the count meet. Whitman diver Venus Stewart placed ninth in the 11-dive format competition, with a final score of 338.80. "It was an excellent performance," Helmke said.
Helmke praised his "hardworking" assistants, Meg McConnell and Rufus Shepard. "They helped make this a successful season.