November 9, 2021
Eight seniors who have meant so much to the Huntington High School girls' volleyball program were celebrated in fine fashion on a day set aside just for them.
Shannon Kehoe, Grace Stolfa, Kianna Criscuola, Cassidy Casabona, Madelyn Bavaro, Caroline Gorecki, Sophia Toscano and Francesca Stamatatos were the center of attention as the Blue Devils recognized the careers and contributions of the eight teenagers.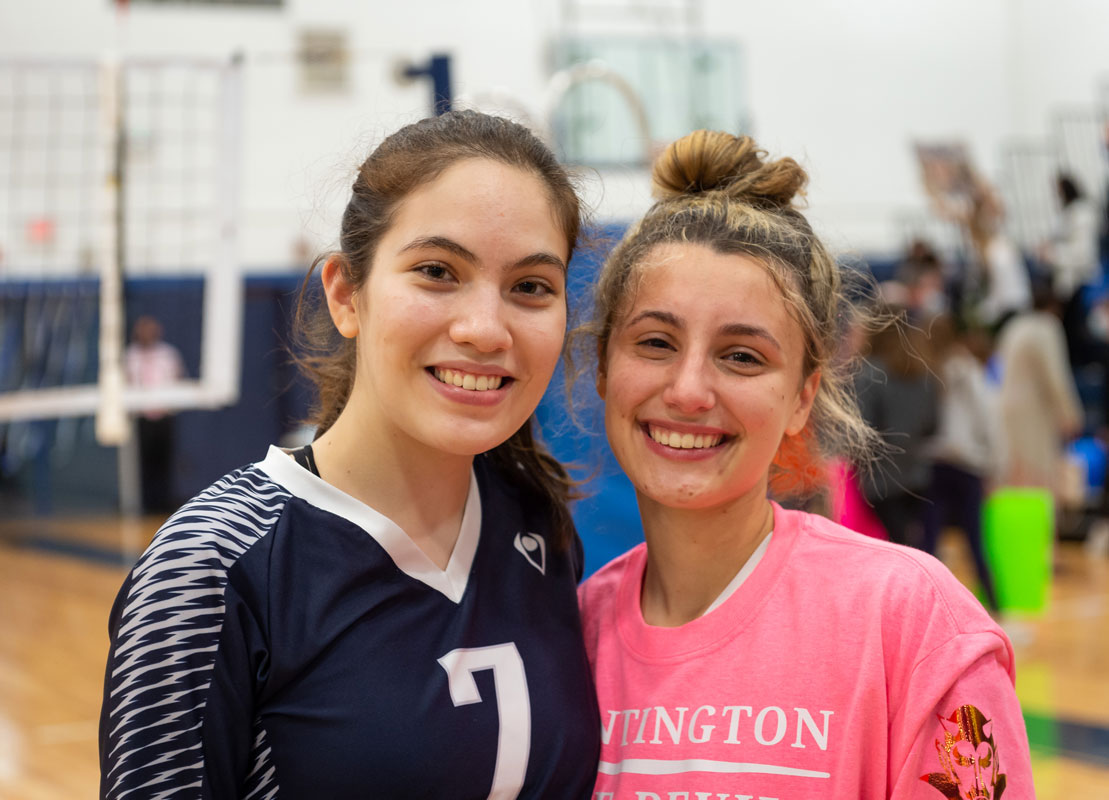 Cassidy Casabona and Grace Stolfa on Senior Day. (Darin Reed photo.)
Rather than senior day coinciding with a meet, the team decided to schedule it alongside a competitive scrimmage played under game conditions complete with a pair of Section XI referees. This allowed for a stretched out celebration and more court time for the seniors Cold Spring Harbor came to Louis D. Giani Gymnasium and the bleachers filled up with parents, family members and classmates of the seniors.
All eight seniors saw extensive court time and every one of the veterans sparkled. The underclassmen on the team decorated the gym and head coach Todd Donaghy presented each of the seniors with a framed Huntington "H" varsity letter and a colorful photo of the player in action.
Donaghy spoke about each of the seniors during a formal ceremony. There were tears shed, tight hugs, heartfelt applause and hundreds of photos.
"Shannon Kehoe was a four year starter who finished with 1,149 career assists," Donaghy said. "She may be the first and only setter at Huntington to surpass 1,000 career assists in her career. Shannon is a true leader  She leads with her words and she leads by example; playing hard every time she steps onto the court. She's absolutely one of the best players to wear the uniform here at Huntington High School. Shannon was a huge reason why we were still playing meaningful games the last week of our season. We needed to go 2-0 to qualify for playoffs.  We went 1-1. The one loss was in the fifth set of a very well-played 25-21 loss to West Islip. Shannon's leadership and high level of play helped put Huntington volleyball back on the map." 
Huntington stepped up its game this year and came within a proverbial whisker of making the playoffs. The interest in the sport across Huntington UFSD has skyrocketed with 124 seventh and eighth graders trying out this week for the team at J. Taylor Finley Middle School. The seven seniors played a role in this rebirth, too.
"Grace Stolfa was a two year varsity starter and in my opinion could have been a four year starter," Donaghy said. "I was fortunate to have coached Grace for three years and she was one of our best passers and defensive players throughout her career. Grace, along with Shannon was a two year captain for us. She was our captain because she was someone that led by example with her hard work on the court and because of her ability to communicate very well with her teammates. " 
Each of the seniors contributed in their own special way to the success of the program and to each other's growth as players. All of them will be missed and will be difficult to replace.
"Kianna Criscuola was a three year varsity member," Donaghy said. "She was one of those players whose value didn't show up in the stat sheets, but she was one of those players who did just about everything well. She was an invaluable part of our team. We were a much better team with her on the court than we would have been without her. One day she'd lead the team in kills, then the next match she'd be our best passer or lead the team in digs. Kianna was a quiet, hard-working player that every coach would want on their team."
The seniors and the team's underclassmen worked together seamlessly this fall. They were great role models and set high standards for work ethic and competitiveness.
"Cassidy Casabona didn't play her junior year, but decided to come back and play this season," Donaghy said. "Cassidy was a great teammate and someone that I enjoyed having on the team. She came to practice every day and worked hard during every practice. Her playing time was limited because of the strong players that were in front of her, but she still worked just as hard as the hardest working players we had on this team and because of that she was a big part of why we came within four points of making the playoffs this year."
While the spotlight didn't fall on every senior this year, they each filled a specific role on the team and helped Huntington climb higher in the standings.
"In any other year, Caroline Gorecki and Sophia Toscano would have had an opportunity to be starting setters; either running a 6-2 offense or a 4-2 offense," Donaghy said. "There are a number of programs throughout the county that would have flourished if they had Caroline and Sophia setting for them. They both had fantastic hands and the ability to get their hitters the ball where they needed it. If it wasn't for Shannon, who is going to NCAA Division I Canisius College to play volleyball, Caroline and Sophia would have done an outstanding job running the offense for us this season."
If Donaghy could have one wish granted it would be that all of the seniors could return for one more year and help Huntington win a championship, but that's not possible. But none of them will ever be forgotten.
"Francesca Stamatatos was our third middle hitter this year," Donaghy explained. "She saved her best for last. In the final match of the season, she lead all middle hitters with six kills on seven attempts. Francesca suffered an injury at the beginning of the season and due to the strong play of Renee McKean and Haileigh Smith, she didn't get at many opportunities to showcase her talents. But just like every other girl on this team, she came to practice and worked hard and had a positive attitude." 
The Blue Devil Eight are a spectacular group of young women who will soon be headed off in different directions to attend college and pursue careers. But they will always be connected as members of the Huntington High School girls' volleyball family.
All of the eight seniors are special in their own particular way.
"Maddy Bavaro was such a positive person throughout her tenure on the volleyball team at Huntington," Donaghy said. "Maddy worked extremely hard each of the three seasons I had an opportunity to coach her and she was always there for her teammates. She's the type of kid that every coach wants on their team. Whether she was playing or cheering from the sidelines she always put the team first. Her positive attitude was contagious; something that will definitely be missed next season."
No one wanted the night to end. When the seniors walked out of Louis D. Giani Gymnasium and the lights were dimmed, their excited voices and cheers could still be heard.