November 2 , 2021
Huntington High School's two theatre arts courses aren't just for those interested in acting on a stage before an audience. They are also appealing to teenagers who want to improve their poise and gain greater self-awareness about how to present themselves to a crowd or even to an interview committee.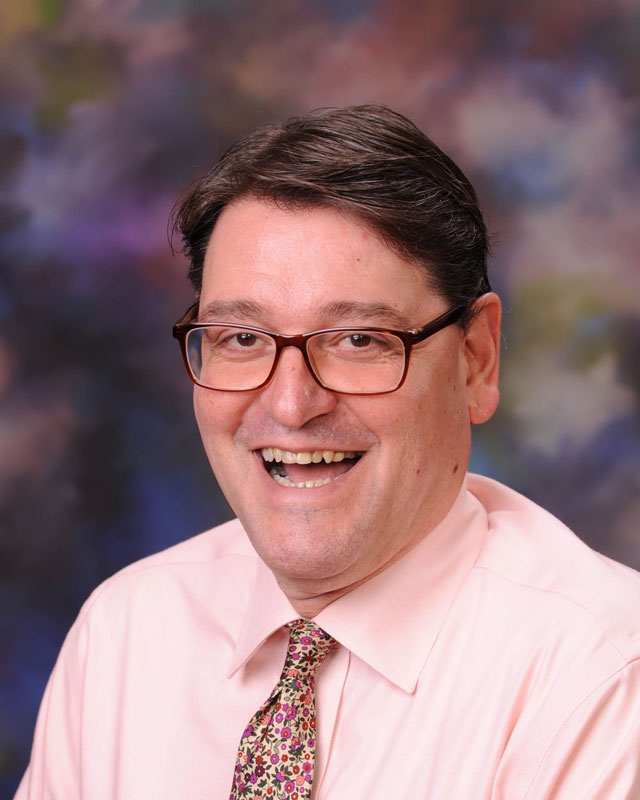 Huntington High School teacher Michael Schwendemann.
The pair of one semester theatre arts courses are taught by English teacher Michael Schwendemann, the high school drama club's longtime faculty advisor. He's a stage veteran himself and utilizes many theatrical practices in his own classroom.
Huntington students are currently registering for 2022/23 courses, so the teenagers are evaluating classes in every academic discipline and deciding how they can be of benefit to them as they pursue their personal goals moving forward.
Theatre Arts A: Modern Drama is open to students who have successfully completed English 11. "Modern drama trains audiences for contemporary theatre," states the course description. "Through the examination of plays and the possibility of attending performances, students are brought to an awareness that the audience plays a crucial and critical role in bringing a play to life. Within an early unit, students work on drafting and finalizing their college essays. A final research project is required."
Theatre Arts B: Play in Performance is open to those in grades 10-12. "This course develops students' skills in theatrical performance," states the class description. "Through improvisation and scene work as well as study of theory and utilization of games and exercises, students explore their potentials as actors, gain poise and self-awareness. Students must keep an actor's journal. Course participants will take children's theatre scripts off the page and onto the stage. A final project will require students to perform within the school district a play complete with costume, lighting, set and sound design. The creation of a study guide for intermediate and middle school teachers is also required."
A graduate of John Adams High School in Ozone Park, Queens, Mr. Schwendemann, or "Schwendy" as most students know him, earned a BA at CUNY-Queens College in communication arts and sciences and drama, theatre and dance. He obtained a master of fine arts from the University of Alabama. He worked as an adjunct faculty member at Long Island University-C.W. Post College in the department of theatre, dance and film from 1996 to 2001.
"Welcome to the wonderful world of theatre arts; a place where we take a script from the page to the stage," says Mr. Schwendemann in a pitch to prospective students. "During the first semester we delve into the world of modern drama and contemporary theatre; dissecting scripts for meaning and message. Dealing with everything from social issues to interpersonal relationships. We put on our travelling shoes for a field trip into Manhattan to put our new found skills into action; critiquing a live performance of a play we have read in class. What would you have done differently? From casting to production values."
In Theatre Arts: Play and Performance, students put their knowledge of script analysis into practice. "You are the producer," Mr. Schwendemann tells prospective students. "You become responsible for it all: direction, set, lights, costumes, music and study guide. Through the reading of various styles of children's plays, the class will choose a play, produce it and take it on the road (usually to Woodhull Intermediate School) and perform it for various grade levels. Now the shoe is on the other foot, instead of judging, you are being judged by elementary school students, who are never an easy audience."
Mr. Schwendemann began working full-time at Huntington High School in January 2003 and quickly became a student favorite. He has taught freshmen English along with the elective classes Holocaust in Literature, Bible as Literature, Multicultural Literature, Public Speaking and Theatre Arts.
The classroom veteran encourages students to consider enrolling in both Theatre Arts electives. "At the end of the day you will have a new appreciation for not only the writing process, but also the performance process," Mr. Schwendemann said. "See you on stage."
For more information about the courses contact Mr. Schwendemann (mschwendemann@hufsd.edu) or department chairman Joseph Leavy (jleavy@hufsd.edu).