March 9 , 2021
Charlotte Gordon and Mary Marinello are two of Huntington High School's most outstanding freshmen so when the duo teamed up to develop a National History Day project everyone knew it would be something special and it was.
The two teenagers produced a group exhibit titled "Pigeons: Aiding the British Through Flight During World War II." The entry garnered this year's coveted Clio Award.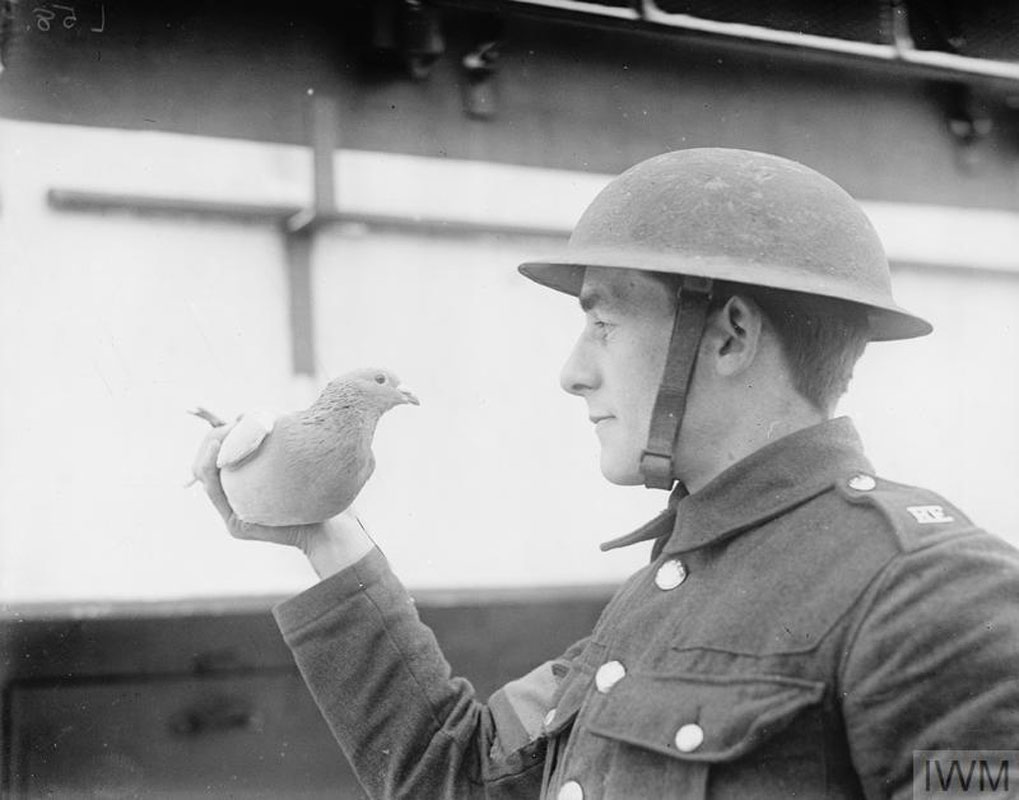 The British used pigeons in World War II to carry important messages across enemy lines.
In Greek mythology, Clio is the muse of history. The Clio Award has always been a well-respected honor since the National History Day initiative first debuted at Huntington High School many years ago.
This year's National History Day theme is "Communication in History: The Key to Understanding." Participants in the competition can submit work in a variety of formats from individual and group exhibits and websites to historical papers and individual and group documentaries.
"I've always loved animals and I'm considering a career in the veterinary field," Ms. Gordon said. "One of my favorite classes this year has been Animal Behavior with Ms. [Anna] Fabela. After learning about internal navigational systems and classical conditioning in class, I felt that it would be interesting to incorporate these aspects into a National History Day project. I immediately thought of pigeons for their use carrying messages throughout various wars. When Mary contacted me and asked if we could create our project together, she was fascinated by the concept as well. We decided to focus our research on England during World War II due to mutual interests regarding the time period."
The two partners worked very well together and developed something quite unique. "Our exhibit mentions various pigeons who were awarded the Dickin Medal," Ms. Gordon said. "The award was created in 1943 by Maria Dickin, founder of the People's Dispensary for the Sick Animals. The Dickin Medal is known as the Animal Victoria Cross and recognizes acts of bravery during wartime."
The process of conducting research, analyzing it and putting it into proper perspective was an exceptional learning experience for the teenagers.
"Our project also speaks of Operation Columba, the British section of military intelligence dedicated to understanding German activity in occupied Europe and Leopold Vindictive, a resistance group who communicated with them via pigeon," Ms. Gordon said. "We knew we needed the most effective and attractive way to display our information and photographs, so we settled on the exhibit category."
The project evolved over a period of many weeks. "Like many students, we started our research by simply googling 'carrier pigeons in World War II,'" Ms. Marinello said. "We were surprised to find that the term 'carrier pigeon' is incorrect and that war pigeons are actually of the homing variety. We then went on to find several websites and non-fiction books filled with reliable information. One book, 'Operation Columba: The Secret Pigeon Service,' by Gordon Corera, was especially instrumental in our research."
The exhibit was very well received by the teachers who served as contest judges, hence the Clio Award being presented to Ms. Gordon and Ms. Marinello.
"Our exhibit turned out just how we wanted it to and we are very proud of our project," Ms. Marinello said. "We spent a long time planning the creative aspects of our exhibit and we are honored to have received the Clio Award for our efforts. Overall, we're very pleased with how everything turned out."