June 2 , 2021
Award winning local newspaper reporter and editor David J. Ambro visited a Huntington High School creative writing class virtually and gave students plenty to think about during a 40 minute presentation and question and answer session.
Mr. Ambro has been covering local news in the Huntington, Northport and Smithtown communities for nearly four decades. A graduate of John H. Glenn High School, he went on to earn an undergraduate degree at American University. He has won hundreds of New York Press Club awards over the years for every type of story and editorial. He has also served on the organization's executive board.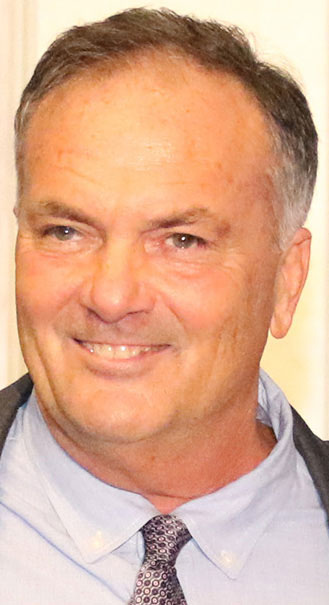 Award winning journalist David J. Ambro visited with Huntington creative writing students.
Few journalists can match Mr. Ambro's investigative skills or instincts. He has unearthed government corruption and written about organized crime in the carting industry. His stories about politics, schools, government misdeeds and development projects making their way through the planning, zoning and lawsuit process are considered "must reading" by the political class.
Huntington High School English teacher Kelly Quintero invited Mr. Ambro to visit her class virtually through a Zoom link. He quickly engaged students with his down to earth manner and command of the material of which he spoke.
Mr. Ambro's father was the Town of Huntington supervisor and later a US Congressman. Jerome Ambro was president of the post-Watergate scandal Class of 1974, which at the time was the largest freshman class in the history of the US House of Representatives at 90 new members.
While in high school, Mr. Ambro played football, wrestled and ran track. He is the editor in chief of the North Shore News Group, a chain of weekly papers.
Huntington High School's Creative Writing English elective is open to juniors and seniors. The one semester, half-credit course meets daily. It's recommended for students who are highly motivated and competent writers.
"In this course, students explore language as a vehicle of self-expression," states the course description. "It allows the students to experience various forms of writing such as the essay, poetry, short story, children's story and one act play as a means of self- expression and awareness. It considers form and style as part of the awareness that varied writing experiences produce. It includes revision, rewriting and self-evaluation. The final examination is a creative writing portfolio, assigned at the beginning of the course."
Mr. Ambro said he hopes to visit the class in person in future years once the COVID-19 pandemic is in the history books. He felt that the virtual nature of the visit interfered with the spontaneity of the session, but hoped students still found value in it.
"David Ambro's presentation was great," Ms. Quintero said. "He is an engaging speaker and answered student's questions thoughtfully and honestly, which was much appreciated." 
Below are some of the reactions that students shared in written form with Mr. Ambro following his visit to the class:
• "This was a different take on writing. He has a much more 'important' role in society than writers we read in school. Whether it be simple stories about the roads in Huntington to a town council member attempting to change the opinion of a local paper review. The job is much more interesting than expected."
• "I realized that news writers don't just need to write about serious big things in media. I learned the value of simple stories and the historic significance of news to both our local and national culture. A news writer's job might not be to be creative, however the job requires the ability of tone-setting and proper wording, which allows for creative liberties in telling a story the right way. The responsibility of a local reporter isn't just to explain scandals or high school sports, but it is also to bring a greater sense of community to our locality in a common experience."
• "I learned that as a professional news writer, you do much more than attend an event and describe what happened. You create a narrative, using sources as well as your own account, to write an interesting piece that both teaches and entertains the reader. While much of [Mr.] Ambro's news isn't all that creative, putting his own opinions and spin on editorials makes his occupation much more interesting. I learned that a lot goes on in Huntington that I didn't really know too much about, but I guess I'd be better informed if I read [Mr.] Ambro's work. The responsibility of a local reporter is not only to convey local events in written form, but also to incorporate convincing editorials and letters to the editor into a finished newspaper that people actually want to read."
• "What I learned about the life of a professional news writer is when interviewing people, they sometimes try to persuade the interviewer to write something to benefit them. I thought it was interesting that people could be that straightforward for something like that. I feel like his job is creative in the sense that he has to come up with ways to present what he's writing about. I learned that there is a lot more that goes on in Huntington than I thought so I kind of felt like I lived under a rock."
• "I thought it was very interesting to see what it was like writing news articles professionally. I didn't know how much of the paper one single writer wrote and how many different topics they covered. I learned that professional news writers have to be very good about their deadlines, too. His job is creative because he creates articles and chooses the topics he covers, but it's not creative in that he needs to keep a bipartisan stance in many of the articles he writes. The responsibility of a local reporter is to inform people of what's going on."
• "After speaking with David Ambro, I learned that being a professional news writer takes patience and determination. You have to be willing to work hard and you may be asked to write about anything. His job is creative because he gets to really use his skills. What I mean by that is that he gets to dig into amazing stories and put his skills to use"
• "There is a lot of decision-making when working as a reporter as one has to decide which stories to do by oneself and which to delegate to other individuals. I would not consider this to really be creative writing because in an age of disinformation like today it is most important to state facts as they are. Local reporters are important so that they can focus on smaller scale stories that take place in neighborhoods that larger news organizations wouldn't focus on."
• "It's interesting how he got into that field. Maybe I'll go to American [University]. Or maybe just start a lot of writing and see where it takes me. But also listening. Maybe I should start listening more."
• "I learned that most professional news writers will use a blueprint for their stories, as well as planning a list of potential stories at the beginning of the week. His job is creative being that writing so often can open up the mind to different topics and such."