January 10, 2020
Madelyn Kye went into the college search process with an open mind. The Huntington High School senior did all the due diligence you would expect from one of the top members of the Class of 2020. When she sat down to weigh all the pros and cons of each school one stood high above the rest: Johns Hopkins University in Baltimore, Maryland.
"Johns Hopkins was not on my radar at all until this past October, when my English teacher, Ms. [Kelly] Quintero, told me about their programs," Ms. Kye said. "I didn't take her seriously at first; it seemed out of reach. Ultimately, I decided to give Hopkins a chance and did some research. I found that they offered strong programs in virtually every field I've ever been interested in, in addition to being just a train ride away from Washington, D.C. My mom and I decided to drive to Baltimore and go on a tour and we both knew when we left that Hopkins was the ideal environment for me."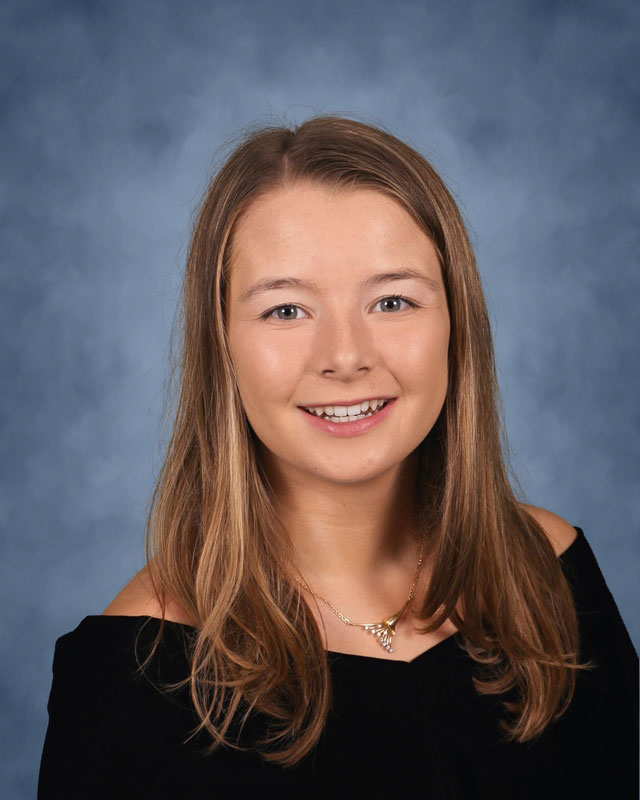 Huntington High School senior Madelyn Kye
Ms. Kye isn't set on her academic or career pathway. "I'm not quite sure what exactly I'm going to pursue, but I'm definitely interested in the writing seminars major as well as the history and international studies programs," the teenager said. "Ultimately, I hope to be a published writer, whether that's as a novelist or through engaging in historical research, I'm unsure."
President of Huntington's Social Studies Honor Society and its History Day/Social Issues Club, Ms. Kye is also vice president of the English Honor Society, chief of business operations for the high school's robotics team, secretary of the orchestra and a member of the chamber orchestra. She's also a Blue Devil varsity field hockey player.
Ms. Kye's academic schedule includes classes in Advanced Placement English Literature and Composition, AP Calculus AB, AP Government and Politics, AP Micro/Micro Economics, French V Honors, Science Research Honors, Regents Physics and Symphony Orchestra Honors
She's also engaged in a credit bearing interesting with social studies teacher Lauren Desiderio.
"I've had so many excellent teachers throughout my time in Huntington," Ms. Kye said. "From Mrs. [Karen] Mallow-Rizzo at Jefferson and Mrs. [Lauren] Biscardi and Mrs. [Elizabeth] Grobe at Finley to all of my teachers over the past four years at the high school, but to recognize among them, Mrs. [Lauren] Desiderio, Mrs. [Dianna] Cazzalino, Mr. [Kenneth] Donovan, Mrs. [Lori] Kenny, Madame [Deidre] Mayer, Mr. [James] Graber and Mr. [James] DiMeglio. I think it's clear that I've had countless amazing teachers."
What's her advice for incoming high school freshmen? "Huntington offers such a diverse array of opportunities that there is certainly something for everyone to pursue," Ms. Kye said. "Don't just do something to do something. Trust the process, find what you love, then do that."
The teenager plans to enjoy every last minute of her senior year. "While excited to graduate, Huntington has given me so much to be grateful for in terms of memories, academics, opportunities and friendships," Ms. Kye said.