February 25, 2019
The Huntington School Board has begun the long process of finalizing a budget to fund district operations during the 2020/21 school year.
Trustees held the first of what will be a series of public meetings on the budget this past Monday night in the Jack Abrams STEM Magnet School auditorium. Superintendent James W. Polansky presented the first draft of the budget, offering a general overview of the document and then going line-by-line through the sections that fund the board of education, central administration and transportation.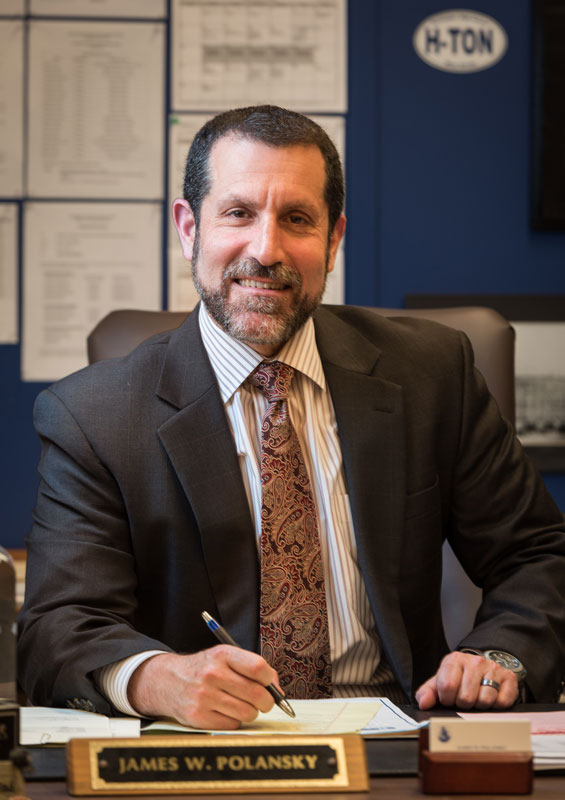 Huntington Superintendent James W. Polansky. (Darin Reed photo.)
Many key budget variables are still up in the air, including the district's assessed valuation, the state aid it will be allotted in the state budget due April 1, enrollment in the kindergarten program and the staffing needed to educate the youngsters and a handful of other expensive areas. Current expenditure and revenue projections will be updated as more information becomes available.
"At this stage of the budget development process, revenues outside of the tax levy are a major question," Mr. Polansky said. "According to what the current state formula calls for, Huntington has been shortchanged by nearly 100 percent ($10 million) in Foundation Aid. Our hope is that the legislature and advocacy efforts will help to fill at least some of that gap to reduce the burden on local taxpayers. Regardless, we will maintain as a priority our efforts in carefully scrutinizing expenditures while making certain that our students have what they need."
A copy of Mr. Polansky's public presentation along with the first budget draft are posted on the district website at www.hufsd.edu. All of the budget meetings are open to the public. Residents are given two opportunities to address trustees at each meeting.
The first budget draft will be updated over the next two months, culminating on Monday, April 20 when the 2020/21 budget will be adopted by trustees. District residents will vote on the proposal on Tuesday, May 19.
Upcoming meetings will focus on the following topics:
March 9
Huntington School Board meeting: Overview of employee benefits, debt service, inter-fund transfer and capital projects codes.
March 23
Huntington School Board meeting: Overview of instruction and staffing needs/codes
Approval of propositions (including capital) other than the budget to be placed on the ballot.
April 6
Huntington School Board meeting: Overview of revenues and overall budget review.
April 20
Huntington School Board meeting: Adoption of budget.
May 11
Public hearing on budget at Jack Abrams STEM Magnet School at 7:30 p.m.
May 19
Budget vote by residents at Huntington High School from 6 a.m.–9 p.m.
Each of the budget meetings will begin at 7:30 p.m. and be held in the Jack Abrams STEM Magnet School auditorium on Lowndes Avenue in Huntington Station. The public is welcome to attend and will be given an opportunity to address the trustees.