December 15, 2020
Trevan Meagher never gives up. The Huntington High School senior has staying power even in the face of injuries that might have forced some athletes to the sidelines permanently. The teenager has committed to play lacrosse at SUNY College at Geneseo and he is anxiously looking forward to the experience.
"SUNY Geneseo is a great school with a great lacrosse program as well," Mr. Meagher said. "I applied undecided, but I am leaning toward taking an interest in business as my major. The head lacrosse coach at Geneseo, Nick Fiorentino, has a large focus on adversity and learning to battle through facing adversity."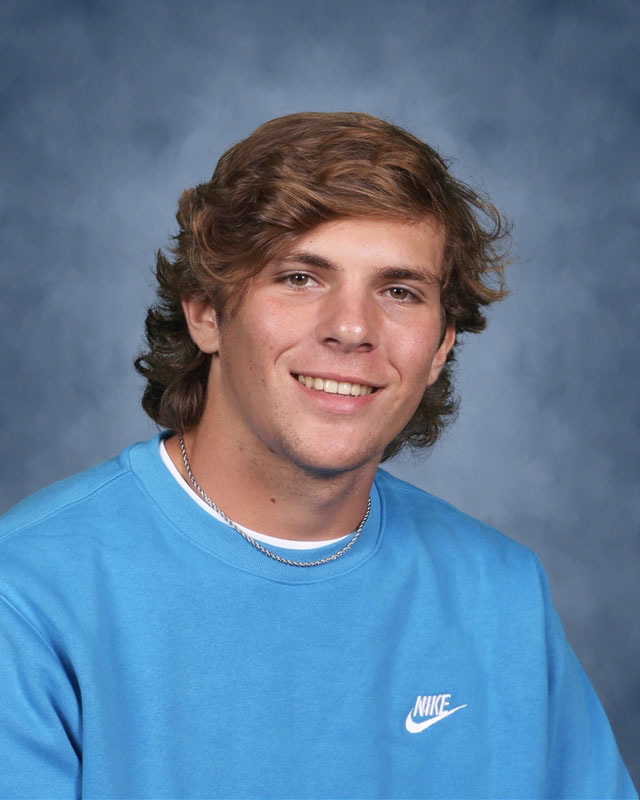 Huntington High School senior Trevan Meagher
At one time or another the teenager has been on the Blue Devil football, indoor track and field and lacrosse teams. "Huntington has helped prepare me for the work ahead of me in college as well as preparing me to enter the real world on my own," Mr. Meagher said. "Most all of the coaches were super supportive of me throughout my back injuries, keeping me focused on what is ahead of me once I overcome the injury. Coach [Ron] Wilson was always supportive and patient and encouraged me to stay positive."
Mr. Meagher's closest friends include Harry Cozine, Palmer O'Beirne, Tom Combs, Logan Deegan and Joe Petrone.
"The class that has left the biggest impression on me is Virtual Enterprise," Mr. Meagher said. "I held the positions of administrative vice president and sales executive. This was a business class that helped me get an idea of what it is like starting and running a fully operational virtual business competing with schools across the world. We competed against others schools and got to see what their businesses were and hear their pitches and learn about their products and services at trade shows."
The senior started playing lacrosse when he was five years old. He also played both football and ice hockey from an early age.
"I played on the Huntington High School varsity football team since my freshman year," Mr. Meagher said. "A highlight was the environment during the playoffs. It was electric and I will never forget it. I made many memories and lifelong friendships through football. Ice hockey has always been a favorite sport and I started playing at Dix Hill as a 5-year-old. I played in a recreation league and eventually played on the Northport/Huntington high school team."
When he was a freshman, Mr. Meagher was encouraged to join the Blue Devil indoor track and field team. "Coach Wilson asked me to try high jumping," the teenager said. "I excelled and the following year I placed first in the freshman/sophomore championship. Track was an amazing experience. Being able to travel to compete in other states for Huntington is something special that not everyone has the opportunity to do."
Mr. Meagher is excited at the thought of suiting up for SUNY Geneseo. "Lacrosse has always been my No. 1 sport and I feel fortunate to be able to continue to play at the college level," he said.
The teenager is a mentor in a social group called Peers Helping Peers in the Read World, helping to develop the social skills of "individuals who struggle in the real world with social skills and real life scenarios," Mr. Meagher said. "It's an outside of school group that attracts teens from all over the island. We talk with the kids and take them out in public to the movies, pizza, arcade or wherever they'd like to rap and work on social skills."
Mr. Meagher has also participated in the high school's debate club, calling it "an enjoyable experience that I am glad I had. I enjoyed debating other students who had different views and opinions," he said.
It seems like just yesterday that the senior was a ninth grader, but here he is getting ready to graduate and head off to college in upstate New York.
"My advice for incoming freshmen is to enjoy every moment you can of high school before it flies by and to make sure you focus on graduating Huntington as the best you possible," Mr. Meagher said.
As the senior enjoys his final months of high school and preps for college life, the Meagher family isn't quite done with Huntington. Katie Meagher is currently a sophomore in the building and she is also participating in the Blue Devil sports program.
"What makes Huntington special is the care that the coaches and teachers put into what they do and how much of a family Huntington really is," Mr. Meagher said.