August 19, 2020
Nick Rowley thrives in a creative environment and that's exactly where he is headed. The Huntington High School Class of 2020 member plans to study at the Savannah College of Art and Design in Atlanta.
"SCAD is an amazing school with amazing campuses and facilities," Mr. Rowley said. "When I toured their Atlanta campus, I knew that is where I wanted to be. I'm going to SCAD to study animation, which is a good choice since SCAD is one of the top animation schools in the country. I hope to become a storyboard artist on animated television shows and features, and eventually become a show runner for my own television series."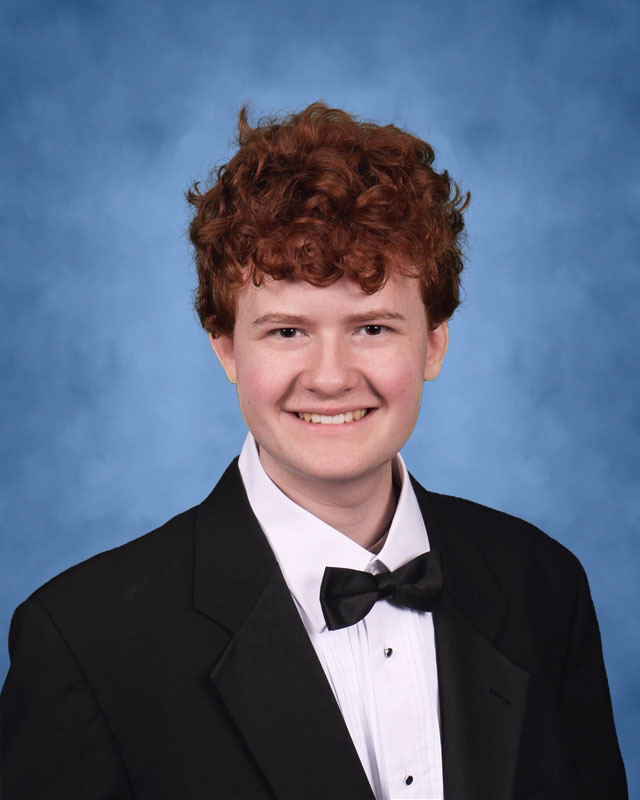 Huntington Class of 2020 member Nick Rowley will be attending the Savannah College of Art and Design in Atlanta.
An Advanced Placement Scholar, Mr. Rowley said he owes his success to hard work, being productive and figuring out how he learns best.
"Huntington has prepared me well for college," Mr. Rowley said. "Taking AP classes in a wide variety of subjects including art has prepared me for college level courses. Huntington also has amazing teachers who have helped me grow, allowing me to feel prepared for the challenge of college."
Mr. Rowley said the most valuable high school classes he took include AP Drawing and Video III, a college level course. "These classes taught me to make artworks and videos greater than I have before and allowed me to progress as an artist," he said. "Seeing my paintings and videos from freshman year is really embarrassing now!"
The new grad's favorite activity over the past four years has been the Key Club. "I really loved helping out my community and working with my colleagues and advisors to run excellent fundraisers," Mr. Rowley said. This past year I was the club's vice president, which was stressful at times, but seeing the work we all put in pay-off was amazing and gratifying."
Mr. Rowley's advice to incoming Huntington freshmen? "Be nice to everyone," he said. "Life isn't always going to be easy, but don't let that make you be less respectful to your teachers and peers. Kindness makes life at Huntington so much easier and opens up a lot of opportunities. Shout out to the rest of the Class of 2020 for all being super respectful and cool people."
The teenager said many teachers have mentored him over the years, helping him to get motivated and involved. "Mrs. [Kristin] Singer, the drawing and painting teacher, is an excellent mentor who is always there for her students and always pushes them for greatness while allowing them to express their own ideas and emotions through their artwork without censoring them. Mrs. [Kelly] Krycinski, who was my English 9 Honors teacher and Key Club advisor has always been able to put a smile on my face and has been with me from the beginning of my high school career, being there for all the hard times, while also being excellent at running Key Club. Finally, Mrs. [Gina] Colica, even though I've never had her as a teacher and just worked with her in her role as one of the Key Club advisors, has always been able to tell it like it is, but also have fun with me and my fellow Key Club members. She is an amazing person to talk to and is amazing at running Key Club."
Always working to improve at his craft, Mr. Rowley was a member of an award winning team that developed an entry for the 10 Day Film Challenge; he exhibited artwork at the Huntington Public Library and he completed a pre-college program at the School of Visual Arts in Manhattan.
"Huntington is a super special place," Mr. Rowley said. "It is so diverse, allowing a lot of people here to have an open mind, including myself. I've met so many different types of people I wouldn't have met anywhere else. It makes us a very inclusive community and that makes us strong."
Mr. Rowley is headed to one of the best art schools in the country and Huntington High School faculty members believe he will thrive there.
"I would say I've had a good experience at Huntington," Mr. Rowley said. "There were a lot of ups and downs, but my teachers and peers were always there for me. I do need a break from Huntington, the school and town in general, so I'm happy I'm continuing my journey in Atlanta. I'm going to miss Key Club the most, especially our K-Factor talent show, but I will also miss all of my teachers and friends that I've had here. I will remember the good and bad times I've had here, because all of it makes me the person I am today and I wouldn't change it one bit."