April 20, 2020
Peyton Kalb has developed a plan for her future and it's a good one. The Huntington High School senior wants to go into medicine and she has found just the right place to begin her journey. The teenager is excited to begin her studies at the University at Albany.
"My choices came down to four schools: Drexel, University at Albany, University of Delaware and UMass Amherst," Ms. Kalb said. "After going over the pros and cons of all of the schools, UAlbany was the clear winner. They have the program I want. I was admitted into the Honors College, they gave me a scholarship and I really liked the campus feel when I went to visit, even though it was 14 degrees outside on the day we were there."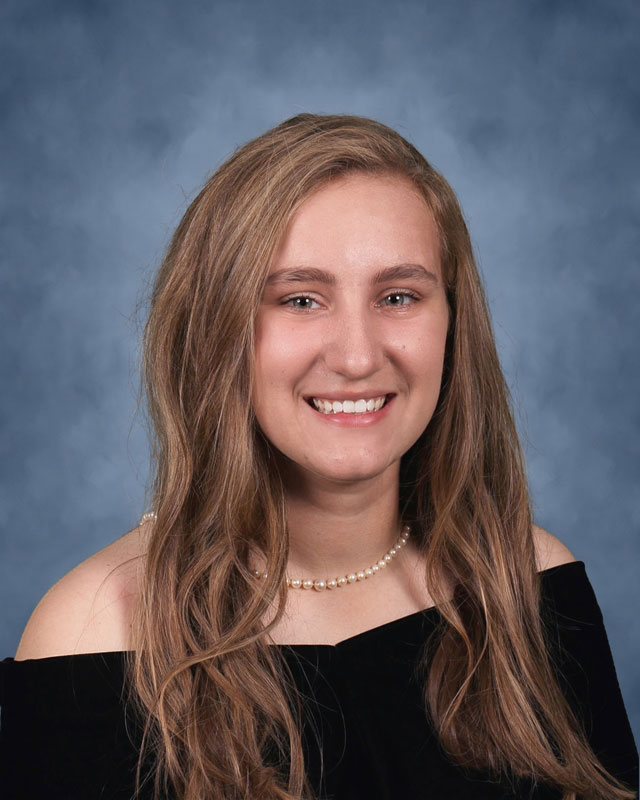 Huntington High School senior Peyton Kalb
The Huntington senior will be studying human biology in the pre-physician assistant program. "UAlbany has an early assurance program with Albany Medical College that I hope to be admitted into in my sophomore year," Ms. Kalb said.
The teenager said the opportunity to take multiple college level Advanced Placement courses over the past four years "has helped me prepare scholastically for the work ahead and the support of my teachers and guidance counselors has given me the confidence to handle anything that college can throw at me."
Ms. Kalb considers AP Seminar and AP Research to be the most valuable courses she has taken during high school. "They not only have taught me how to develop a research question, perform an experiment and analyze the data, but how to present it in an academic format."
The teenager's favorite activities during her high school years have been playing on the Blue Devil girls' volleyball team and performing with the marching band. "Marching band has given me a second family and taught me the value of hard work and leading by example," Ms. Kalb said. "Mr. [Brian] Stellato has an amazing way of connecting with the students and has a strong understanding of the everyday challenges that high school students face. His leadership on the field has been invaluable."
Ms. Kalb has been playing volleyball for Huntington since seventh grade. "The feeling that I had when I stepped onto the court representing the Blue Devils and wearing No. 3 is hard to describe," the senior said. "Coach [Lauren] Visbal and Coach [Carrie] Postel taught me importance of teamwork and dedication and I couldn't have asked for better teammates. I am hoping to play club ball at UAlbany."
The senior's advice to next September's incoming ninth grade class? "'Find your people' and do whatever it takes to hold onto them," Ms. Kalb recommends. "Whether on the sports field, in the music program or in the academic world, these friends will be the ones you make your memories with. I am lucky enough to have found my 'people' while doing all the things that I love."
Ms. Kalb has developed an especially close relationship with high school guidance counselor Lauren Brunoni. "She has been an incredible source of support throughout my four years at Huntington High School," the teenager said. "There were days when I would go into Ms. Brunoni's office and just rant about whatever was stressing me. I always felt better after talking with her. Mrs. [Lori] Kenney has been my academic rock. Working with her as a student, as a member of the science research program and as vice president of the Science National Honor Society has been one of the highlights of my high school career. She has taught me the power of perseverance and that no matter how many 'mussels might perish in the process.' you should keep searching for answers."
There are many exciting days and years ahead for Ms. Kalb, but the senior will never forget where she has come from and all the people she has come to hold dear.
"Huntington High School is, and always will be, my second home," Ms. Kalb said. "The countless opportunities, the amazing faculty and the strong student body are what make Huntington High School special. I will miss everything about my school and will never forget the feeling of being a Blue Devil."