Valedictorian Caitlin Knowles
Chooses Virginia
Caitlin Knowles has enjoyed a wonderful four year run at Huntington High School. She will soon be moving on to a bigger stage. The Class of 2015's valedictorian has decided to attend the University of Virginia next fall. The teenager has been accepted into the Echols Scholars and College Science Scholars programs.
"The Echols Scholars program is predicated upon the Jeffersonian ideal of freedom of inquiry and the development of critical thought," the University of Virginia website states. "It offers special opportunities to those undergraduates in the College of Arts & Sciences who are its most avid learners."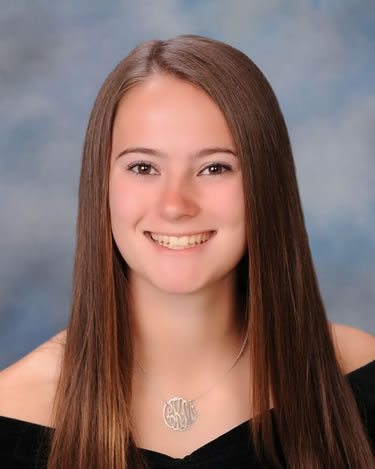 As one of just a small number of incoming Virginia undergraduates selected as a College Science Scholar, Ms. Knowles will have direct access to the university's best laboratory research facilities and faculty She will have a senior faculty member as her advisor/mentor and will be given an opportunity to join a research lab or group during her first college semester.
Ms. Knowles plans to pursue a double major in environmental science and economics. She has excelled in a long list of Advanced Placement classes and engaged in several intellectually grueling summer internships.
Ms. Knowles has participated in summer internships at the National Institute of Environmental Health Sciences and the Silent Spring Institute studying environmental causes of breast cancer. She went on to work with the Huntington Breast Cancer Action Coalition to share her findings with Huntington students to encourage toxin-free lifestyles. 
President of Huntington's National Science Honor Society chapter and historian of the French Honor Society, Ms. Knowles is also a member of the school's National Honor Society as well as the English, Math, History and Art Honor Societies. She even won the high school's spelling bee this past winter.

"Caitlin is a remarkable young person with an extraordinary work ethic," Huntington Superintendent James W. Polansky said. "She has excelled in every regard during her years in Huntington and is poised to make a significant difference in the years to come. Virginia is one fortunate university! I am sure it will be a great fit for her, as she continues to pursue her interests while making the most of her post-secondary years."
Ms. Knowles has been a starting player on the Blue Devil varsity soccer, basketball and lacrosse teams. She captained the soccer and basketball teams. The teenager has also been an officer in the student government, served on the Relay For Life's planning committee and volunteered with Huntington's Habitat for Humanity chapter.
The academic and athletic star has also found the time to shine as a musician. Ms. Knowles is the first chair trombone in the pep and concert bands.
As she prepares to move on to the University of Virginia, which was founded by Thomas Jefferson in 1819, Ms. Knowles will leave Huntington with the affection and admiration of her teachers, classmates and teammates.