Mike Schwendemann is a Lucky Fellow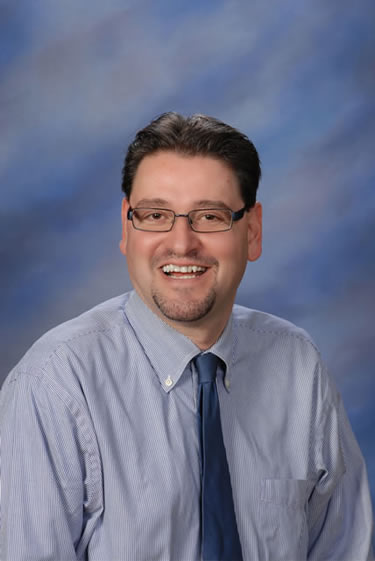 Mike Schwendemann's energy and enthusiasm is contagious. Ask Huntington High School students about the English teacher and drama school advisor and they will tell you he's one of a kind.
A graduate of John Adams High School in Ozone Park, Queens, Mr. Schwendemann, or "Schwendy" as most students know him, earned a BA at CUNY-Queens College in communication arts and sciences and drama, theatre and dance. He obtained a master of fine arts from the University of Alabama.
Mr. Schwendemann worked as an adjunct faculty member at Long Island University-C.W. Post College in the department of theatre, dance and film from 1996 to 2001. He was in Huntington during parts of 2001-2003 performing outreach for the National Shakespeare Company, but he never envisioned himself as a Huntington teacher.
"It was luck that landed me at Huntington High School," Mr. Schwendemann said. "I was actually offered a job at Bay Shore High School, where I was student teaching, but the teacher I was to replace changed his mind about leaving. Nina Wolfe, the chair of the English department felt terrible and secured me an interview at Huntington. The rest, as they say, is history!"
Mr. Schwendemann began working full-time at Huntington High School in January 2003 and quickly became a student favorite. He has taught freshmen English along with the elective classes Holocaust in Literature, Bible as Literature, Multicultural Literature, Public Speaking and Theatre Arts.
"I can't imagine teaching any place else," Mr. Schwendemann said. "From day one I was accepted into the high school community. I love my colleagues and most of all the kids. Some days they make it hard to love them, but that passes quickly. The support I have received from all parts of the administration is unparalleled, whether it's Joan Fretz, Dr. Leonardi or Mr. Polansky." (Mrs. Fretz is the district director of fine and performing arts. Dr. Carmela Leonardi is the high school principal. James W. Polansky is the superintendent of schools.)
"A Most Gregarious Fellow"
Once the bell sounds signifying the end of the regular school day, Mr. Schwendemann turns his attention to Huntington's drama club, which has grown in stature under his tutelage.
"Mr. Schwendemann has been one of my main teacher support systems since freshman year," said Jamie Moskowitz, a current Huntington senior who first got to know the teacher in 2009 through the drama club. "He's one of the teachers who is there for every single student, whether he's taught them or not. He's been my teacher twice; once for Theatre Arts and now for Holocaust Lit and I know of people who choose to take these courses simply because he teaches them. Schwen has helped so many students become who they are now, by either being there for support or to have a laugh with in drama club."
For the past five years, Mr. Schwendemann has directed two musicals each summer at the Usdan Center for the Performing Arts. He teamed up with former Huntington High School art teacher David Gran drama club for several years before Mr. Gran moved to China and Mr. Schwendemann assumed full responsibility for the fall and spring productions.
"Mike is a most gregarious fellow, whose affinity for and sensitivity to his students is an example to us all about how forming strong relationships and challenging students to learn, in multiple ways, in the essence of growth, acceptance and engagement," said Joseph Leavy, the Huntington School District's chairman of humanities, 7-12. "Simply put, Mike makes it fun to learn and keeps a close eye on the big ideas and the big metaphor of life!"
Rehearsals Fun and Lighthearted
Laura Ironman has been a student in two of Mr. Schwendemann's classes and has also worked with the teacher over the course of four drama club musical productions. "He does not follow the traditional teaching standards, but I enjoy that," the senior said. "His passion of English makes his classes some of my favorite in the high school. As for being the drama club director, Schwen's sense of humor makes rehearsals fun and lighthearted. Having a background in theater, he uses his experience to boost the standard of our shows. It's never just a high school musical, because he treats us professionally."
Mr. Schwendemann has graced the stages of the Alabama Shakespeare Festival, where he worked with Michael Emerson and Norbert Leo Butz, the Roundabout Theatre Company, The Folger Shakespeare Library Theatre with Allison Fraser, The Fringe Festival, Genesis Repertory Theatre and The New York City Opera. He is currently a member of the Airmid Theatre Company with whom he recently performed two shows of Susan Glaspell's "Trifles" starring Margaret Colin at the newly renovated Suffolk Theatre in Riverhead.
As the faculty advisor to Huntington's Class of 2006 and Class of 2010, Mr. Schwendemann grew close to that particular group of seniors. "They were very special to me," he said. "It was as if they were my own children."
Watching Kids Grow
The drama club has obviously been near and dear to Mr. Schwendemann's heart. "The club has given me more happy memories than I can count," he said. The teacher has also taken delight in watching the maturation process of the teenager's he works with. "Watching kids grow from my ninth grade English class to advanced placement students as seniors always makes me proud," he added.
"A leader among the department, Mike has sought out ways to fully understand the new Common Core Standards for English Language Arts, soon to be fully operational in high schools across the state and has disseminated his learning after attending multiple sessions in Albany on these new standards," Mr. Leavy said. "Ask him or any department member about these new elements and anyone will soon see that Huntington is well on its way to be ahead of the curve on these current curriculum and instructional goals, like academic vocabulary, evidence-based claims and the staircase of complexity in text selection. Thanks in large part to Mike, these new standards have been apprehended and made well-known to the English department at Huntington High School."
Mr. Schwendemann is currently engrossed in final preparations for the drama club's April 12-13 production of The Sound of Music. "Mike's tireless work in growing and enriching our theater program at Huntington High School and beyond is a key part of the numerous high level contributions he is known for," Mr. Leavy said.