Huntington Lands $457K STLE
State Grant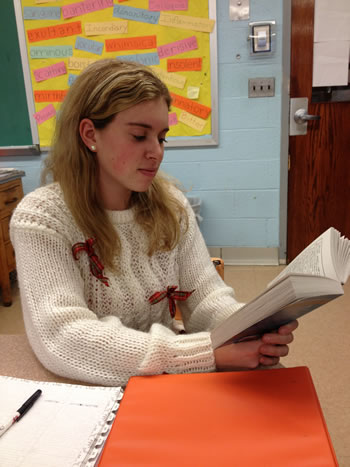 The Huntington School District has been awarded a state grant worth nearly $457,000 to help it recruit, develop, support and retain effective teachers and administrators.
Huntington is one of only 49 districts in New York and 10 on Long Island to qualify for the Strengthening Teacher and Leader Effectiveness (STLE) grant. The award became official when the State Education Department accepted the district's Annual Professional Performance Review plan.
"The timing of this grant award is exceptional," Huntington Superintendent James W. Polansky said. "The majority of the monies will be allocated toward professional development related to district initiatives, Common Core curriculum implementation and leader effectiveness. We will also utilize a portion to support STEM training for both teachers and administrators in preparation for initiation of the STEM Magnet program. Without this funding, we would not possess even a portion of the opportunity."
Public school districts and public charter schools with at least 25 percent of students who are from low-income families were eligible for the STLE grants. Grant applications were coordinated between school districts and local principal and teacher unions.
"Research shows the best way for schools to help students succeed is to have an effective teacher in every classroom and an effective principal in every school building," State Education Commissioner Dr. John B. King, Jr. said. "But all too often, our highest need students miss out on great teachers and school leaders. STLE grants will help school districts recruit, develop, support, and retain effective teachers and leaders at every level.
"STLE grants are targeted to support school districts and charter schools utilizing, as part of their implementation of an APPR plan, a comprehensive approach to recruitment, development, support, retention and equitable distribution of effective teachers and school leaders," according to the State Education Department.
The State Education Department anticipates awarding more than $58 million over the next two years to support public school districts and charter schools to strengthen the effectiveness of teachers and leaders.
"Our goal is to prepare every student to graduate college and career ready," Dr. King said. "These grants are the product of collaborative efforts between school districts and local unions that share that goal. It's all about helping our students succeed."
Dr. King said the grant is part of the Board of Regents' statewide effort to strengthen educator effectiveness at all levels, with special emphasis on supporting high-need students, improving learning of English language learners and students with disabilities, advancing student learning in STEM (Science, Technology, Engineering, and Mathematics) disciplines, and improving the equitable distribution of highly effective teachers and leaders.
The grants are supported in whole or part by New York's share of federal Race to the Top funds. Districts receiving a STLE grant must focus on a variety of aspects of a "strategically planned" teacher and leader effectiveness systems, including preparation, recruitment and placement, induction and mentoring, evaluation, ongoing professional development/professional growth, performance management and career ladders.