Catching up with David Woycik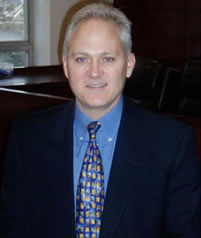 Since graduating from Huntington High School in 1973, David Woycik has made quite a name for himself in the legal profession, where he has become a top trial attorney, guest legal lecturer and teacher and colonel in the U.S. Army Reserve.

Following his high school graduation, Mr. Woycik earned undergraduate and law degrees at Hofstra University.  He began his career as an assistant district attorney in Suffolk and prosecuted the first anti-Semitism case in the county.  He was also one of the first New York prosecutors to obtain felony drunk driving convictions.

During Mr. Woycik's three years as vice-president and general counsel of Pharmfair, Inc, a Hauppauge based generic pharmaceutical firm, the corporation saw its annual sales increase from $8 million to $20 million.  By 1988, Mr. Woycik was back in a courtroom again trying cases, this time with the Queens legal firm of Legan and Welsh.  His work there included hundreds of cases that involved car accidents, medical malpractice, lead paint and construction.  Four years later he joined the Mineola personal injury firm of Sanders, Block, Woycik, Viener & Grossman, PC and has been a partner there since 1995.

During a recent interview, Mr. Woycik had vivid memories of his time at Huntington High School, his classmates and teachers.  He proudly recalled that five members of his class went to attend the U.S. Naval Academy and many have enjoyed distinguished careers in their respective professions.

In addition to his legal work, Mr. Woycik is extremely active in a variety of charitable endeavors and is a director of Big Brothers Big Sisters of Long Island.  The group's headquarters building in Levittown is named in honor of Mr. Woycik. 
A colonel in the U.S. Army Reserves, Judge Advocate General Corps., Mr.Woycik served overseas in Desert Storm and Operation Enduring Freedom in the War on Terror. He has been awarded the Bronze Star and three Meritorious Service Medals for his service.

According to an online profile, Mr. Woycik "has been recognized on a regular basis by the New York Jury Verdict Reporter for his multi-million dollar verdicts and settlements. He has either settled or tried to verdict cases of highway design, negligent security, motor vehicle, construction and/or nursing home cases for settlements of up to $10 million each."  In a 1997, Mr. Woycik settled a highway design case against the Town of Smithtown for a lifetime payout of $8 million. 

Hofstra Law School named its trial advocacy program the E. David Woycik, Jr. Intensive Trial Techniques Program in recognition of the Huntington grad's tireless efforts on behalf of the school. He was named Hofstra University's Alumnus of the Year in 1998 and earned the Hofstra Law School Distinguished Alumnus Award in 2005.

Mr. Woycik has taught law students in trial advocacy at Hofstra and lectured at classes offered by the American Trial Lawyers Assoc., New York State Bar Assoc. and the Nassau County Bar Assoc.  He's been regularly appointed as a court evaluator, referee and guardian for infants and persons in need in a variety of courts.  He's also appeared on Court TV (now known as truTV).

The Huntington alum and his wife, Carolyn, reside in Garden City.  During a recent conversation, he recalled life at Huntington High School in the early 1970's, being a member of the wrestling team and some of the highlights of those years.

Mr. Woycik has been admitted to the federal Bar, New York State Bar and the Court of Military Appeals. He is a member of Nassau/Suffolk Trial Lawyers Association and the New York State Trial Lawyers Association.
All graphics, photographs, and text appearing on the Huntington Public Schools home page and subsequent official web pages are protected by copyright. Redistribution or commercial use is prohibited without express written permission. Comments or Questions? email the Public Information Office