Finley Principal in Full Stride
As John Amato begins his fifth year as principal of J. Taylor Finley Middle School, he is in full stride, working from early morning to late afternoon to maximize academic achievement and create a fun, learning environment for the building's 675 students.
Finley houses all of the Huntington School District's seventh and eighth graders. The school, including its faculty and staff, has a unique personality. Students seem to have an extra spring in their step. There's a near-constant buzz in the air. Teachers are always rolling out something new.
The Falcons' sports teams are perennially among Suffolk's best. The after school club program, including the student council and drama club and a litany of other groups, are held in high esteem by professional educators and parents. The music and art programs are legendary. Finley has earned several academic awards in recent years.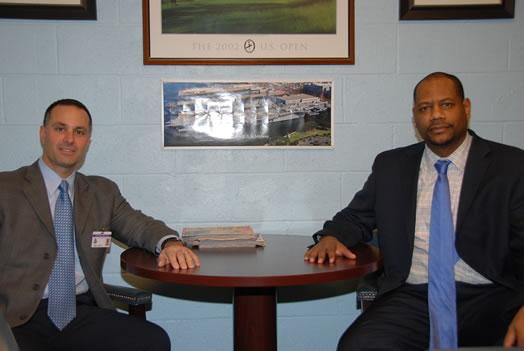 As the new school year approaches, Mr. Amato, who works closely and collaboratively with Ken Parham, Finley's assistant principal, recently outlined four broad goals that he intends to concentrate on.
Mr. Amato said he wants to "maintain a safe and healthy learning environment for all students" and "continue our pursuit of improvement in student achievement in all subject areas." The energetic administrator also plans to "evaluate how to better prepare our students for the transition to high school" and is looking to "expand our use of technology in the classroom."
Those who work alongside him say Mr. Amato's ability to accomplish what he sets out to do should never be underestimated. "John's commitment to Finley and to this school district is exceptional," Superintendent John J. Finello said. "He has helped create a great school for the young people of this community."
Mr. Amato was named Finley's principal in July 2006 after serving as assistant principal at Sayville Middle School for six years. He earlier worked as a seventh and eighth grade special education teacher in the Sachem school district, where he began his administrative career as a remedial summer school assistant principal.
A 1986 graduate of St. Joseph's College in Patchogue with a Bachelor of Arts degree in human relations and a concentration in leadership and human resources development and management, Mr. Amato obtained a Master of Science degree in special education at Adelphi University in 1989. He earned his administrative certification through The College of New Rochelle in 1999.
Mr. Amato is a member of the Association for Supervision and Curriculum Development and the New York State Association for Computers and Technologies in Education. He serves on the executive board of the International Association of Approved Basketball Officials and is one of the most highly regarded basketball referees in the state.
An energetic and imaginative leader who sets high goals for himself, Mr. Amato said he seeks nothing short of excellence for each Finley student. A strong presence in the building, he walks miles each day, up-and-down staircases and around the halls.
"It's always enjoyable to stop by and visit Finley," Mr. Finello said. "John and Ken Parham and their team of teachers and support staff are doing wonderful things every day."
All graphics, photographs, and text appearing on the Huntington Public Schools home page and subsequent official web pages are protected by copyright. Redistribution or commercial use is prohibited without express written permission. Comments or Questions? email the Public Information Office