February 3, 2021
The Huntington girls' basketball team will hit the court for the first day of practice this week. Players are happy to be together with their coaches after the season was delayed more than two months due to the COVID-19 pandemic.
Returning from last winter's varsity squad are Alexa Amorison, Katie Browne, Gianna Forte, Jordan Forte, Makaylah Frazier, Charlotte Maggio, Lisa Martin, Junie Nosile and Emily Plachta.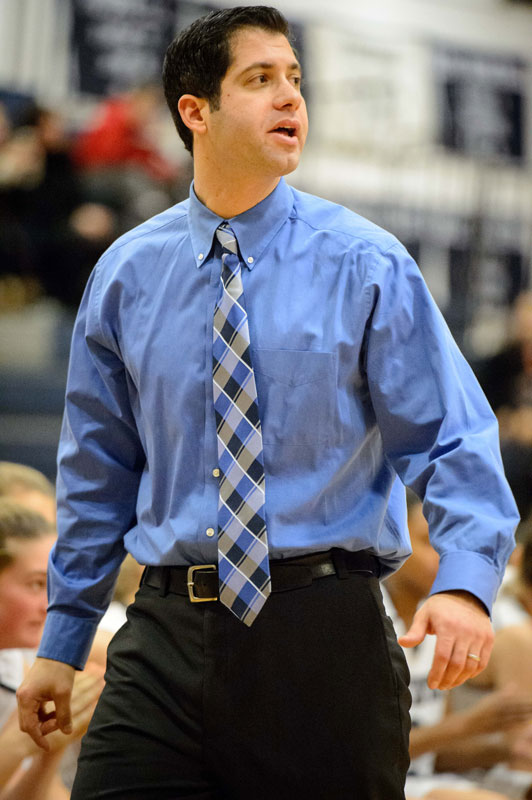 Huntington head coach Mike Kaplan. (Darin Reed photo.)
The remaining roster spots are expected to be taken by players promoted from last year's junior varsity. That group includes Abigail Baade, Kenya Baker, Teddi Carnesi, Rana Elfaham, Ashley Genao, Emily Gershuny, Ebony Miller, Asyria Rios, Theresa Rivera, Yanira Rivera Ronquillo, Regan Sansiviero, Shaneek Shand, Zaria Smith and Kayleigh Bender.
The Blue Devil varsity will be coached by Michael Kaplan and Marissa Bergmann. John Romano is the JV's head coach.
Jordan Forte and Plachta both captured All-League honors last. The pair is once again expected to lead the Blue Devils. There are many other talented players on the roster, including several who appeared poised for breakout seasons.
Huntington recorded a 12-9 overall mark (7-5 in league play) last season. The team won a tournament at Islip and took second place in another tournament at Center Moriches.
The Blue Devils have home games scheduled against Smithtown East, Newfield and Smithtown West. Away contests are set with North Babylon, Half Hollow Hills East and Copiague. The season-opener is February 8 at North Babylon. No spectators are permitted at any game due to the COVID-19 pandemic.
All JV and varsity home games will be live streamed to a YouTube page that carries Huntington athletic events. Enter Huntington Blue Devil Sports in the YouTube search bar or just click on this direct link: https://www.youtube.com/channel/UCk46lE-ekxEKRwdFzZPgbqg