February 1 , 2021
Winter training is now underway for the Huntington High School Blue Devil marching band's percussion and color guard units. The two off-season programs help students prepare for the band's summer and fall activities.
Color guard and marching percussion involve specific skills and performance practices that require focused training and preparation. The winter color guard program is coordinated by band staff members Patrick Neary and Mallory Martilla, a Huntington High School alum. The winter percussion program is led by band staff members Sean Lucas and Derek Schmelter, who is also a Huntington alum.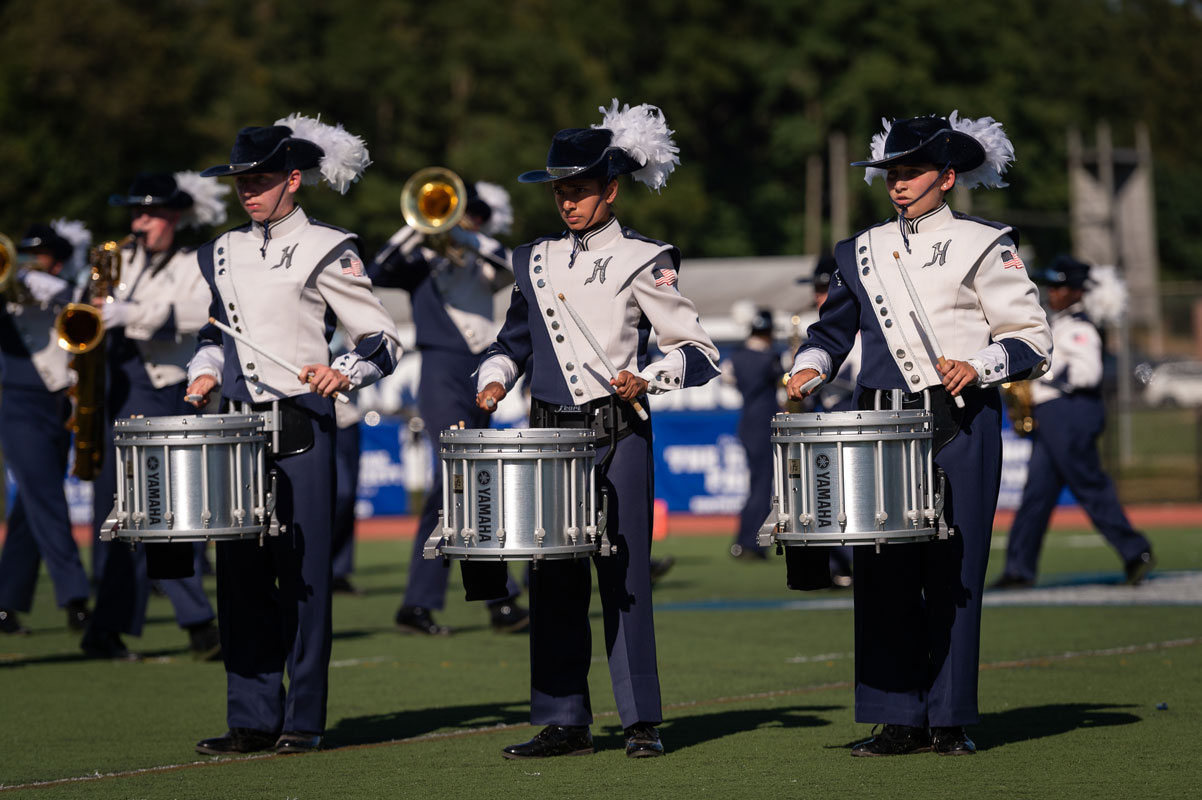 Blue Devil marching band percussionists are training this winter. (Darin Reed photo.)
Both programs are beginning virtually and will look to meet and rehearse outside in-person as weather allows.
"I could not be more excited for these Huntington Blue Devil marching band programs to get started," said Brian Stellato, the band's director. "The 2020 HBDMB was tremendously missed this past fall. We are all looking forward to getting what would have been the 2020 HBDMB together in some capacity over the upcoming months, as well as beginning to plan for next year's competitive season."
The training schedule is as follows:
Winter Color Guard: Begins Tuesday, February 2 from 6:30-8:30 p.m.
REMIND Text @hbdmbcg2 to 81010
Winter Percussion: Next rehearsal is Wednesday, February 10 from 3:30-5:30 p.m.
REMIND Text @hipe21 to 81010
"I am so pleased that we are able to begin our winter color guard and percussion programs this year," said Eric Reynolds, Huntington UFSD director of fine and performing arts. "Not only will our students connect on a creative level through visual and musical performances but, most importantly, connect on a personal and social level, while maintaining all safeguards and distancing, of course! Our HBDMB organization, which includes the winter programs by extension, is a family and to keep those connections in place is exactly what is needed for all staff and students alike at this point in the year."