January 31, 2020
Kyra DeSalvo is a very practical teenager. So when it came time to choose a college, the Huntington High School senior made a completely logical decision based upon her interests and career goals. The teenager plans to study at Northeastern University in Boston.
"I picked Northeastern mainly because of the instant connection I had to its very unique programs, campus and the surrounding city of Boston when I visited their information session," Ms. DeSalvo said. "Specifically, the co-op program they have there (similar to an internship except it's six months of paid work experience wherever you would like in the world) and the fact that because of this program it is statistically the best college in the country for internships and job placement after graduation, I realized the practicality of it and how it could suit my career path since I want to study internationally and an international co-op would really put me on a good track."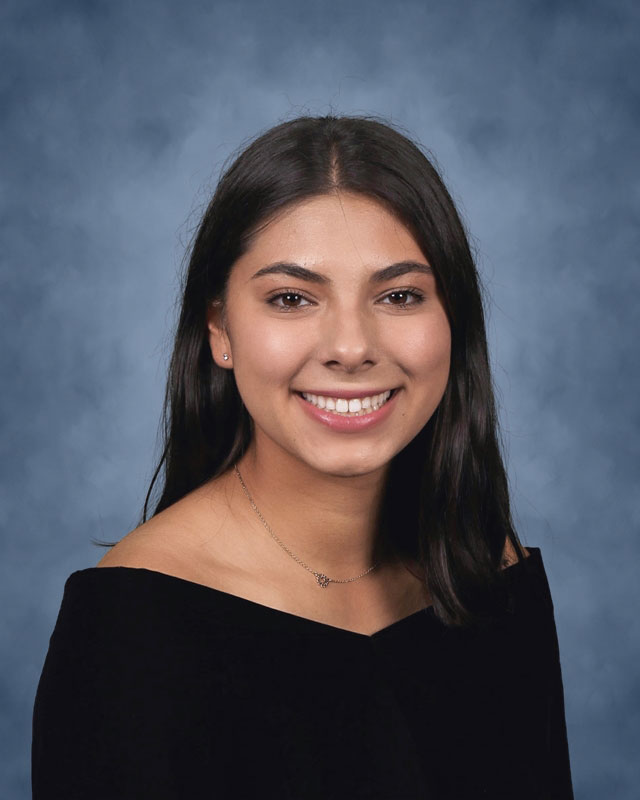 Huntington High School senior Kyra DeSalvo is headed to Northeastern University
Ms. DeSalvo intends to study international affairs and political science as a combined academic major. "My career interests might include jobs in the international relations field such as being a diplomat, going into politics or pursuing education (teacher or professor) for history," she said.
The teenager was the Blue Devil marching band color guard section leader and one of the highlights of her senior year has been "all of the memories I got to make with my marching band friends throughout the practices and competitions," Ms. DeSalvo said.
The senior is a great vocalist, too. "Practicing and performing with the chamber choir this year has been so much fun and definitely is memorable," Ms. DeSalvo said. "I can always count on the spring musical to be a highlight of my year, even though auditions and rehearsals are just beginning, since I get to do it with some of my best friends as well as sing, dance and act; some of my favorite things to do."
Rather than merely glide through her senior year, Ms. DeSalvo decided to make it as meaningful as possible in every way. "The interesting selection of classes I am taking this year stand out to me as I feel more intellectually challenged than any other year of high school," she said. "My valuable internship for AP US History with Mr. [Kenneth] Donovan as well as the internship program as a whole is helping to give me a different experience than other years in high school through providing me with leadership opportunities and career skills."
After excelling over these past four years of high school, Ms. DeSalvo is in a good position to offer valuable guidance to incoming Huntington freshmen.
"My main advice that I feel can never be overstated to freshmen is to take advantage of all the various clubs Huntington has to offer; to really make the most of your time and to pursue your interests," she said. "I never realized my interest in the social studies and the humanities field until repeatedly entering the National History Day competitions and later becoming an officer for the History Day club. Non-academic clubs such as marching band can be equally beneficial. Marching band helped develop my character through providing me with the leadership experience to prepare me for what will be demanded in college. I am so grateful to have been a part of such a family."
Ms. DeSalvo encourages incoming ninth graders to "explore and learn about yourself and your interests through the clubs and extracurriculars, since it helps expand your social circle and provide you with valuable skills that extend well beyond the borders of high school, even if you don't realize it," she said.
As the number of days she has remaining at Huntington High School grow fewer, Ms. DeSalvo took time to reflect on her time in the building and everything she has immersed herself in over the years.
"I enjoyed my experience at Huntington more than I expected," Ms. DeSalvo said. "The busy-ness and rigor of my schedule through the years kept me very interested in whatever activity I was partaking in at the time and I found myself almost never to be bored, since there was always something going on for me after school. I'm happy I challenged myself academically, socially and musically all in all and although there were challenges that came with the rigorous academic load, the friends and positive takeaways I retained throughout the years outnumbered these challenges in the end. I wouldn't trade these experiences for anything!"