November 4, 2019
Sophomore Ashley Genao electrified the Blue Devil Stadium crowd at last Saturday's football game with a powerful performance of the "Star Spangled Banner" before Huntington's game against undefeated county champion Lindenhurst.
Ms. Genao showed exceptional vocal range for a song that is notoriously difficult to sing. Her unique rendition earned more than just the usual obligatory applause. Fans loudly cheered, included those on the Lindenhurst side of the field; even the Bulldog players applauded the performance.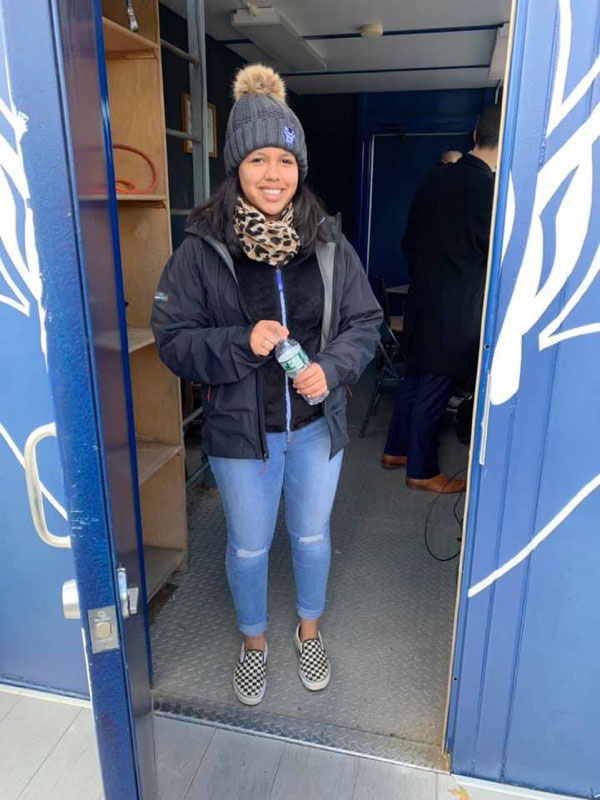 Ashley Genao inside the Blue Devil Stadium press box last Saturday.
The teenager admitted she was nervous last Saturday "because I was sick and had lost my voice and wasn't sure if I was going to be able to pull it off," she said. Although she has the song committed to memory, Ms. Genao had never performed it solo at a similar event.
"When I was about seven or so I joined my local church choir and since then I have developed a passion for singing," Ms. Genao said. She sang from inside the press box atop the Blue Devil Stadium grandstand.
The sophomore got her start in Huntington UFSD as a kindergartener at Jefferson Primary School. She traveled to the Dominican Republic last summer where she visited her father's hometown. "I got to meet a family that we helped out through this big organization for which my family is a sponsor," Ms. Genao said.
The teenager also volunteered at her church's summer camp and trained for the Blue Devil JV girls' soccer team's season. Besides soccer, Ms. Genao also plays basketball for Huntington, sings in the high school chamber choir, is a member of the mock trial team and the Spanish Honor Society and is also a science lab assistant.
Ms. Genao is taking classes in Advanced Placement Human Geography, English 10 Honors, Global History 10, Spanish 5 Honors, Earth Science, Geometry, Chamber Choir and Introduction to Photography.
Although just a sophomore, Ms. Genao is already interested in CUNY-John Jay College, St. John's University, Florida State University and her "dream school," Duke University.
"I want to study psychology and the law," said Ms. Genao, who is looking forward to possible careers as either a lawyer or an FBI agent.
Ms. Genao's all-time favorite teacher is Victoria Garbarino, who leads the high school's choral program. "She is a big supporter of mine and she pushes me every day so I can reach my full potential," the teenager said. "She helps me with my singing, yes, but also when I need her as a friend and many more things. She has helped me in so many ways. I don't know what I would do without her."
The sophomore's closest friends are her best friend, Edelyn Garcia and her cousin, Lex Colato. "I feel my experience in Huntington has been great so far," Ms. Genao said. "Huntington has given me the room to find myself and try new things."