Huntington Robotics Ramps up
for Season
Huntington Robotics is ramping up operations as the competitive season nears. The Huntington High School team of mechanical and technological wizards has high hopes for a successful year.
Faculty advisors Brian Reynolds and Mike Ferreira are pleased with how the team is shaping up as members dive into the work associated with their respective role and responsibilities. The group has become an essential part of the high school and local community over the past three years.
Huntington Robotics is officially known as Team 5016 in the FIRST robotics competition organization. "Under strict rules, limited resources, and the guidance of volunteer mentors including engineers, teachers, business professionals, parents, alumni and more, teams of 25 or more students have just six weeks to build and program robots to perform challenging tasks against a field of competitors," according to the organization's website. "They must also raise funds, design a team 'brand,' hone teamwork skills and perform community outreach. In addition to learning valuable STEM and life skills, participants are eligible to apply for more than $25 million in college scholarships."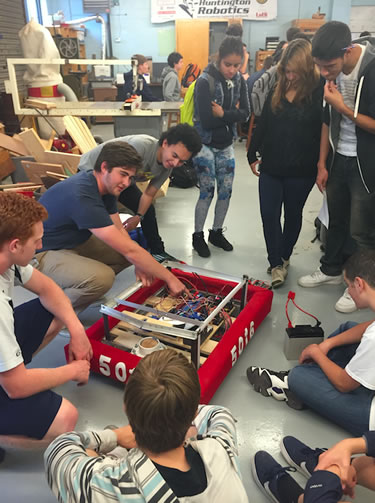 The annual FIRST robotics kick-off celebration will be held at Stony Brook University on Saturday, January 9. "That is when our build season will officially commence," said sophomore Lindsay Saginaw, head of marketing and public relations for Huntington Robotics. "The team has been working hard every Wednesday on team branding, planning for the build season and marketing."
In addition to Ms. Saginaw, this year's elected team officers also include Jacob Strieb (team captain), Cole Blackburn (vice-captain) and Ben Hebert (treasurer). Many other students are filling vital positions and spending hours helping Huntington Robotics to position itself for a successful season.
As Team 5016 gets ready to ramp up operations, the group has stayed busy with a variety of events, including:
• Participated in the annual Kiss Cancer Goodbye Walk at Heckscher Park on September 12 to support childhood cancer awareness and Huntington Robotics sponsor, Dr. Inna Gellerman, a local orthodontist. Brought along last year's robot for all to see.
• Participated in the first Barnes & Noble market fair on November 7 to help spread STEM (science, technology, engineering and math) awareness throughout the community.
• Competed in the Half Hollow Hills Invitational on November 14 "and finished very well using last year's robot and allowing new team members to practice driving the robot," Ms. Saginaw said. 
• Showed off last year's robot in the Homecoming Day parade through Huntington Village as team members and the robot demonstrated their Blue Devil spirit, riding on a trailer along the route.
• Manned an activity station at Huntington High School's Safe Halloween program for elementary school students, who were allowed to drive the robot and pick-up treats, too.
• Attended STEM Night at Jack Abrams STEM Magnet School, promoting science and technology by allowing students to drive the robot.
Visit www.team5016.com for more information about Huntington Robotics. Visit www.usfirst.org for more information about the FIRST robotics competition program.