Outdoor Mural Unveiled at Jack Abrams STEM School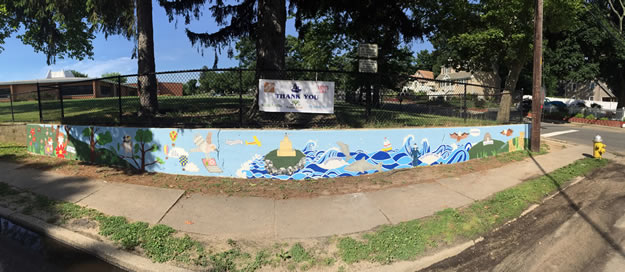 There's a new outdoor mural on the corner of Lowndes Avenue and Tower Street at Jack Abrams STEM Magnet School. The refreshing and colorful artwork has been drawing the eyes of passersby.
Planning for the mural kicked off last fall. After gaining the support of Huntington Superintendent James W. Polansky, a committee consisting of artist Jerri Castillo of the town's Project Excel, district parent Debbie Chin and art teacher Christine Burns drew up a proposal and timeline for site clean-up, prep work and the painting of an exciting new display that depicts scenes from across the district.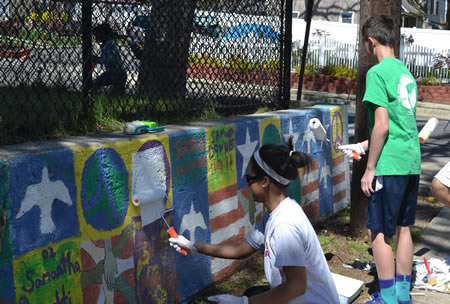 Mr. Polansky met with building principals and it was decided that students would be asked to submit a drawing of either a mascot or another image representing their respective school. Mrs. Burns coordinated the initiative with the art teachers throughout all the schools, advertised the campaign and collected the students' drawings, which were created during and immediately following the winter recess.
Committee members reviewed all the drawings submitted and selected a few from each school to use as inspiration in formulating the actual mural. A Certificate of Inspiration was presented by the art department to students whose artwork was chosen.
Ms. Castillo drew out the mural as a four part series to be painted on the wall. A workshop was offered at Tri- CYA to teach students how a mural goes from paper to wall and the role played by graphing and grid work. Techniques on painting were also discussed.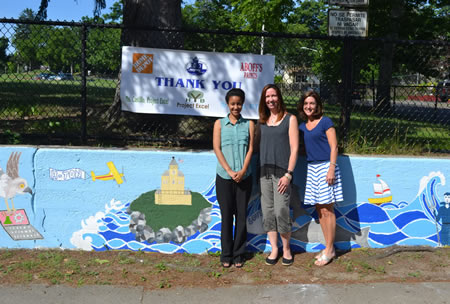 Once the winter snow had finally melted away it was time for the clean-up and prep work to begin. Organizers scheduled the activity for April to coincide with Earth Day. Volunteers power washed and primed the wall to get it ready for its new look.
The actual painting took place on various days throughout May and June. Students were involved in every phase of the project. Neighborhood residents, district faculty and staff and even Huntington School Board members stopped by to admire the daily progress.
"Students were excited to see how all the schools and their various mascots were brought together in one brightly decorated mural centered around the Huntington Lighthouse," Mrs. Chin said. The mural even includes a plane carrying behind it a banner that reads "H-TON."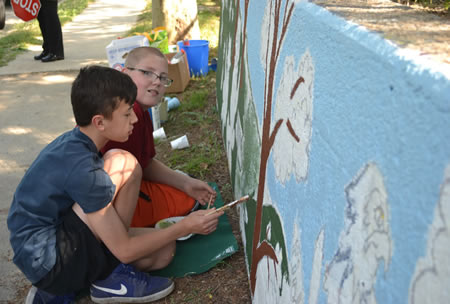 Ms. Castillo received thanks for her hard work and dedication to the project as well as for her artistic expertise in helping to beautify and brighten Jack Abrams STEM Magnet School, which also houses the district's administrative offices.
Mrs. Chin and Mrs. Burns both gave countless hours of their time to the initiative, pitching in to help with every aspect of the project.
"I'd like to express my gratitude to everyone involved in the project," Mr. Polansky said. "The end product is one that we will be able to genuinely enjoy for years to come and one that provides viewers with a sense of the pride that students, staff, parents and community members take in their schools and district. A sincere and special thank you goes out to Debbie Chin, Christine Burns and Jerri Castillo for their ideas and creativity and for coordinating the artistic efforts from start to finish. They did not miss a detail!"
Aboffs of Huntington Village and Home Depot in the Big H Shopping Center generously donated paint and supplies for the work.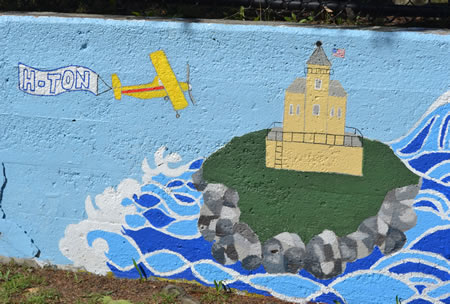 "Project Excel's mission is to help youth develop personal, social and academic competencies that will enable them to excel in school, in the community, in the job place, at home and among their peers," according to the organization's website. "All programs are provided to youth free of charge."
For more information on the Huntington Youth Bureau and Project Excel, and all the programs and services they offer, please visit their website: www.hybydri.org/EXCEL.html