Beth Coneys Shows How Hard Work Pays Off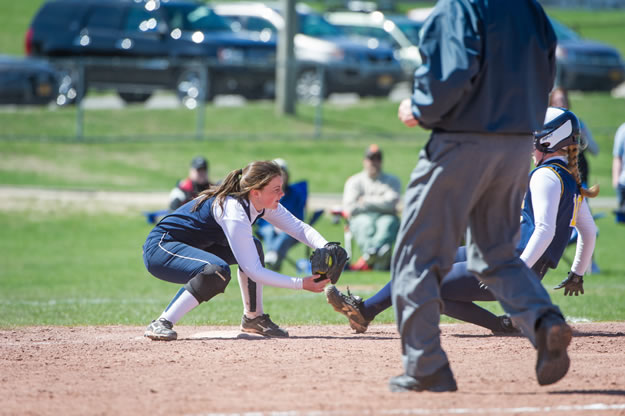 Beth Coneys is a Huntington School District lifer. The Huntington High School senior began her journey with the Class of 2014 in kindergarten at Southdown Primary School. All these years later she's all grown up and the proud owner of a sensational academic and co-curricular resume.
Ms. Coneys is headed to Northeastern University's Honors College in the fall, where she will study in the mathematics program. "I received the Dean's Scholarship for the School of Science, which was super exciting," she said. "I've wanted to live in Boston for years, so it's really a dream come true."
The senior has challenged herself academically throughout high school. Ms. Coneys has taken 10 Advanced Placement courses over the years, including AP World History, AP Biology, AP U.S. History, AP English Language, AP Chemistry, AP Physics, AP Calculus BC, AP Government and Politics, AP English Literature and Composition and AP Microeconomics.
The teenager has earned the title of AP Scholar with Distinction for her outstanding record in Advanced Placement courses, "which shows how hard work can pay off," Ms. Coneys said. 
The senior is one of the leading members of Huntington's graduating class and a young woman that is equally popular with her classmates and the high school's faculty. "Beth is very intelligent and a hard worker and I am looking forward to seeing her at Northeastern for the next four or five years," said Alex Castillo, president of Huntington's student government organization and a fellow senior also destined for Northeastern.
Favorite teachers hard to choose
"I've enjoyed so many classes and teachers it's hard to choose, but some of my favorite teachers have been Mr. [James] Graber, Mrs. [Deborah] Beck, Mrs. [Dame] Forbes and Mrs. [Kelly] Krycinski," Ms. Coneys said. "When talking to Mr. Graber, you can tell he is just a very intelligent person. His class has taught me so much and has me leaning towards a career in economics. Mrs. Beck's AP Biology class was one of the most interesting classes I've ever taken, and I really enjoyed her style of teaching. Mrs. Forbes is just a ray of sunshine. I had her for Honors Chemistry and AP Chemistry and every day she had a smile on her face. She would always make class interesting, and made sure to spread some joy along the way." 
Mrs. Krycinski has been a "huge supporter" of Ms. Coney's over the years, "both in and out of the classroom," the teenager said. "For the past two years, I've been treasurer of Key Club, and Mrs. Krycinski and Mrs. [Gina] Colica have been amazing advisors. They have allowed me to participate in a multitude of community service events, including five blood drives, three Sears shopping tours, two K-Factor talent shows and many food and toy drives as well." 
Ms. Coney's said the K-Factor has been one of her favorite activities. "It is so rewarding," she said of the event. "The other Key Club officers and I work extremely hard for months leading up to the event, collecting donations and raffles, organizing try-outs and the final cuts, and publicizing the event. Seeing everything come together, watching the amazing acts and raising money for great causes is so worthwhile. Working with Key Club really has allowed me to explore my altruistic spirit and discover a passion for helping others." 
Many extracurricular experiences
Along with Key Club, Ms. Coneys has participated in Grandfriends, Natural Helpers, the National Honor Society and the Spanish, English, Math and Science honor societies. "All the honors societies I'm a part of have allowed me to participate in many Safe Halloween and Math Night events, which are always so much fun working with younger kids," the senior said. "Natural Helpers has been a huge learning experience for me. The past two years have been amazing and have opened my eyes to the issues within our own community and the ways to deal with such issues. Mr. [Robert] Gilmor has been so great as an advisor and has played a key role in opening my mind and heart to everyone in the Huntington community."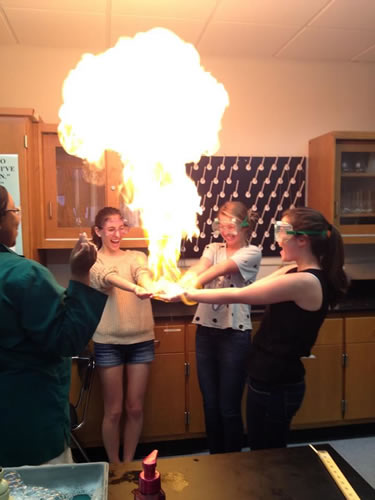 A true scholar, Ms. Coneys won the St. Michael's College Book Award for Academic Achievement and Social Conscience last year, "which was so gratifying and really compelled me to continue doing community service," she said.
As a Huntington junior, Ms. Coneys captured third place in the local round of National History Day for her individual documentary on Malcolm X. "Although I didn't place in the Long Island regional at Hofstra University, the whole experience was very rewarding in that I learned so much and worked so hard on an unconventional project," she said. The senior also participated in the Chemistry Olympiad at Stony Brook University last year.
Relay For Life captain
Ms. Coneys has been a Relay For Life team captain in each of the past three years. "For the first two years of the event, I co-captained with Caitlin Yabroudy, which was really fun," she said. "We raised over $3,000 as a team both years. This year I'm co-captaining with my best friend, Ryan Bonitz and we hope to raise even more money."
Ms. Coneys has also found time to play in the school orchestra and perform in a quartet for two years. "Playing in a quartet with three of my good friends was a lot of fun and earning an 'outstanding' NYSSMA grade was very rewarding," she said.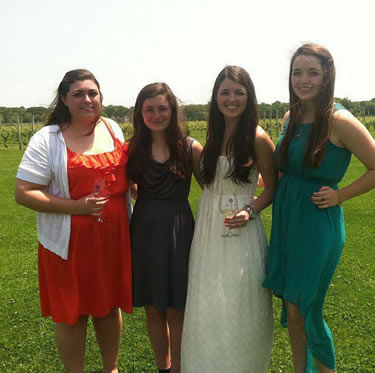 A member of the varsity tennis team since her sophomore year, Ms. Coneys captained the team last fall as the Blue Devils compiled a 10-4 record. "Playing for Mr. [Jamie] Fishlow over the past three years has truly been amazing," she said. "He is a wonderful coach and a wonderful person, both on and off the court. I will miss him and the rest of the team a lot next year."
Ms. Coneys earned All-League honors last fall and advanced to the Suffolk Division I tournament with her doubles partner Hanna Murphy. "It was a great way to end the year," she said about the trip to the post-season. Ms. Coneys earned the Suffolk Tennis Scholar Athlete Award and was named a New York State Scholar Athlete.
Blue Devil softball player
After serving as captain of the Blue Devil junior varsity softball team for two years, Ms. Coneys was promoted to the varsity as a junior and was team captain this past season. "Over the years, I've met some of my best friends through this team and I will really miss them next year," she said. "Some of us have played together on the Long Island Elite travel softball team for many, many years and I will miss them most of all."
Ms. Coney was Huntington's starting left fielder as a junior, but moved to second base this spring. Making the playoffs in 2013 "was probably the highlight of my high school softball career," she said. While the team did its best to return to the post-season this past season, it just wasn't meant to be. But, the senior said the team's spirit was never broken.
"Our coaches, Mr. [John] Walsh and Chaz Maccio have been great for bettering Huntington softball, and I do not know where I would be without JV coach, and my travel coach, Mr. [Jim] Byrnes," Ms. Coneys said. "Mr. Byrnes has been a phenomenal addition to the coaching staff and played a key role in keeping me sane over the years. He is someone I will miss very much."
The senior has never forgotten her early years spent at Southdown Primary School. At April's Distinguished Seniors dinner in the high school gym, Ms. Coneys was able to recognize Southdown librarian Ellen Blanchard, who was presented with a Distinguished Teacher Award for her many years of outstanding service to the school community.
"Mrs. Blanchard truly contributed to my love for reading and helped me go from an illiterate kindergartner to reading at an advanced level," Ms. Coneys said. "I was so surprised to see she had not previously been recognized and was happy to recognize her hard work."
Last in line of sisters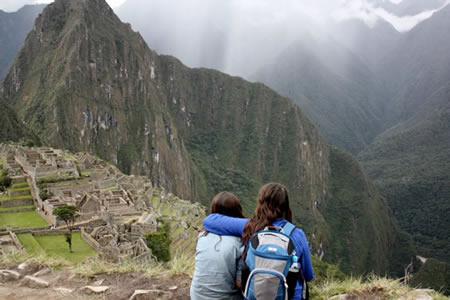 Ms. Coneys is the last in a line of sisters to graduate from Huntington High School. Katie Coneys was a member of the Class of 2005. She went on to earn an undergraduate degree at Pace University in 2009 and is currently employed as a vice-president of contract negotiations with Barclays Capital in Manhattan. Samantha Coneys, who graduated with Huntington's Class of 2007, works in the digital pre-press department at Disc Graphics. Marie Coneys, a member of the Class of 2012, is studying Hunter College-Thomas Hunter Honors College and participating in the Muse Scholars program, double majoring in art history and studio art.
"The advice I would give to incoming Huntington freshmen is to not be afraid to branch out from what your friends are doing," Ms. Coney's said. "Join clubs and teams and get involved with things you're interested in and make friends in all different places. I think it's also important not to feel intimidated. I came into this school with three older sisters and three older cousins before me who made big impacts on the community. Though that was somewhat intimidating, I was able to find my place in the school quite easily. There is a place for everyone at the high school. It may take a while to find yours, but if you look, you will find your niche.