An Army of Love for Jana's Run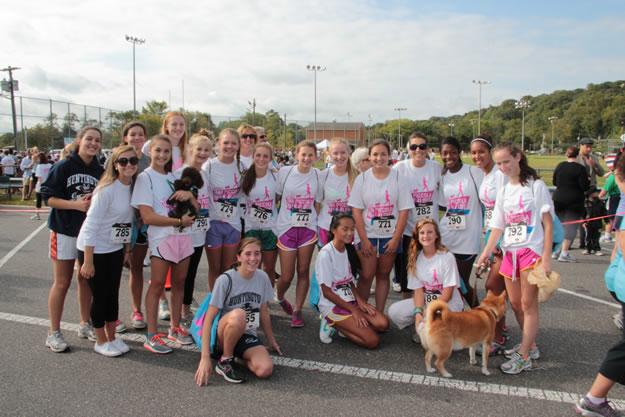 You can call it an Army of Love. A field of about 700 participants and 75 devoted volunteers helped make the fourth annual Jana Piccola Walk 4Love an overwhelming success. Organizers said they are "thrilled" to be able to donate about $25,000 to Memorial Sloan-Kettering Cancer Center for pediatric cancer research.
"Jana's run was fantastic," said Caitlin Latini, the event director and also a member of Huntington's Class of 2004. "The weather was phenomenal. We couldn't have asked for a more beautiful early fall day."
Ms. Piccola's story is a heartbreaking one and is well-known in the Huntington community. As a 16-year Huntington High School junior she was diagnosed with stomach cancer. It required extensive treatment that ultimately proved successful. She graduated on-time with the Class of 2004 and went on to Quinnipiac University. Four years later as a college senior she found herself seriously ill again. Diagnosed with leukemia, thought to be a side effect of her earlier treatment, she lost a brave battle with the disease in October 2008. She was just 21.
The event 5K race kicked-off at Mill Dam Park at 9 a.m. The race course included a long scenic stretch along Huntington Harbor. A fun run for those aged 12 and younger preceded the 5K walk/run.
A wide variety of participants turned out for this year's Walk 4Love and local businesses and teams pitched in to make the day a special one. Body & Soul Fitness and Yoga Center in Huntington was on the scene performing a flash mob dance between the fun run and the 5k race. NYSC of Huntington sent representatives to the race who donated their time to help runners warm-up.
"Many Huntington High School sports teams came out to support the event, such as varsity and JV girls' field hockey," Ms. Latini said. "The boys' cross country team took it upon themselves to raise money for the cause and donated a sizeable amount."
Blue Devil boys' cross country coach and 2001 Huntington alumnus Shawn Andersen finished first overall in the 5K race, crossing the line in 18:20. The cross country squad raised more than $650 for the 4Love Project. Anderson called it a "beautiful sunny, cool day. All the kids ran great and gave it their best. It was a lot of fun."
The next 15 runners that followed the 29-year old Mr. Anderson across the finish line were 31-year Brian Malone (18:37), 59-year old Kevin Carroll (19:12), 25-year old Brian Larkin (20:06), 32-year old Lauren Jensen (20:10), 30-year old Warren Meahan (20:12), 13-year old Brady Anna (20:13), 26-year old Lindsey Block (20:20), 14-year old Kyle O'Brien (20:33), 25-year old John Henry McNierney (20:52), 26-year old Kelly Potter (20:52), 17-year old Tom Boisclair (21:06), 13-year old Ethan Dwyer (21:12), 16-year old Y'Majesty Allen (21:20), 13-year old Matthew Katz (21:22) and 25-year old Katie Boshko (21:37).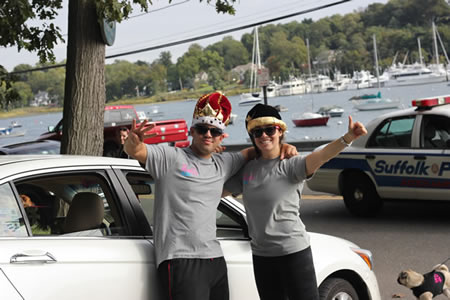 Participants included a mix of serious runners, current Huntington High School team members, Huntington teachers and administrators, hundreds of alumni, as well as a cross-section of the Huntington community. Some of the entries came from out of state for the race.
The Highsteppers, Huntington High School's competitive dance team, came in full uniform, pom-poms and all. "They set-up a water station on the race route and cheered on the participants, which was a hit with all who attended," Ms. Latini said.
An assortment of quality raffle and silent auction items donated by local businesses and groups added to the proceeds generated by last Saturday's event. "We are excited to say that we are going to be able to donate $25,000 to Memorial Sloan-Kettering Cancer Center for research for the fourth year in a row, a feat we are extremely proud of," Ms. Latini said.
Visit http://results.active.com/events/jana-piccola-walk-4love-2012-benefiting-pediatric-cancer-research for complete race results.