SED Commish Met with Strong Opinions and Complaints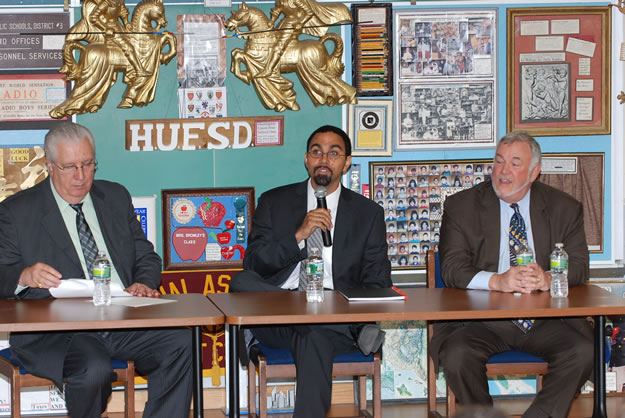 State Education Commissioner John B. King, Jr. visited Huntington High School last week to participate in a forum with school officials from Long Island Gold Coast districts and was met with strong opinions and loud complaints.
State Senator Carl I. Marcellino organized the forum, which also included New York State Board of Regents member Roger B. Tilles, a lawyer by trade who has taught at four different universities. The three officials sat on the small stage in Huntington's School Heritage Museum during the session. Each spoke briefly before a crowd of superintendents, board of education presidents and union officials from districts stretching from Great Neck to Northport unloaded on Dr. King.
Huntington Superintendent James W. Polansky began the forum by expressing his displeasure at the Huntington School District being labeled as a "Focus" district by the state due to a relatively small group of students falling short of state standards.
Mr. Polansky said he was dismayed by the state designation, which was based on old test scores from the 2009/10 and 2010/11 school years, and which was made despite the fact that two Huntington School District schools were recently designated as "highly effective" while four others received "effective" ratings.
"We made some nice gains last year and to receive a negative label as a result of three year old test scores is unfair and misleading," Mr. Polansky said. Dr. King acknowledged that "data lag" is a problem and talked about removing the "punitive connotation" to the labels the state assigns to districts, but shrugged his shoulders at the thrust of Mr. Polansky's criticism.
"We appreciate the fact that Dr. King chose to visit Huntington and speak with local school officials," Mr. Polansky said. "Unfortunately he provided few, if any, concrete responses to the concerns voiced throughout the conversation."
Dr. King said he has been touring the state and has heard concerns regarding the "fiscal environment" districts are grappling with. He also acknowledged that "people are really anxious" over the state's new annual professional performance review law for teachers and administrators, but steadfastly defended the initiative in the face of blistering criticism from school officials at last week's forum.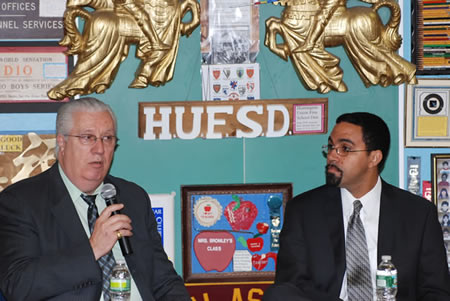 One longtime Long Island superintendent blasted the state's imposition of a two percent cap on increases in district tax levies without any accompanying mandate relief. "We have gone from doing more with less to doing less with less," he said.
Costly new unfunded mandates related to the APPR program and development of required student learning objectives for every student in every course along with expensive and time-consuming staff development are making matters worse for districts across Long Island, the veteran superintendent said. "I think it's regressive," the superintendent said about the two percent cap. "In three to five years, many districts, districts upstate, will be insolvent. These districts are right into bone marrow."
School official after school official took aim at the tax cap, the APPR law and a lack of adequate state aid and a deluge of expensive mandates to relentlessly criticize Albany. One said that after millions of dollars in cuts to programs and staffs, districts are now at the bone. "In three to five years, the State of New York will be challenged with a great deal of district insolvency," said one superintendent.

Another Nassau superintendent blasted the APPR program's requirements and its related expenses despite that district having "an extremely high performing faculty" and a high achieving study body that is among the most accomplished in the country.
Dr. King was repeatedly told that "mandates are killing districts" and that in a few years, the tax cap is going to destroy school systems. Superintendents were not bashful about boldly taking on the commissioner, with one telling him she "respectively disagreed with his conclusions and assertions."
Dr. King defended the APPR law, the requirement for SLOs for every student, widespread testing and the State Education Department in general and the timeliness of its communication with districts and he said the tax cap is a political reality.
In addition to Mr. Polansky, Huntington School Board President Emily Rogan, Trustees Jennifer Hebert and Adam Spector, Huntington High School Principal Carmela Leonardi, J. Taylor Finley Middle School Principal John Amato, Math Director Marybeth Robinette, Science Chairperson Rae Montesano and Associated Teachers of Huntington President James Graber attended the forum.
Dr. King fended off dogged complaints for about 75 minutes before Senator Marcellino announced the meeting was over. Before it came to a close, several more speakers blasted the fact that students are now required to take a series of tests at the start of the school year and said the tests were "stripping kids of their enthusiasm," calling them "a horrible waste of time."
One official spoke of her "great concern of the validity of the APPR [program] and [using] student scores to evaluate teachers." In the wake of the sustained and withering criticism, Dr. King said several times that "we just disagree" on issue after issue.
One speaker bluntly told the commissioner that "you don't get us." Another attacked the APPR law as "an enormous waste of time and money." As Dr. King tried to answer some questions, many in the audience were shaking their heads indicating their disagreement with what the commissioner had to say.
With school district leaders lamenting the increased costs being forced upon them and a lack of adequate resources to meet academic performance goals, Senator Marcellino said that fiscal challenges still lie ahead.