Courtney O'Bryan Memorial Scholarship Awarded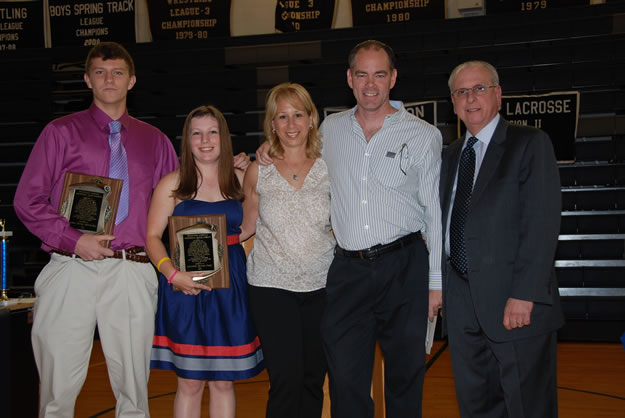 Courtney O'Bryan will always be remembered as a smiling, happy and popular teenager at Huntington High Schoo1. The Class of 2011 member played a key role on several sports teams and was loved by her classmates, teammates, teachers and coaches. Her personality, wit and wisdom were magical.
Born in Rockville Centre on April 13, 1993, Ms. O'Bryan moved to Huntington from Lynbrook as a fifth grader and she quickly settled into the town. When she headed off to Penn State University last year, it was a dream come true for the teenager, a fine student who wanted to experience the energy and excitement of a Big Ten campus. She quickly became immersed in her classes and activities, including a major charitable enterprise.
Ms. O'Bryan returned home to Huntington for Thanksgiving, stopping by the Huntington High School gym, a place filled with so many happy memories for the teenagers. She shot baskets, spoke with teammates, some of whom were also college freshmen and others who were current Blue Devil players, and met with coaches.
A few days later, Ms. O'Bryan was back on the Penn State campus, returning to her normal routine and activities. Following a day of classes, the 18-year old was a passenger in a car on its way to Buffalo on Friday, December 2 at about 8:30 p.m. when it reportedly hit an icy patch of roadway in Lewis Run in northern Pennsylvania, careening out of control, flipping over, sliding down a highway embankment and crashing into a tree.
The Huntington alum, who was riding in the backseat of the 2011 Nissan Pathfinder was fatally injured and four other students in the car were hospitalized. The accident occurred on State Road 219, about one mile south of State Route 59 according to the Pennsylvania State Police.
Ms. O'Bryan and a group of fellow Penn State students were on their way to Buffalo for a "canning weekend" as part of the Penn State IFC/Panhellenic Dance Marathon, better known as THON, which raises funds to battle pediatric cancer. Over the past 35 years, THON has raised nearly $80 million for The Four Diamonds Fund at Penn State Hershey Children's Hospital. "Canning" weekends see Penn State students fanning out into other cities and states to solicit donations for the THON initiative.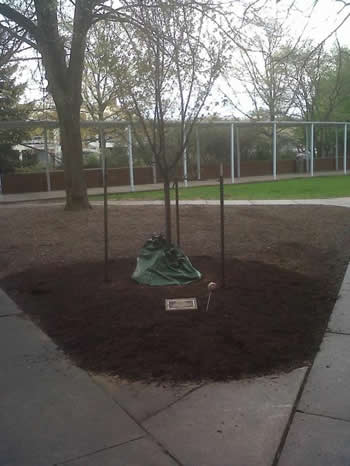 The tragedy hit Huntington hard. A candlelight vigil was held at The Rock and several days of mourning ensued. Courtney O'Bryan Night, held in conjunction with a Blue Devils girls' basketball game, drew a large crowd and paid tribute to a special person in Huntington's long history.
Ms. O'Bryan's family created a scholarship to perpetuate her memory and promote the qualities she so abundantly possessed. The scholarship is awarded to one female and one male senior athlete who is college bound and who participated in more than one team sport "exemplifying character, leadership, strong school spirit and sportsmanship."
The first recipients of the special award were honored at the 2012 senior athletic awards banquet in the Huntington gym.
2012 O'Bryan Award Winners
Seniors Laurelle Byrne-Cody and John Deren McCarthy were recognized by Ms. O'Bryan's family, which presented each of the scholar-athletes with $1,000 awards and handsome plaques.
Ms. Byrne-Cody was an integral part of three athletic programs, while consistently challenging herself academically by taking Advanced Placement and honors courses. She held down membership in four academic honor societies and participated in the school's environmental science club and philosophy club. She volunteered in local political campaigns.
Athletically, Ms. Byrne-Cody won varsity letters in volleyball, basketball and softball. She captained the volleyball squad, earning New York State Public High School Athletic Association Scholar Athlete status. She was looked upon as a role model as captain of the girls' basketball team. While captaining the softball team, she received All-League status.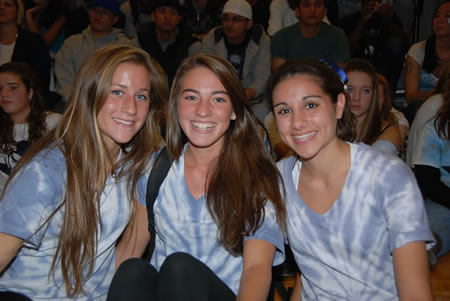 "All of her coaches said that Laurelle led by example and always helped out with her younger teammates," said Bill O'Bryan, Ms. O'Bryan's father, who presented the scholarship awards along with Ms. O'Bryan's stepfather, Nick Brigandi. "She consistently showed sportsmanship and her love of Huntington." Ms. Byrne-Cody is attending the University of Rochester this fall.
Mr. McCarthy was another fine student-athlete, completing numerous Advanced Placement and honors courses and earning a spot on the high honor roll every marking period. A member of the National Honor Society, the teenager also participated in Huntington's environmental club.
Athletically, Mr. McCarthy played volleyball, basketball and lacrosse over the course of his high school years. He captained the volleyball team, receiving All-League, All-County and All-County Academic honors.
As the captain of the Blue Devils boys' basketball team, Mr. McCarthy received All-League and Academic All-County honors. He was also recognized as a New York State Public High School Athletic Association Scholar-Athlete and was named one of the top scholar basketball players by the Western Suffolk Basketball Officials Association.
"John's coaches were impressed with his work ethic and devotion to the volleyball and basketball programs, where he led by example and motivated his teammates to do their best," Mr. O'Bryan said. Ms. McCarthy is attending James Madison University this fall.