Huntington Alum Launches New Production Company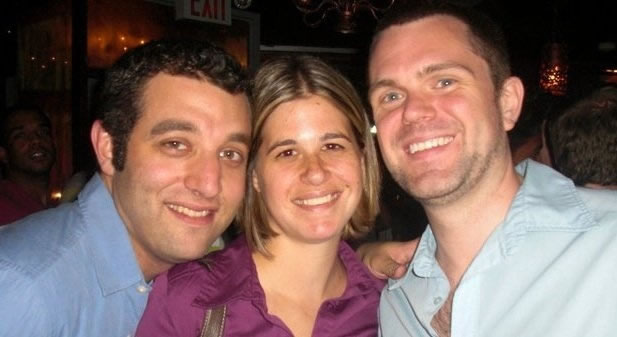 Elyssa Rabinowitz has always loved the arts. She's had a special connection to theatre ever since her parents took her to see Cats on Broadway as a three year old. But, it wasn't until fellow Huntington High School Class of 2000 member and lifelong friend Dan Fingerman's new play, The Austerity of Hope was accepted into the Fresh Fruit Festival in New York City that Ms. Rabinowitz came to the realization that producing plays is her true passion.
"Dan and I have both loved the theatre since we were kids, as is evident by the fact that we were involved in every Huntington High School production, and are still going to shows together on a weekly basis," Ms. Rabinowitz said.
Ms. Rabinowitz founded her own production company last May. ELR Productions, LLC was created in order to provide an avenue for new and up-and-coming artists to bring their vision of original works to life.
"Being able to bring someone's creative vision to life is an incredible experience and I am so thrilled that I get to share that, not only with my best friend, but with everyone," Ms. Rabinowitz said. She is beginning this new venture by relaunching the critically acclaimed play, The Austerity of Hope, into a full off-Broadway production that will run in the Times Square area.
The production previously ran for four performances and won awards for "best director" Dan Dinero and "best lead male actor" Max Rhyser, for his portrayal of Simon Greene, a role he will reprise in the relaunched play.
The Austerity of Hope follows a group of twenty-something gay friends in Astoria, Queens as they witness the historic 2008 presidential campaign and election of Barack Obama. The group is excited over the hope for "change" that Mr. Obama promises, but they come to the realization that change can only be effected by each of them is his/her own way.
Ms. Rabinowitz earned an undergraduate degree in psychology at West Chester University in Pennsylvania and obtained a MBA at New York Institute of Technology. She has worked for a nationally renowned parking company in Manhattan for more than eight years and is currently serving as its director of acquisitions.
Both Ms. Rabinowitz and Mr. Fingerman, a graduate of the University at Albany, have strong ties to the Huntington community. Ms. Rabinowitz's mother, Sandy, has been a secretary in the district's office of fine and performing arts for the past 16 years and several generations of the Fingerman family are counted among Huntington High School's alumni.
"It is difficult for me to imagine how I got here, but looking back on it, I realize that every step I have taken from high school on has led me to this moment," Ms. Rabinowitz said. "While I may not know what the future holds for me, I believe in what I am doing and am extremely excited to find out."
The Austerity of Hope will run from October 19 through November 3 at the June Havoc Theatre, located at 312 West 36th Street in Manhattan. Visit www.smartix.com for performance dates and times and for ticket information. For more information, join the production's Facebook page at www.facebook.com/austerityofhope.