Huntington School Trustees Recognized for Service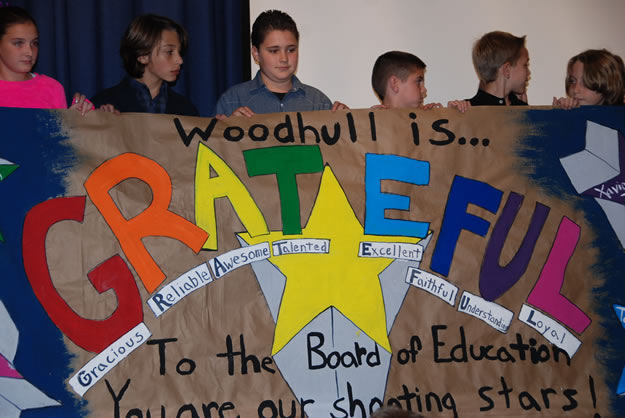 The seven volunteer members of the Huntington School Board were feted this past Monday night by students who praised the trustees' service to the community and commitment to the academic and co-curricular programs that make the district so special.
Trustees do not draw salaries or stipends. They don't receive health insurance or retirement benefits. They are responsible for overseeing a budget of nearly $112 million and more than 800 full-time and part-time employees. It's often a challenging job.
Huntington School Board members, like their colleagues in 700 districts across the state, are true volunteers. While they are elected by the community, they receive no compensation for their service other than the satisfaction they derive from insuring that a free and full public education is available to the young people who live here.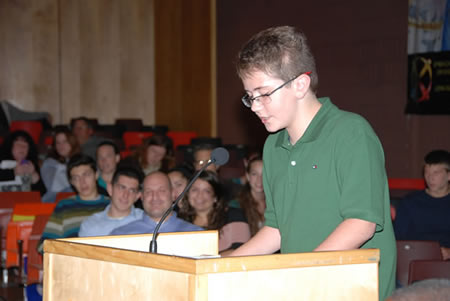 New York Governor Andrew M. Cuomo proclaimed School Board Recognition Week as a way to honor the thousands of trustees who "continually strive for improvement, excellence and progress in education."
Huntington trustees Tom DiGiacomo, Jennifer Hebert, Richard McGrath, John P. Paci III, Xavier Palacios, Emily Rogan and Adam Spector were recognized in song, word and art this past Monday evening prior to the start of the scheduled business meeting
Students from Woodhull Intermediate School, J. Taylor Finley Middle School and Huntington High School spoke movingly about the Huntington School Board members during a series of touching presentations. The Huntington High School chamber choir performed a beautiful rendition of Wind Beneath My Wings under the direction of Veronica Mainville.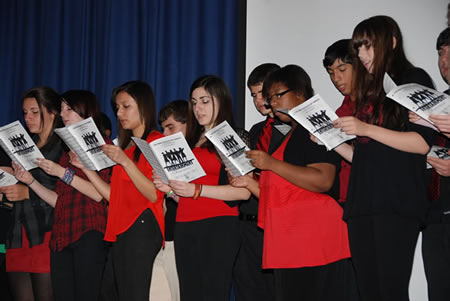 The students took turns thanking individual trustees for their service to the community. Woodhull Student Council President Ryan Hoffman spoke with the poise and command of a seasoned pro when he praised trustees for their efforts. Later, Woodhull student council members unfurled a colorful banner that expressed how grateful the group was to school board members.
"With your dedication and determination you have provided the community of Huntington with an excellent educational environment for students to learn and residents to be proud of," Mr. Hoffman said.
The four Finley student council officers followed a similar theme during their remarks and later distributed chocolate bars to the trustees and central office administrators. Huntington High School student government members utilized an ingenious PowerPoint presentation to express their appreciation.
"From the Superintendent's perspective, it is a privilege to work with each of our board members," Huntington Superintendent James W. Polansky said. "While they all bring different things to the table, what they share in common is their wish to provide the best for our students, schools and community. This shows routinely in the work that they do and in the decisions they make. There is no better testimonial to this work than from the students themselves. The representatives from Woodhull, Finley and Huntington High School could not have expressed their appreciation tonight in a more heartfelt manner; and what a beautiful tribute from the chamber choir.
There are plenty of late night meetings for the trustees as well as phone calls and e-mails from residents who are not bashful about expressing their opinions on every possible topic from academic and athletic programs to bus issues and how often the grass is cut at a particular school.
What motivates the trustees to serve? They say it's because they want the young men and women of the community to experience the most comprehensive education that can be provided. It's a tall task but the students who spoke during the ceremony indicated the district is succeeding in its mission.