Anna Schiffmacher is the Singer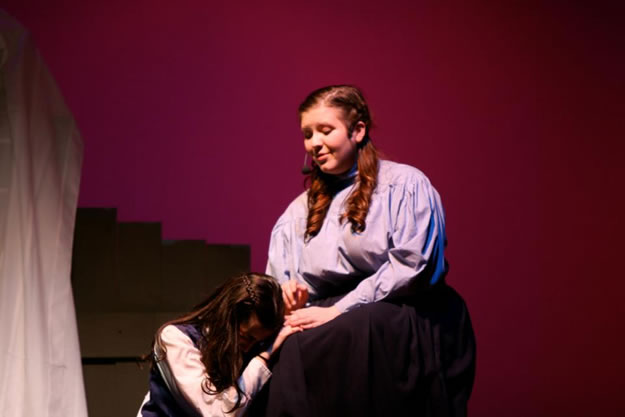 She's been a student in the Huntington School District since her first day of kindergarten and Anna Schiffmacher has made good use of the years. The senior has developed into an outstanding vocalist and has flourished in Huntington High School's music program.
A popular and multi-talented young woman, Ms. Schiffmacher loves to perform. She sang the Star Spangled Banner at last Saturday's football game in Blue Devil Stadium. The song is a challenging one, even for a seasoned pro, with its high-pitched notes and difficult lyrics, but the teenager handled it in flawless fashion.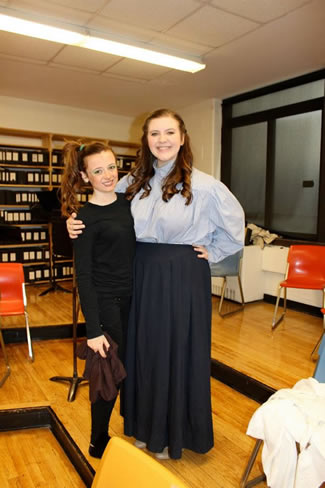 "I was in concert choir as a freshman and sophomore before stepping up and into chamber choir for my junior and senior years, which has been a fantastic experience," Ms. Schiffmacher said. She has been a member of the a capella groups every year and was in Treblemakers, an all girls' group, as a freshman and sophomore and another group for exceptional vocalists last year.
Ms. Schiffmacher has performed many memorable solos in both the chorus and the a capella groups. She's been chosen for the New York State Council of Administrators of Music Education All-County festival as a junior and senior, calling her selection "an immense blessing for me."
This year, Ms. Schiffmacher is engaged in a credit-bearing internship with Huntington High School choir director Veronica Mainville, "which is really educational and a great experience," the senior said.
The teenager's favorite courses have been Music Theory with teacher Brian Stellato and Chamber Choir with Mrs. Mainville. "I really loved music theory," Ms. Schiffmacher said. "I took it last year and am now in the more challenging course of AP Music Theory. Mr. Stellato taught us a lot last year, but also allowed us to have a lot of fun, which is a great way to teach and have students learn, because we all felt so comfortable in his class. Chamber Choir with Mrs. Mainville was, of course, my favorite because singing is such a huge part of my life and Mrs. Mainville has made me not only more confident, but has made me a better musician."
Ms. Schiffmacher and Ms. Mainville have formed a bond and enjoy a close working relationship. "She is a huge role model in my life and allows me to push forward in my musical abilities," Ms. Schiffmacher said. "She came to this school at the same time I was a freshman. Her first year was our first year, so we have been growing and learning together in different ways throughout my high school experience."
The senior has also enjoyed her English classes, including AP Literature with teacher Kelly Quintero-Lashley. "Although it's a lot of work, we always have great conversations in that class and I enjoy it a lot," Ms. Schiffmacher said.
Another of the teenager's favorite courses came during her sophomore year when she took Psychology with teacher Lauren Desiderio. "I love psychology," Ms. Schiffmacher said. "It really interests me and Mrs. Desiderio taught this very well."
As for memorable experiences, well, last year's musical would have to rank near the top of the list. "We did Little Women and I was happily chosen to play a large role as Marmee," Ms. Schiffmacher said. "She was the mother of the four women in the show."
English teacher and drama club faculty advisor Michael Schwendemann served as the spring production's director and Ms. Schiffmacher said she "had the best time putting this musical together with my peers. I grew closer to other people who were in the production. I got to work with Mr. Stellato and Mrs. Mainville, as well as Mr. Schwendemann. Not having Mr. Schwendemann any of my four years in high school, it was great to work with him and grow closer to him."
The senior soaked up as much as she could from Mr. Schwendemann during weeks of rehearsals. "He taught me many things over the course of the spring musical," Ms. Schiffmacher said. "I learned how to project [my voice] and enhance my acting skills from him. Our conversations were great and entertaining. There was always something new. Every day in the spring I loved going to school because I knew that once the day had ended, I had musical rehearsal. At the rehearsal I got to do what I love to do; perform and put something amazing together with the help of others. I'll never forget my experience as Marmee. That was when I learned how to perform even more than I already did."
After four years of high school life, the teenager is ready to pass along some of her insights. "My advice to freshmen would just to be patient," Ms. Schiffmacher said. "You'll find your way in the end, it just takes time."