Summer Reading Pays Dividends
at Flower Hill
The school year is in its second month and the youngsters at Flower Hill School are reaping dividends for all the reading they did last summer. More and more students have been coming to the realization that reading is not a chore, but a fun activity that opens a door to mystery, adventure, action, sports and a great deal of excitement.
Flower Hill held a special assembly to honor students who participated in the summer program, including two youngsters on each grade level who read the most cumulative pages. Students and teachers crowded into the gym for the ceremony, which in many ways resembled a pep rally, complete with pom-poms.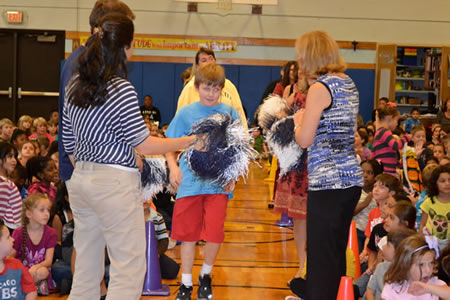 "Once again the students at Flower Hill showed their enthusiasm for reading," said parent Maureen Starr, who chaired the vacation reading challenge. "This program encouraged the children to read books of their choice over the summer break and keep track of their progress in a reading log. The students were inspired to bring their favorite books to life with a variety of creative activities."
This marked the second year that Flower Hill students signed onto the reading challenge program. Last week's assembly was a festive gathering. Hundreds of youngsters cheered for themselves, taking pride in their accomplishments. The eight students who read the most (spread over grades 1-4) were presented with gift bags stuffed with age appropriate books.
Flower Hill students also created works of art that depicted their favorite books. The art now adorns a special hallway bulletin board that further recognizes the summer program's participants.
"Bookmarks, drawings of favorite scenes and characters, poems and letters make up the variety of creative projects the students submitted," Mrs. Starr said. "These are wonderful imaginative ways to show that reading is fun!"
Flower Hill Principal Marlon Small offered his personal congratulations to all those youngsters who spent time reading this summer and urged them to "keep up the good work."