Finley Pep Rally Lifts School Spirit
There was no shortage of enthusiasm at last Friday afternoon's fall pep rally in the J. Taylor Finley Middle School gym. A large crowd of students and staff cheered the Falcons' coaches and athletes and even applauded loudly for Finley's academic success.
Principal John Amato reprised his role as master of ceremonies, introducing coaches and team captains and revving up the crowd, which filled the bleachers on three sides of the gym. Mr. Amato conducted a few live interviews with players about their respective team and how early season games have gone.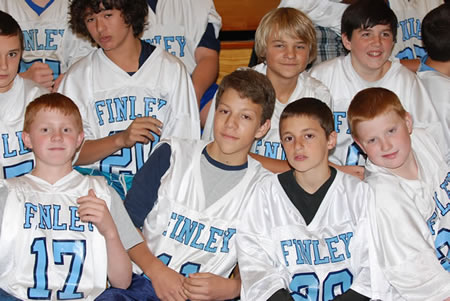 Arena music, strategically piped in by music teacher Frank Battista from time-to-time, created an electric atmosphere. The famed Finley Falcon even made an appearance in full feathers, leading a group of field hockey players in "The Chicken Dance" at one point.
Every class in the school was ushered down to the gym for the pep rally. After Sarah James sang the Star Spangled Banner to open the event, Mr. Amato kicked things off by giving a quick pep talk on academic achievement. This year's student council officers were introduced and spoke briefly about plans for upcoming events. Then the crowd's attention turned to solely to sports.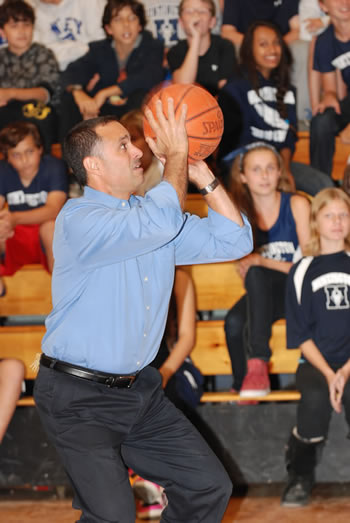 Finley teams have been among Suffolk's finest for a long time and this year isn't any different. About one-third of the student body is participating on a team this fall. Almost every player donned their uniform for the pep rally in a display of team pride.
Mr. Amato introduced each of the captains, who spoke for a minute or two about their respective team. The Finley step team also performed.
Near the close of the pep rally, Mr. Amato announced that he would engage in a free-throw shooting contest with Assistant Principal Ken Parham. "He's been practicing all day, throwing balls of paper in his wastepaper basket," Mr. Amato joked about his assistant.
Only a few in the crowd knew that Mr. Amato is one of the state's top basketball referees or that Mr. Parham has been one of Long Island's leading basketball coaches. Physical education teacher Travis Smith provided the pair with a fresh basketball for the one-on-one battle.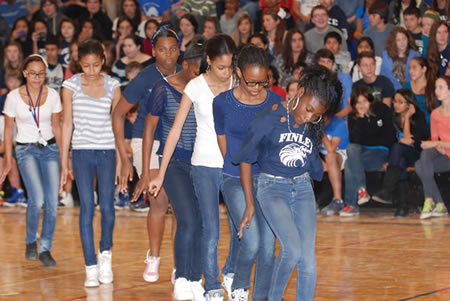 Mr. Parham went first, followed by Mr. Amato. While they both sank shot-after-shot, it was the assistant principal who won the contest by dropping four-of-five attempts through the hoop. However, Mr. Amato headed straight to a water cooler as Mr. Parham walked off in the opposite direction. Mr. Amato picked up the cooler and sprinted after his assistant, ending up in front of the north section of bleachers. As students maneuvered to avoid getting splashed, confetti poured out and covered the happy crowd as the gym erupted in cheers.
Mr. Amato said he got the idea for the stunt from the Harlem Globetrotters. "It's an old one, but still a good one," he said. Once the festivities wrapped up, students and teachers made a quick exit, with some heading to their lockers and waiting buses and the athletes going off to do their thing.