Huntington Wins Awards at
Relay For Life Summit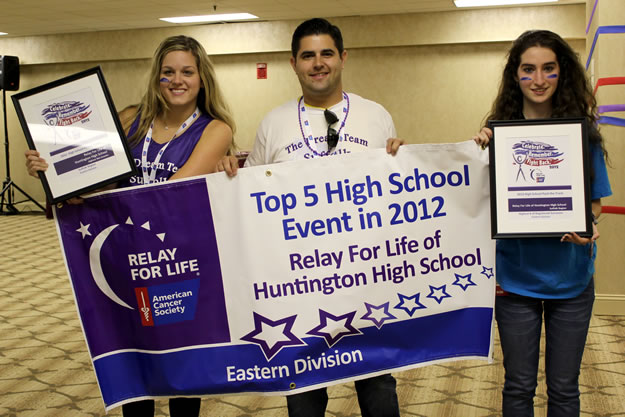 Planning is well underway for next spring's Relay For Life at Huntington High School. Details and logistics are being ironed out and a date for the sprawling event is expected to be announced soon, with mid-May a distinct possibility.
Huntington held its first ever Relay For Life last June. As many as 1,000 students and school community members participated in the overnight event, which raised nearly $130,000 for the American Cancer Society.
Those helping to organize next spring's event are benefitting from the experience they gained during the first go-around and are using that knowledge as their planning picks up. A large contingent of alumni is expected to once again return to their alma mater to participate in the second edition of Huntington's Relay For Life, which is sponsored by the school's National Honor Society and supported by several other clubs and organizations.
Huntington science teacher and National Honor Society chapter advisor Joseph Cohen, senior and NHS Vice-President Molly Prep and Alyssa Knudsen, the American Cancer Society's staff partner assigned to Huntington recently traveled to the Relay For Life's Eastern Division summit in Secaucus, New Jersey for two-days of meetings and workshops.
The Eastern District comprises the three "super" regions of Metro New York, New Jersey and Upstate New York, making it one of the largest in the nation. The summit, held at the Crowne Plaza, drew a crowd of more than 500 people, including many representatives from Nassau and Suffolk high schools.
"The event was an amazing experience," Mr. Cohen said. "It was really moving to see so many people who each hold their own Relay for the common goal of ridding the world of cancer."
The summit's motto was "Dream Big. Hope Big. Relay Big." "Everything was focused on revamping our efforts and asking 'Why not?,'" said Ms. Prep, who is chairing Huntington's 2013 Relay along with NHS President Nikki Smoot and NHS member Gabriel Goldman. The first day's itinerary included general sessions for participants and featured a series of inspirational speeches.
Time was reserved for summit attendees to peruse the well-stocked makeshift Relay store, which was filled with apparel that ranged from purple t-shirts to purple crocs. The first evening included the "Relay Video Music Awards." The parody videos all involved the Relay and were well-received by participants.
During a segment devoted to recognition and awards for the top Relay's of 2012, Huntington High School's Relay For Life "did incredibly well," Ms. Prep said. "We received an honorable mention in E-communication and won the 2012 High School Rookie Event Award, the 2012 High School Pack the Track Award and a 2012 Top 5 High School in the Eastern Division Award."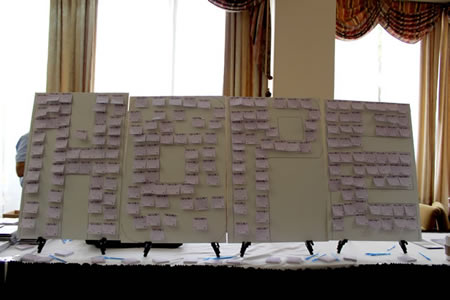 Team BNAP, organized as a tribute to Huntington parent Barbara Napolitano and led by her son, Class of 2012 member Chris Napolitano was recognized as a "Nationwide Youth Team of Excellence." Team BNAP raised more than $22,000 at last spring's Relay For Life and is expected to make its return next year.
"The awards were certainly wonderful surprises, though we're even more excited to return stronger next year," Ms. Prep said.
"When the Huntington High School Relay won those awards, it took my breath away," Mr. Cohen said. "The student organizers of our event last year deserve every ounce of recognition that is coming their way, as well as all the participants."

Following the award ceremony, the three super regions split off for the Relay Olympics. "Each region represented a color and a part of the Relay mantra: Celebrate! (purple, New Jersey), Remember! (blue, Metro New York) and Fight Back! (red, Upstate New York)," Ms. Prep explained. "Fun games ensued, including 'Road to Recovery,' where the first participant (Relayer) ran to the second participant (Cash). Relayer then wheeled Cash to the third participant (Scientist). Scientist wheeled the fourth participant (Research) to the fifth participant (Cure). Cure ran to the finish line."
Other events involved eating watermelon, passing a hula hoop through a human chain and running a four-legged race (three people, six actual legs). Team Metro NY, of which Huntington was a member, won first place overall by a landslide.
Following a good night's sleep, summit participants resumed their meetings. "There were more moving speeches and general sessions while we ate our breakfasts," Ms. Prep said. Attendees later reported to their assigned rooms for breakout sessions that were designed to inspire and address logistical issues.
"The sessions I attended were geared toward high school and college Relays and we learned a lot about getting people involved and sharing our own stories of why we Relay," Ms. Prep said. "We were also able to swap ideas for future events and share the success of events past. Overall, the summit did an amazing job of recognizing the achievements of 2012 and got us pumped and prepared for Relay 2013!"
The committee helping to organize Huntington High School's second Relay For Life ia working hard to put together a very special experience for participants. "This year's crew is already revving up for a successful Relay event," Mr. Cohen said.