Memorial Benches Dedicated
to Fallen Alums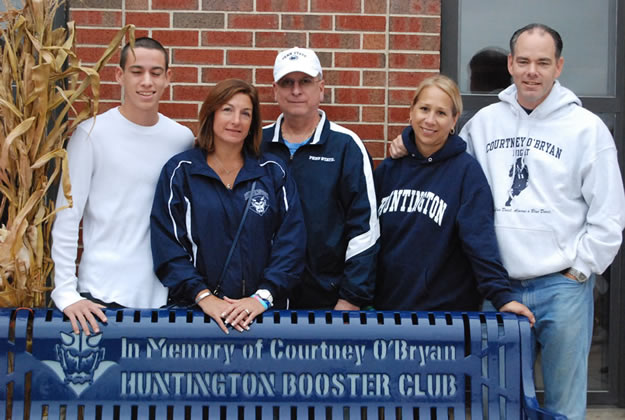 Patrick McCourt and Courtney O'Bryan will always be remembered fondly at their alma mater, Huntington High School. The two dynamic young people lost their lives in separate accidents that left their family, friends and teachers devastated.
During last Saturday's Homecoming Day festivities, two memorial benches were dedicated to the duo in the plaza outside Louis D. Giani Gymnasium. The purchase of the handsome blue metal benches was generously funded by the Huntington Booster Club.
Members of Ms. O'Bryan's family and circle of friends attended the ceremony, along with a dozen Penn State University students, who came to Huntington High School in tribute to their cherished college classmate. While Mr. McCourt's family was unable to attend, they sent a heartfelt letter and a photo of Mr. McCourt's sister, Meredith, sitting on the new bench dedicated to her brother during a recent family visit to the school.
Director of Athletics Georgia D. McCarthy presided over last weekend's short ceremony. "I feel fortunate to work for the Huntington School District and to be a part of this community," Mrs. McCarthy said. "As a physical education teacher, coach and administrator, I have had the pleasure of working with so many wonderful students. When I taught or coached a student-athlete, I also had the opportunity to get to know their families, as well. As much as that is a blessing, it can also be really difficult in situations like this because the loss of Courtney and Patrick goes much deeper."
Mr. McCourt was killed in September 2011 when he was struck by two cars while walking along Veterans Memorial Highway in Holbrook. He was just 22 years old. A member of Huntington's Class of 2006, Mr. McCourt performed in the marching band, served as captain of the Blue Devil fencing team and participated in various school activities. He is survived by his parents, Patrick and Mary, two sisters, Kiera (HHS, '04) and Meredith (HHS, '10) and a brother, Michael (HHS, '09).
A member of Huntington's Class of 2011, Ms. O'Bryan was an 18-year old freshman at Penn State University when she was killed in December 2011 while a passenger in a car on its way to Buffalo with fellow PSU students to raise money for pediatric cancer research.
The car reportedly hit an icy patch of roadway in Lewis Run in northern Pennsylvania, careening out of control, flipping over, sliding down a highway embankment and crashing into a tree.
Ms. O'Bryan, beloved by her teammates, was a key member of the Blue Devil basketball and soccer teams. A smart, articulate and compassionate young woman, the teenager's wit and smile were two of her trademarks.
"I told everyone that I wanted to do something in memory of these two young people; something where we could continue to encourage friendship and team camaraderie, strong characteristics of both Courtney and Patrick," Mrs. McCarthy said during last Saturday's ceremony. "I thought of the benches and went to the Huntington Booster Club and there were no questions from them, just the answer 'yes.'"
The newly installed benches have already become popular with current Huntington students. "The benches have created a place for our student-athletes to meet before and after games and practices," Mrs. McCarthy said. "They are drawn to these benches and they, along with coaches and others, have asked if additional benches can be purchased. I am pleased that this is the start to creating a welcoming place in front of our gym where athletes can continue with or foster new friendships."