Huntington Senior Francesca Gray Shines
Francesca Gray is making every minute count this year. The Huntington High School senior plans on making this a special time in her life and she is off to an exciting start.
Ms. Gray, known as Frankie to her friends, is one of just 20 Nassau and Suffolk teenagers to be recognized by the Long Island Arts Alliance as a scholar artist. Along with the other honorees, including classmate Molly Prep, Ms. Gray was recently feted at a ceremonial dinner at the Usdan Center for the Creative and Performing Arts.
"It is very special to be recognized by this organization," Ms. Gray said. She called the reception and dinner "lovely" and was quick to give credit to those who have encouraged and nurtured her along the way. The teenager was nominated for the award by Huntington art teacher Kristin Singer, who has developed a close mentoring relationship with Ms. Gray.
"I wouldn't have been able to accomplish this without the help of Mrs. Fretz, Mrs. Singer, Mrs. Rabinowitz and Mrs. O'Neill, all of my previous teachers, fellow students, my family and Crystal Gray," Ms. Gray said. "They have done so much in this process and over past years in molding my life. I am very grateful to them as extraordinary people, who I look up to as role-models."
Crystal Gray is the Huntington senior's cousin. "She is an inspiration to me because she is following her dreams to pursue art," Ms. Gray said. "To be able to see her pursue a degree in art makes me idolize her. She is a very talented grad-student at Adelphi University, where she majored in art education. Right now for her, it is difficult to find a job."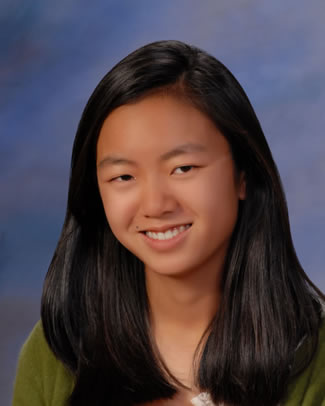 Currently coaching interscholastic field hockey, Crystal Gray also works as a special education teaching assistant. "She has a great attitude through everything she does," Ms. Gray said. "She enjoys the jobs that she has. What inspires me the most about her is that she doesn't let anything stop her from continuing to create art or believing in her dreams. I hope that one day there will be a position available for her and others in art education. One day she will be a successful art teacher who molds the minds of the future, as she did mine."
Ms. Gray is well-known around Huntington High School and she easily wins people over. She is well-liked by the faculty, including Joan Fretz, the district director of fine and performing arts. Sandy Rabinowitz and Janet O'Neill are department secretaries who have done their best to assist the senior in any way they can.
Last spring, Ms. Gray was honored at the Heckscher Museum's Long Island Best show. One of the teenager's art pieces was exhibited at the Heckscher for one month and she was presented with a prestigious scholarship award during a reception that packed the museum.
"I have been greatly impacted by Huntington High School, especially by the fine and performing arts department," Ms. Gray said. "I have enjoyed all of my years here of getting inspired, learning new skills, acquiring knowledge and improving upon what I can do. I feel so lucky to have this solid foundation and to be receiving this award from the Long Island Arts Alliance."
The teenager is currently enrolled in AP Calculus AB, Participation in Government, Multi-cultural Literature, Drawing and Painting II, Spanish V HN, AP Music Theory, Project Adventure I and Band Competitive HN.
Ms. Gray is a member of the English Honor Society, Spanish Honor Society, Math Honor Society, Art Honor Society and National Honor Society. She's a co-president of Tri-M - Music Honor Society, participates in Key Club and is a section leader and field major in the marching band.
It's Ms. Gray's hope that she is a member of the school's wind ensemble and pit orchestra this year. After school she both gives and receives private lessons and performs in the Nassau-Suffolk Wind Symphony.
"In the future, I would like to double major in music education and music performance," Ms. Gray said. "I plan to audition at both colleges and conservatories. I will always plan to create art."
As her senior year moves along, Ms. Gray took time to reflect on her time in high school. "I have had a great high school experience these past four years," she said. "Huntington has offered me the opportunity to take both music and art electives. It has given me leadership experiences, which have helped me to become a better and more confident person. My advice for incoming freshmen would be to work hard and keep a positive attitude through every situation, while you learn and grow."