She's Worked Hard and Had Lots of Fun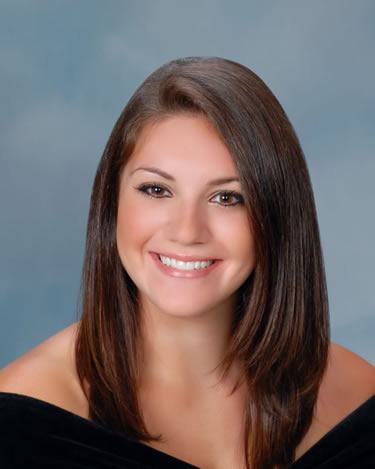 Bianca Iarrobinio loves meeting new people. She's a young woman with an outgoing personality and an easy way about her. The Huntington High School senior is a scholar, too. She's one of the top members of the Class of 2012 and is headed to New York University in the fall.
Ms. Iarrobino came to Huntington as a fourth grader from a private school. Since then she has thrived, building close relationships with several teachers, immersing herself in challenging academic courses and a variety of activities and forming tight friendships with many classmates.
"I think my last four years here at Huntington High School have been very rewarding," Ms. Iarrobino said. "I worked hard, but I also had a lot of fun here."
Two of the teenager's favorite activities have seen Ms. Iarrobino serve as the senior captain of the Highsteppers, Huntington High School's competitive dance team and as a flute section leader in the Blue Devil marching band. "These activities allowed me to be active in big school events," she said.
A member of the National Honor Society, as well as the English Honor Society, Ms. Iarrobino says she is "very passionate about art." She's taken classes in computer graphics, fashion and photography, but her favorite has been drawing and painting with art teacher Kristin Singer. "She helped me prepare various pieces for my portfolio, which I sent to all my colleges, including NYU," the senior said.
It was Mrs. Singer who gave the green light to Ms. Iarrobino to paint a portrait of 2011 Huntington alum Courtney O'Bryan, who was killed is a tragic auto accident last fall while in her freshman year at Penn State University. The portrait will be displayed this week in the Huntington School District art show.
"Bianca is a creative soul," Mrs. Singer said. "I have always been impressed with her talents in the arts and her maturity. This year, her most outstanding accomplishment was a large-scale portrait that she painted in tribute to her dear friend, Courtney O'Bryan. She demonstrated her artistic skills and created a truly beautiful and touching piece of artwork."
Science teacher Edward Florea is another of Ms. Iarrobino's favorites. He wrote a recommendation on her behalf that was included with the teenager's college applications.
"Bianca, although often quiet in class, was always raising the bar for herself and others," Mr. Florea said. "She was always pushing herself to do better today than she did yesterday. Her years of dedication to dance and her aspiration to be successful in the future, is fueled by the dedication to learn and practice until, just like a dance step, everything is perfect."
Ms. Iarrobino plans to participate in NYU's liberal studies core program in the fall and eventually major in journalism. She appears to have the determination and motivation to be successful in college and beyond.
"The highlight of my time in Huntington has definitely been all the activities I have been involved in," Ms. Iarrobino said. "I think they really helped me appreciate my high school experience and I'm glad to say I can go off to college proud of the friends I've made and the experiences I've had."
Looking back over the past four years, Ms. Iarrobino has some sage advice for incoming freshmen. "They should keep in mind their long-term goals," she said. "I would encourage them to work hard, but not too hard, have fun and get as involved as they can so they can walk away from this school as seniors knowing they got to do everything they wanted to do."