Alumni Association Presents
Senior Awards
Huntington High School Alumni Association President Valerie Allocco presented four current seniors with during this year's senior academic award night ceremony.
Class of 2012 members Casey Magerle and Brittany Oliva earned $500 scholarships for their academic success and activity participation. Ms. Magerle is headed to Point Park University in Pittsburgh. She starred on the Blue Devil softball team. Ms. Oliva will attend the University of Delaware. She participated in Huntington's Habitat for Humanity chapter club and was an editor of The Huntingtonian, the high school yearbook.
The Alumni Association presented this year's coveted Alumni Cups to Marie Clifford and Daniel Plant. The awards are given to students who "best exhibited sportsmanship, character and dedication to school and community," Ms. Alloco said.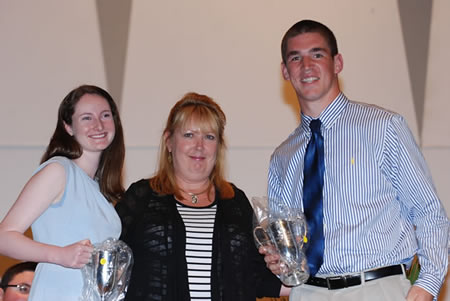 Ms. Clifford will be attending the University of Mary Washington in Fredericksburg, Virginia, where she plans to pursue American and museum studies. A career as a secondary education history teacher is a possibility. The teenager has served as president of Huntington's National Honor Society chapter, as well as being a member of the English and Science National Honor Societies.
Ms. Clifford has also been in the wind ensemble for the past four years, a member of the orchestra pit for three years and in the Blue Devil marching band for three years
Mr. Plant is headed to Rutgers University where he will play on Scarlet Knights' NCAA Division I lacrosse team. He quarterbacked Huntington's football team, is a member of the Huntington Fire Department and participates in Young Leaders of Huntington and A World of Difference, as well as volunteering with the Special Olympics.