Class President Announces Gift
to School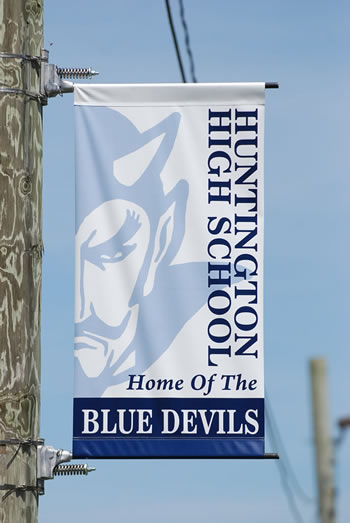 The Class of 2012 is leaving something behind at Huntington High School. The seniors presented the school with a gift that is intended to add to the pleasant atmosphere on the campus.
The gift was announced by Class of 2012 President Samantha Palmer at Huntington's 151st commencement exercises last Friday night in the school auditorium. "With the help of the class officers, we decided to give [the] flags that [now] surround the parking lot, welcoming you into the school," said Ms. Palmer about the banners attached to light poles along the main roadway that cuts across school grounds from McKay Road to Holdsworth Drive.
"We believe these flags add character and beauty to the school grounds, reflecting the even more beautiful character of what goes on inside the school," said Ms. Palmer, who will study biology at Northeastern University. "Furthermore, these flags symbolize the determination, ability and diligence that the Class of 2012 embodies."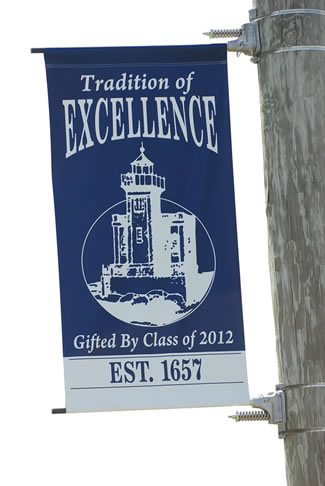 Such banners are frequently seen on college campuses or in downtown areas of villages and cities, including Manhattan. They help dress up otherwise drab poles and add color and style wherever they are affixed.
"When viewing a flag, you must look high into the sky with your chin tilted up," Ms. Palmer said. "The Class of 2012 always holds their heads held high, ready to overcome anything and achieve everything. However, no gift can deservingly represent how greatly we have changed and impacted Huntington High School, mostly for the better. Unlike the flags, our class will leave a legacy that will not fade or die with time."