Huntington's Class of 2012 Graduates
As members of the Class of 2012 marched into the auditorium last Friday night, the crowd of more than 1,500 stood and cheered, paying tribute to a group of 262 young men and women that will go down in history as among Huntington High School's best.
The seniors paraded into the school's 151st commencement exercises to Elgar's "Pomp and Circumstance No. 1," as parents frantically tried to jockey for position and snap photos. The ceremony marked the end of one stage of life and the birth of a new one. No one knew this better than the teenagers themselves as several speakers touched on the theme that it was time to spread their wings and fly on their own.
Valedictorian Juliana Coraor, who is headed to Yale University in the fall, put into words a feeling that was surely swimming through many of her classmates' minds.
"As exciting as the future may seem at first glance, understandably it also gives us all cause for apprehension," Ms. Coraor said during an address she delivered from memory. "Up until now we have proclaimed our independence and self-reliance, but for all of our statements, we still were minors and went home every night to our parents. After high school, though, we will no longer be able to rely upon our parents or other adults to the same extent that we did earlier. We will be on our own in a way we have never been before and frankly that's pretty scary."
Principal Carmela Leonardi detailed some of the more impressive accomplishments of the Class of 2012 during her address, among them that 96 of the seniors took one or more Advanced Placement exams, an indication of the challenging level of studies they had pursued.
"As you pursue your dreams and strive for success, remember that you are defined by your values and beliefs," Dr. Leonardi told the seniors. "Continue to focus on the difference you can make in your own life and in the life of others. Never lose your generous spirit or underestimate the value of service to others."
The commencement had been scheduled for Blue Devil Stadium, but scorching temperatures and the threat of powerful thunderstorms led school officials to move the commencement indoors. It proved to be a wise decision as the storms materialized, bringing rain, wind and lightning.
The seniors marched into the auditorium behind flag bearers Andrew Phelan and Katherine Shirley and a school banner carried by Brendan Higgins and Meghan Latini. Kristina Casale, who is headed to Berklee College of Music, gave a remarkable rendition of Francis Scott Key's "Star Spangled Banner" without musical accompaniment. Experts regard it as a challenging song for even the most seasoned singers, but Ms. Casale's performance was flawless.
"Do Not Take Shortcuts"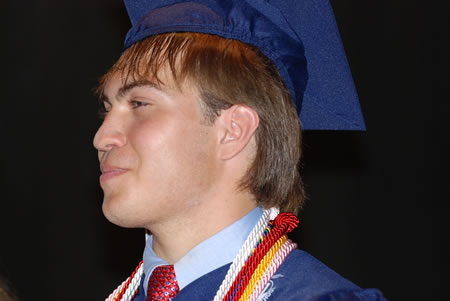 Salutatorian Justin LoScalzo, who will attend Colgate University in the fall, was philosophical in his address. "Do not take shortcuts in life simply because you want to reach an end goal sooner, you may miss out on the rewards the experience of reaching the end has to offer," he told classmates. "The journey is just as important as the destination. Life presents us with challenges each and every day; many times, obstacles that we have no control over. Take the time to overcome these obstacles in a manner that you will be proud of looking back on. If life presents you with a situation you are not particularly fond of, make the most of the situation, and turn into an experience you can learn from and be happy about."
The Class of 2012 received $12,849,554 in scholarship money, an increase of more than $2 million compared to last year and $5 million more than 2010. Members of the group earned honors in every academic discipline, in the fine and performing arts and in the athletic arena.
"Take a moment once in a while and stop thinking," Northeastern University-bound Samantha Palmer, president of the Class of 2012, implored her classmates. "Instead, listen to your heart and do what you love. Throughout high school much of what we do is to make other people happy, whether it's for our teachers, parents, friends or coaches. And much of the rest of our lives will consist of this, too. However, make sure you find time in between all of the chaos to take care of your own heart. Whether yours has been damaged or warmed during your time at Huntington, there will always be a small piece of it that will lie here with our classmates."
"Ready to Take a Chance"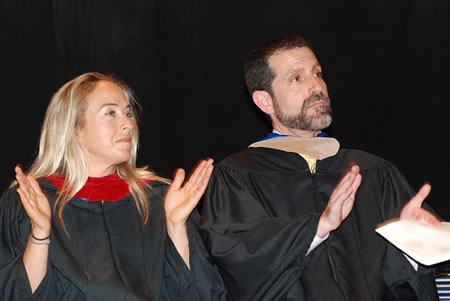 Superintendent James W. Polansky told the seniors they should "always remember where you came from," but should not become paralyzed in the present. "Graduates, every day will present a new opportunity," Mr. Polansky said. "Whatever it is, you need to be ready. Ready to think creatively; Ready to adapt at a moment's notice; Ready to take a chance on yourself, your loved ones and/or your community. And no matter what the situation, never, ever let anything or anyone convince you to compromise your integrity."
Huntington High School's college counseling center processed 1,486 college applications for the senior class. The seniors were accepted by many of the top colleges and universities in the country including Columbia, Princeton, Cornell, Harvard and Yale, as well as New York University, Vanderbilt, Boston College, Northwestern, Georgetown, Fordham, Boston University, Colgate, Rutgers, James Madison, Univ. of North Carolina at Chapel Hill, Villanova, Penn State, Ohio State, Maryland, Syracuse, Indiana, Arizona State, School of Visual Arts, Maryland Institute College of Art, Berklee College of Music, Carnegie Mellon, The Citadel, Case Western Reserve and Vassar.
Many seniors played roles in the commencement. James Madison University-bound Joseph Straub served as master of ceremonies and also introduced Superintendent James W. Polansky prior to his address. Ms. Palmer led the crowd in the Pledge of Allegiance. Natalie Acton, Kaja Coraor, Madison Biernacki and Haley Brown introduced various speakers.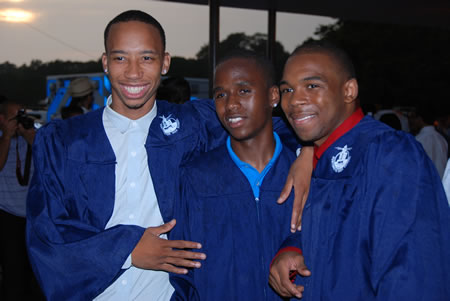 Brielle Blatt, who is headed to Tulane University, introduced "honored teachers" Camille Tedeschi and Erik Bruckbauer, who announced the name of each graduate before diplomas were presented by members of the Huntington School Board. The two teachers served as the Class of 2012's faculty advisors.
Dr. Leonardi said the graduates have plans to pursue a variety of interesting academic majors including neuroscience, psychology, communications, biology, education, international business, speech and hearing science, nursing, criminal justice, marketing, fashion design and merchandising, exercise science, photography, environmental science, technical theatre, graphic design, vocal performance, chemistry, physics, music entertainment, culinary arts, physical therapy, pharmacology and marine transportation.
School Board President Emily Rogan, herself a 1983 Huntington High School graduate, told the crowd that she went off to Cornell University intending to become a doctor and returned as a journalist. Many other aspects of her personal and professional "plans" were also revised along the way.
"But I have no regrets," Mrs. Rogan said. "I'm not sorry about one decision that led me to this very moment, right now. Because I've learned that life is not a linear experience. It's more of a loopy curvy, up and down, and kind of all over crazy path. And, as much as you make plans, and that's a wonderful thing, the most valuable skills you need are those that help you manage when your plans don't work or your dreams fall through. How will you handle disappointment or adversity? What will you do when faced with an unexpected challenge or tragedy? Will you be resourceful and adaptable? Will you seek alternatives and be willing to try something different? Will you have compassion for others? Because those are the life skills that will truly serve you well. Of course your grades matter. Your accomplishments matter. College and career? Yes, they matter. But your substance as a human being--that is what matters most."
As the ceremony drew to a close, the new graduates threw their caps into the air before marching out of the auditorium and into a new phase of their lives. The teenagers and their families gathered in the lobby and in the outdoor plaza for nearly an hour, despite a light rain, posing for photos and saying goodbye to one another. It was as if they knew this was the last time they would all be together and they were hesitant to let the moment end.