Dynamic Brielle Blatt Set to Graduate
Brielle Blatt is a legitimate dynamo according to her Huntington High School teachers and classmates. Her talents abound and her potential seems limitless. She's one of the top seniors in the Class of 2012 and headed to Tulane University, but her impact on what will soon be her alma mater and her hometown will remain for years to come.
The teenager has earned stellar grades along with the affection and respect of Huntington High School faculty members. She's one of a group of seniors that can be counted upon to get any job done, regardless of what might be involved.
"Brielle is one of the brightest, most generous and outgoing young ladies at Huntington High School," Principal Carmela Leonardi said. "She has been involved in many fundraising activities and has lent a hand anytime she has been asked or whenever she has seen the need. Her smile and positive attitude brighten even the most labor intensive projects. She has challenged herself academically throughout her high school experience. Everyone who has gotten to know her believes that she will continue to reach any goal she sets for herself."
Quintessential Well-Rounded Student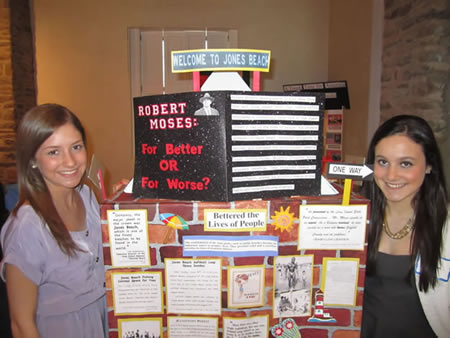 Ms. Blatt is the quintessential well-rounded student, excelling in challenging courses, acting and dancing in drama club productions, playing on the field hockey team and taking a leadership role in an assortment of projects and activities, including the recent Relay For Life.
"After four years of hard work and motivation, I finally feel it was all worth it," Ms. Blatt said. She's articulate, energetic, humorous, generous, a quick study and a kind person, according to her teachers and friends. Where she gets her energy from, no one seems to know, but she has an endless supply of it.
"It has been a privilege getting to know Brielle over the past six years of my life," said Justin LoScalzo, salutatorian of the Class of 2012. "She is an enthusiastic, passionate, diligent, dedicated and intelligent friend of mine. It has been a pleasure watching her perform in many school musicals and choir performances. She is a talented actress and singer. In addition to her dedication to the arts, she takes her school work very seriously. I am confident that Brielle has a very bright and successful future ahead of her. Tulane University is very lucky to be gaining such a wonderful person."
Ms. Blatt was honored this spring during Huntington High School's academic awards night. She earned one of two $2,500 "Let it Begin with Me" scholarships presented by the William F. Oliva Foundation, named for the Huntington Class of 1984 member who passed away under tragic circumstances.
"Ms. Blatt is a tenacious, talented and wonderful young woman," science teacher Dame Forbes said. "As she moves ahead in her academic pursuits, I have no doubt that she will make a big splash in the world. I was privileged to have had her as a student and I am very proud of her for her accomplishments both in and out of the classroom."
The senior was recognized by the Tri-Community & Youth Agency with that organization's $500 Joseph A. Martone Scholarship, which is presented annually to "the student who has shown commitment to school work, team work and an unselfish dedication to the community."
Excelled in Chorus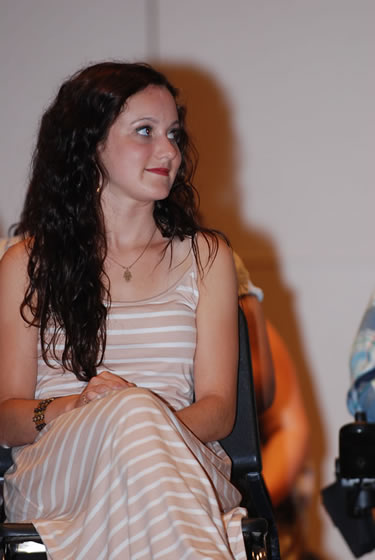 Ms. Blatt earned an American Legion Music Award medal, which goes to the chorus student who has contributed the most to the music department. "Brielle is one of the hardest working and dedicated members of the chamber and concert choirs that I have ever seen," said teacher Veronica Mainville, who heads the high school choral program. "Even as a senior, she did a NYSSMA solo because she wanted a goal to work towards vocally. In the drama club production of Little Women (as Beth), she discovered a whole new range in her voice and performed her part beautifully. Brielle is one of those people that will take over the world someday. She is driven, intelligent, passionate and has an incredibly positive attitude. She has the ability to bring people together in all grade levels and strike up friendships with them. I know the chamber choir will miss her, and I will miss her as well. She has been a valuable member of our program and I only wish her the very best at Tulane."
Ms. Blatt was also presented with the John F. Kellog Theatre Award along with a $50 award stipend by drama club advisor Michael Schwendemann in recognition of her role as a drama club dance captain. As a finalist for the Patrick McCourt Memorial Scholarship, she received a $50 gift card to help defray the cost of school supplies.
The teenager also walked away with a National History Day Excellence in Research Award for her exceptional work in the NHD initiative, which saw her reach win first place in New York State and reach the national finals with partner Samantha Palmer last year.
Passion for Learning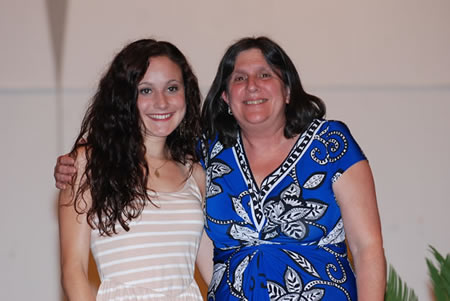 "Over the past three years I have been so lucky to get to know and work with a student like Brielle Blatt," said teacher Lauren Desiderio, who serves as National History Day club faculty advisor. "Throughout this time I have been able to witness Brielle's passion for learning and growth as an individual and leader. In the classroom or through our National History Day program, I could always count on Brielle as she fully immerses herself into whatever activity we conducted with integrity, honest hard work and enthusiasm. One of the things I love about her is that she never gives up and she always gives 110 percent whether it was through her efforts in the classroom, on the field hockey field, or performing on stage. Brielle's charismatic and welcoming personality has sincerely affected those around her in positive ways and has contributed to not only their success, but her own."
Ms. Blatt applied for more than 15 scholarships and awards in all, mainly through the Huntington High School guidance office. "Brielle's persistence and drive astound me and it is these very traits which lead me to believe that she will achieve distinction in her lifetime," said Bernadette Walsh, the high school's college counselor. "She is fully invested in her future, making smart, well thought out decisions. Her goals will be fulfilled not only via her highly motivated work ethic, but also due to the strong standards she sets for herself. When Brielle has committed to something, she's in it for the long haul!"
Energetic and Focused
"Brielle is one of the most energetic and focused students I have known," said science teacher Joseph Cohen, who is the National Honor Society faculty advisor. "She is a caring, intelligent young woman who is destined for great achievements in her future."

The senior is heading to Tulane with a completely open mind. "I am still undecided on my major, but I plan on taking a lot of different types of classes until it finally clicks one day," Ms. Blatt said." I already decided I am taking a world dance class, where I will be learning about the different types of folk dances worldwide. Who knows what I will end up majoring in? I just want to be happy and enjoy whatever I choose."
"Brielle's truly one of a kind, someone who could always brighten my day," Mrs. Desiderio said. "Brielle has left her mark here at Huntington High School as an accomplished, well-rounded and successful individual who quite simply, I'm going to miss terribly next year!"